The Best Olympic Boxers & Moments 2012
Here at ProBoxing-Fans.com, we had a blast covering boxing at the 2012 London Olympics. In fact, no other outlet had the kind of extensive pre-tournament coverage and team previews that we provided. Now that we've had some time to reflect, we decided to hand out a few of our year-end awards to fighters, teams and moments from the Olympics. Take a look at the winners (and the losers) right here.
—-> View all of our 2012 Boxing Awards!
Top Boxer of the 2012 London Olympics: Katie Taylor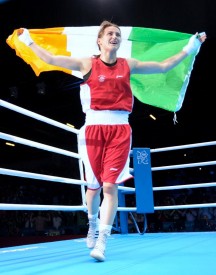 Men's welterweight gold medalist Serik Sapiyev won the official Val Barker Trophy at the 2012 London Olympics, but in my eyes, the clear most outstanding boxer of the tournament was Ireland's Katie Taylor, women's Lightweight gold medal winner. The AIBA gave her the title of best women's boxer at the tournament, but anybody who watched both sides of the competition would have seen that Taylor was utterly dominant, and a clear class above her competition.
More than that, she helped to elevate the entire boxing competition, which was brought down sagging by continued controversy and bad decisions on the men's side (see below). Her fight against Britain's Natasha Jonas in the Lightweight final was a barn-burner and an insta-classic, and should stand as the shining example of why the women's fight game deserves your recognition. Taylor acquitted herself wonderfully well, and helped to make the entire debut of women's boxing at the Olympics a memorable one for the right reasons.
Top Olympic Boxing Team/Country: Ukrainian Boxing Team
The Ukrainian boxing team brought home a haul of five medals at the 2012 London Olympics. Two of them were golds, and all five were on the men's side of the draw (no other team won more men's Olympic boxing medals, while Great Britain tied them, and Russia surpassed them, if you include the women's medals count).
No matter where you turned, if you were watching men's Olympic boxing this year, there's a good chance that it was a match involving somebody from the Ukrainian team, and he was likely to win.
In other sports, such as basketball, you can point to individual talents such as Yao Ming of China or Dirk Nowitzki of Germany who helped to spawn an entire generation of star athletes to follow in their wake. With boxing in the Ukraine, you can point to the immense figures of the Klitschko brothers as a partial explanation for this country's continued amateur boxing prowess.
Exceeding at the ExCel: Surprise Achievement Award: British Boxing Team
If you had bet that the British boxing team at the Olympics would win the most gold medals of any country, and be tied for 2nd with the biggest overall medal haul, you'd have won some nice cash. The British team thrived from the enthusiastic crowd which went nuts anytime a member of the team was competing, and the fighters scored big upsets and fought to the best of their abilities. With fighters such as Anthony Joshua, Luke Campbell, Freddie Evans and others, you can tell that these guys will be making their mark on the professional side when they decide to take that leap.
Disappointment of the Olympics: Men's USA Boxing Team
The men's USA boxing team had a robust 9 man squad — and none of them would bring home a medal, a first time mark of disgrace for the United States Olympic boxing team. Only one of them would win more than one fight, and he [Errol Spence] needed an overturned decision to do that. Some of these guys should be good pros, including Spence, Marcus Browne, Joseph Diaz and Terrell Gausha for starters, but they all underperformed on the big stage of the Olympics.
Honorable Mention – Olympic scoring, refereeing, controversy & coverage: News flash – the scoring system used in amateur and Olympic boxing sucks. The referees were at times incompetent. The coverage that Olympic boxing receives in the United States is abysmal. There's a lot wrong with Olympic boxing which must be fixed, and these issues threatened to bring down the entire competition.