2012 Boxing Round of the Year
The round of the year is the perfect encapsulation of the greatness of boxing. Three ridiculous, hellbent minutes of back-and-forth action and destruction. Which single round deserves the recognition as the best of the year? Take a look.
Round of the Year: Orlando Salido-Juan Manuel Lopez II, Round 9
—> View all of our 2012 Boxing Awards here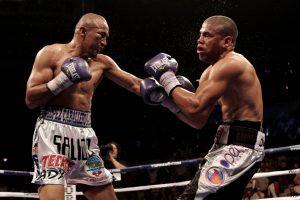 If only every fight had as many free-swinging exchanges in 12 rounds as the 9th round alone of the Orlando Salido vs. Juan Manuel Lopez rematch. It would be Lopez' last stand. Though ahead, he would be stopped in the following round. He really gave it his all, as evidenced by a passionate 9th round where he heaved himself into Salido, who eagerly answered the call.
The body-punching was murderous and Lopez looked to be finally getting to Salido, who was looking ready to wilt from the howitzer blows Lopez was unleashing. But the stakes kept getting raised. Salido laid into Lopez, as the two freely traded in a passionate display of slugging and heart. It was one of those rounds where as a fan, you realize that you haven't drawn a breath for 3 minutes. The end of the round allowed everyone to catch their wind. Unbelievable action.
Honorable Mention
Brandon Rios-Mike Alvarado, Round 5
In a violent fight full of fun rounds, round 5 stands out the most. This was the kind of round that got our fathers and grandfathers into the sport. Rios looked to be getting the better of it, pelting Alvarado with shots in close. Alvarado upped the ante and was soon slinging in lefts and rights–up and under. Rios stayed in there, his head fastened on Alvarado's left shoulder, pounding away to the body.
Whenever a punch could be thrown, it was. Alvarado began to rally with terrific speed. He'd throw a 5-6 punch combination, then move before setting his feet and letting it rip again. All the while, Rios was in tow, swinging back. After about a 15-punch combo from Alvarado, Rios started letting them fly. So did Alvarado, as the two traded freely up until the bell. Rios would win in the 7th round. Great stuff.
Danny Garcia-Amir Khan, Round 4
Down in the 3rd, Khan was in trouble to open the 4th. It didn't get much better, as Garcia opened the round taking aim at Khan. Another right hand led to another knockdown and Khan looked finished. Garcia was swarming and couldn't miss with the right. Khan was floundering around the ring and it was just a matter of time.
Khan, however, refused to go away quietly. Realizing his legs couldn't get him out of this one, he opted for fight rather than flight–much to the pleasure of the audience. Khan couldn't stop from getting bopped upside the head every time Garcia threw a combination, but now he was setting his feet and ripping salvos at Garcia. A zinger of an uppercut gave Garcia pause. The two stood in ring-center trading wildly. Just when it looked like Khan would improbably work his way back into the fight, he was down again. Referee Bayless stopped the fight a little over 30 seconds left. Whew!
Brian Viloria-Hernan Marquez, Round 5
In a high-stakes flyweight unification bout, the action heated up between Viloria and Marquez in the fifth. Marquez went rock 'em-sock 'em robot on Viloria, unleashing dozens of body punches and Viloria looked to sharp-shoot in between shots. Marquez had Viloria pinned against the ropes, ripping shots to the up and down. Viloria tried to roll with the shots, but was getting overwhelmed.
With Marquez now running a series of uppercuts at ring-center on Viloria, the Hawaiian Punch lashed back. A crisp right dropped Marquez. Action resumed and it looked like it was Marquez who was going in for the finish. Dozens of shots followed. A tired Marquez retreated, allowing Viloria to strafe him with sharp one-twos until the bell finally rang–ending a great back-and-forth round.