Biggest Upset in Boxing 2012
Every year has its share of upsets. It's the nature of the sport and with so many fights, there are bound to be a bunch of upsets. Even by boxing standards, 2012 saw the upsets come frequently and consistently throughout the year. People betting on favorites couldn't possibly have been ahead this year, as seemingly every weekend produced a mind-bending upset. In a year of bizarre results, here are the most surprising.
2012 Upset of the Year: Sonny Boy Jaro KO 6 Ponsaklek Wonjonkam
—> View all of our 2012 Boxing Awards here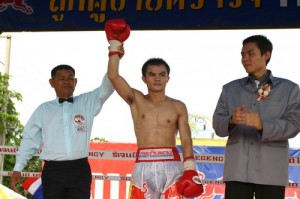 While not on everyone's radar, this is a tough one to top. On one hand, Pongsaklek was 34 and there aren't many flyweights who thrive at that age. After over a decade at the top of the flyweight pile, you had to figure his days were numbered. It was just surprising to see it occur at the hands of an 11-loss fringe contender who was 6-4 in his last ten and had been stopped 7 times.
The fact that Pongsaklek lost again later in the year to a 17-20-3 fighter (which come to think of it, could make this list) just brings to light how shot he is at this point. And Jaro ended up losing in his first defense.
Still, Pongsaklek was coming off an easy win over the excellent Edgar Sosa and seemed to have a lot left. Not only did he lose to Jaro, but he was battered mercilessly throughout–down 4 times. Jaro, a winner of 33 fights in 48 outings, looked like Pancho Villa. The odds against Jaro were in the 20-1 range and in most years, that's enough to be Upset of the Year.
Honorable Mention
Randall Bailey KO 11 Mike Jones
Maybe now, you don't think it's much of an upset. It's easy now to write off Jones. Still, the guy was unbeaten, a double-digit favorite at the betting windows, and looked prime to keep on rolling against the dangerous, but aging Bailey. Old Randall hadn't really been in the spotlight for quite some time, after a run as a 140-pound titlist in the late-90's.
Jones seemed well on his way to victory, until Bailey got his power untracked late. In the end, Jones' inexperience cost him, as he foolishly put himself in position for Bailey to use his right-handed power. Following a knockdown in the 10th, a mean right uppercut in the 11th sent Jones sprawling to the mat, giving Bailey an unlikely world title at 147 pounds.
Josesito Lopez KO 9 Victor Ortiz
This was supposed to be a tune-up. Ortiz was all set to fight Canelo Alvarez in a big So-Cal event a few months later. Coming of the Mayweather loss, Ortiz took on Riverside's tough Josesito Lopez–thought to be a top-20 junior welterweight. With the robust junior middleweight Alvarez lying in wait, the spindly Lopez seemed like easy pickings for the powerful Ortiz.
Having seen Lopez before, I expected him to be tough, but for Ortiz to be far too strong. Lopez, however, rendered all that moot with a passionate display of dogged determination that slowly ground down Ortiz to a nub. A broken jaw forced Ortiz to retire on his stool and Lopez would wind up getting the shot at Canelo. Though that didn't go well, this win brought his career to a new level and made him a must-watch fighter.
Danny Garcia KO 4 Amir Khan
Khan was coming off a loss against Lamont Peterson, but Peterson's subsequent steroid issue and the fact that he won with the help of a hometown ref rendered that result somewhat moot. Khan was still a heavy favorite against the unbeaten Garcia, whose best results were a split decision over Kendall Holt and a decision over Erik Morales.
Garcia showed himself to be more than just a tough Philly slugger. He was clipping the elusive and longer Khan with alarming regularity, making solid impact with well-timed blows, especially clubbing right hands. After a few rounds, Khan began to get affected, as Garcia upped his attack. Khan, a 6-1 favorite, was game and tried to claw his way back into the fight. Garcia was having none of it and after 3 knockdowns, he had notched the biggest win of his career.
Juan Manuel Marquez KO 6 Manny Pacquiao
Not much of an upset, with Marquez only a 2-1 underdog. Sometimes, it's not if you do something, it's how you do it. JMM planting Pacquiao face-first with one punch certainly qualifies as 2012's most stunning event. Seeing one of the best fighters of this era prone on his face qualifies as an upset in anyone's book.