The semifinals of the 2013 AIBA World Championships in Almaty were held today. That means that the finals lineup is all set for tomorrow. A few of the highlights from the sessions include:
Costa Rican David Rodriguez became the first boxer in the history of his country to take a medal at an AIBA World Championships today. His gutsy performance wasn't enough to secure a passage to the finals of Almaty 2013 though.
With Italian Clemente Russo taking Azerbaijan's Teymur Mammadov out of the competition earlier today, Super Heavyweight Magomedrasul Medzhidov got one back for the Azeri with a win over Italy's Roberto Cammarelle. This was not only revenge for the team, but also a leveling of old scores on a personal level.
Bouts of the session
Yosbany Veitia Soto struggled for the first time in this tournament against Birzhan Zhakypov, the Kazakhstan Light Flyweight. The two southpaws looked very focused as they went into the first round with Soto looking particularly psyched up. The Kazakh looked the more composed of the two though and got on his bike early, scoring some nice jabs and long range hooks as the Cuban tried to close with his opponent. Round two started in much the same way with Zhakypov landing a heavy jab on the Cuban a few seconds in.
By normal standards in this World Championships, the crowd was relatively quiet and this gave some space for the Cuban to operate. The round was over in a flash though and the Cuban looked frustrated as he sat in his corner. He had to chase the bout by this stage with the Kazakh clearly the more effective so far. Zhakypov looked comfortably ahead and began boxing with his hands down. Even so he was able to pick his opponent off and Soto was left looking dejected as the Kazakh boxer's arm was raised in triumph. In truth, Zhakypov looked like he was in another league to (the very talented) Soto and will now face the Algerian Mohamed Flissi in the final (see below).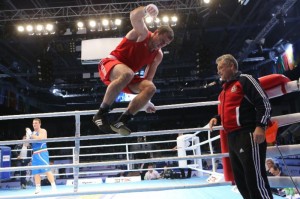 Super Heavyweight Magomedrasul Medzhidov of Azerbaijan took out veteran Roberto Cammarelle in a stunning performance. This bout was a repeat of London 2012 Olympic Games semi-final, but this time we saw the opposite result as the Azeri pulled one back against the Italians for the whole Azerbaijan team. Medzhidov floored the Italian in the first round, just two minutes into the round giving the stunned looking Italian a standing eight count. Thereafter (and at long last), the Italian's hands finally went up to cover his head.
But the bad habits resurfaced in the second when during an exchange he dropped his right hand and got nailed again with a blow that wobbled him. As he bounced out of range from that same exchange, his hands were low again and he got clipped by a supplementary jab on his departure. Cammarelle then had a late resurgence in the dying seconds of the round and unleashed a good combination and then ducked under what would have been a hard hook to finish round two on a positive note.
Now clearly behind, the Italian needed something special to get the bout back on course. Luck was on his side when the APB and WSB Azeri was deducted a point for leading with his head at the beginning of round three. That brought the bout closer, but it was still not enough for Cammarelle, and Medzhidov took the bout. The Italian was given wide applause around the arena, as the Kazakh fans recognised him for the legend that he is. Therefore we will be seeing the hard hitting Medzhidov in the final tomorrow against local favourite Ivan Dychko.
Boxers of the session
Russia's Vladimir Nikitin looked awesome against Mykola Butsenko of Ukraine in a bout between the international neighbours at Bantamweight. There was no hesitation in this bout with both boxers going straight for it, right from the opening bell. The Ukrainian boxed with his lead hand low to invite the Russian in, which he was duly obliged to do. Thus the action was frenetic. The southpaw Ukrainian wasn't able to avoid as many shots as he has in the previous rounds and began to take punishment; and Nikitin is not a man you want to take punishment from.
He has been on our radar for the whole tournament thanks to his performances, and he continued to look good today. He really began dishing up the punishment as the bout wore on and it was he that went through to the finals. There he will meet Javid Chalabiyev of Azerbaijan. The Ukrainian looked disappointed but nonetheless goes home with a bronze.
Clemente Russo was back in action against Teymur Mammadov of Azerbaijan. Clemente looked at his usual brawling best in this Heavyweight match up. In round two, he landed a number of heavy overhand rights and lefts against his taller Azeri opponent. Notably Russo's hands were up all the time in this bout in contrast to in previous rounds. This was probably out of respect for his opponent's reach. At times, the Italian looked very fast on his feet as well. Russo, with his experience is certainly good at conserving energy, which then allows him to explode as required
"I feel good because Mammadov only really landed one good punch to my chest and then he stopped", said Russo following his win. While we spoke to the Italia Thunder man, the other semi-final in his weight category was taking place and we asked him for his prediction. "I lost to Tishchenko in a bout we had at a small event before the Olympics", he said. "He is a very technical fighter and it's extremely difficult to get through his guard. Although Peralta is also great, I think my opponent in the final will be Tishchenko". Russo was duly proved right and the Italian will square off with the Russian tomorrow.
Elsewhere, former British Lionhearts boxer Jason Quigley of Ireland took on Artem Chebotarev of Russia at Middleweight. Quigley who looks huge for a man of his weight is also surprisingly springy on his toes. Chebotarev increasingly drew the Celtic boxer into a slugfest in round three. Yet despite this being the preferred tactic for the Russian, it turned out that this worked out extremely well for the Irishman. It transpires that Quigley was actually the better boxer in this kind of situation and certainly punches harder, not to mention more accurately.
With Quigley being both the better dancer and brawler, there wasn't much the Russian could do tactically to adjust the direction the fight was taking. Quigley now goes to the final, much to the joy of the vocal traveling Irish support. "I went through our tactics last night with my dad and coaches. We decided to hit and move. I knew I had the speed and ability to beat him but in the last round, they told me to go forward and go at him, which I did and I landed some lovely heavy shots". He will now face the Kazakh boxer Zhanibek Alimkhanuly who progressed with a walk over after England's Antony Fowler had to withdraw with a broken hand.
Light Flyweight David Rodriguez of Costa Rica made history today as the first Costa Rican to medal at a World Championships. The Road to Almaty boxer took on the skilful Algerian WSB boxer Mohamed Flissi, who has been impressive throughout this tournament. Rodriguez found it difficult to find his range in round one but mixed it better in round two. Flissi looks exceptional at the moment though. He is hard to hit and possesses dangerous hooks, good movement and a willingness to really scrap when necessary.
That makes him a tough opponent to beat. Rodriguez landed some big shots late on in round one to his credit, which perhaps closed the gap somewhat. In the end it wasn't enough and it was Flissi who advanced. But winning the first ever medal for your country at this level is something that Rodriguez should always be proud of. Thus he was in effect victorious even in defeat.
A somewhat redundant category in some sense at this stage of the competition, however, if you were to watch one boxer in the finals based on this afternoon's performance, it should be Merey Akshalov of Kazakhstan at Light Welterweight who overwhelmed his opponent, Everton Lopes of Brazil. The Kazakh has looked almost invincible through this tournament and the manner in which he despatched of the reigning World Champion was noteworthy. He seems comfortable at every range and distance and can adjust his tactics according to his opponent. Tune in to see him box tomorrow against Yasnier Lopez of Cuba.
Chatchai Butdee, who has been impressive in this tournament, squared off against APB Boxer Misha Aloian of Russia at Flyweight. The two southpaws both looked good with the Russian working his lead hooks and the Thai looking for linear shots straight down the middle. It was the Russian who landed the better strikes however and in truth it wasn't until the final round that the Thai athlete landed anything substantial. The Russian supporters began chanting in the final round and it was indeed the APB man who took the win 3:0. He will now progress to the finals tomorrow to face Jasurbek Latipov of Uzbekistan after he defeated Welshman Andrew Selby in an extraordinarily close bout.
Cuba Domadores Welterweight Arisnoidys Despaigne, who is scheduled to make his WSB debut next season, took on Gabriel Maestre of Venezuela. Maestrestarted round one with a high guard, whilst the Cuban danced around with his hands low. This was the complete opposite of the other Welterweight bout between Daniyar Yeleussinov of Kazakhstan and Arajik Marutjan of Germany, which was like watching a tornado having a fight with a typhoon.
Instead, this bout was more of an advanced game of tag, with highly technical exchanges and significant tactical work going on from both boxers. The Venezuelan seemed to be cautious in opening up and visibly fatigued towards the end of the bout, with yesterday's hard clash with Russian Alexander Besputin clearly taking its toll. The Cuban began circling backwards in his own version of the moon walk, knowing he had done enough. But in the last minute of the bout, he came on hard to show how much he still had in the tank.
Despaigne had a straightforward win over a tired Venezuelan which was scored 30:27 by all three judges. He will now progress to the finals to face Yeleussinov who out pointed his German rival.
Domenico Valentino took on the impressive Brazilian Robson Conceicao at Lightweight. The two orthodox boxers traded leather heavily, particularly in the second round, where the defensive aspect of both boxers' games was largely rejected in favor of a rapid-fire attack orientated approach. By the end of the round, the physical effects of this effort became apparent with both boxers fading. Presumably they were enjoying themselves though as the tactics didn't change in round three after they were refreshed by a break.
Though this wasn't a bout which seemed to involve a great deal of strategy, at least on the surface, they were working extremely hard nonetheless. In the final round, the Italian lost an important point for leading with his head one time too many. Tellingly, as the bell rang, Valentino walked back to his corner to be consoled while the Brazilian raised his hands aloft. The pair embraced warmly but it was indeed the Brazilian who took the bout. He now goes on to face Lazaro Estrada of Cuba in an all Latin American final.
"It was a hard fight for me because the guy had a lot of experience", said Conceicao. "He was already a World Champion [Milan 2009]. But I was very well prepared and I would like to thank the Boxing Federation in Brazil and my team, because they helped me get this result. The bracket I had was the worst in the tournament, but despite that fact I managed to come this far, so I'm happy".
Quotes of the session
"There were definitely sometimes I hurt him in that fight. I know that if you hurt a man, that's when he is at his most dangerous. He's going to let them swing from everywhere if you go at him. I just kept my composure and picked him off with better shots" – Jason Quigley (Ireland)
"I just couldn't get to him at all. His range and his distance were perfect. He wasn't landing too much, but his tactics were spot on and he was really tricky. I lost fair and square but at least I get to go home with a World Bronze Medal at just 19 years of age, [making him one of only six Irishmen to have won a world medal] so that must count for something" – Joseph Ward (Ireland) on his opponent Julio Peraza of Cuba, who will be facing Adilbek Niyazymbetov of Kazakhstan in the finals
Facts/Stats of the session
The Swedish national coach confused a few people when he turned out to coach several Argentinian boxers during the tournament. When this unexpected alliance was investigated, it turned out that the coach who is now living in Sweden is actually an Argentinian who used to box for his country when he was younger. So when he saw that his old team needed assistance, he was happy to jump in.
Robson Conceicao from Brazil was celebrating his birthday today. For most people, getting punched in the face may not be representative of their idea of a good party, but Conceicao didn't seem too perturbed by it and a trip to the finals of the World Championships was certainly a good present in any event. (Parabéns!)
Italian Domenico Valentino has medalled in every World Boxing Championships since Mianyang 2005 (Bronze) with Silver in Chicago 2007, Gold in Milan 2009 and another Bronze in Baku 2011. His third bronze at a World Championships, which he won today means that he has collected quite the trophy haul over almost a decade of world class competition.