Who's the most avoided boxer in the sport?
There is a long history in the sport of boxing of fighters being avoided for one reason or another. This does not necessarily mean that the avoided boxer cannot get any fights. However, it does mean that they have a much more difficult time either finding opponents or finding meaningful fights.
The reasons certain boxers end up getting avoided vary. Sometimes, it's the style of the fighter that makes others not want to enter the ring with him. Other times, it may be because the boxer being avoided carries frightening power. Maybe, the potential reward for facing someone is not worth the risk. Whatever the case may be, here are the most avoided boxers in 2013.
–> Check out all of the 2013 Boxing Awards
Most Avoided Boxer of 2013 – Guillermo Rigondeaux
Guillermo Rigondeaux is unquestionably the most avoided boxer of 2013. Why is this the case even though he did land a high profile bout with Nonito Donaire in 2013? Well, it's how he performed in that fight and the aftermath that made him the most avoided fighter in the sport.
Rigondeaux dominated Donaire in their April bout. Rigondeaux would make Donaire miss, counter quickly off that miss and then retreat out of harm's way. The fight took this pattern for almost the entire twelve rounds. It wasn't exciting but effective in getting a lopsided decision for Rigondeaux. However, due to Rigondeaux's style, the bout lacked sustained action and drew the ire of many in the boxing community.
The fighter he defeated, Donaire, found no trouble getting a comeback fight of his choosing on the HBO airwaves. Rigondeaux? His team basically had to beg to get a fight, any fight, televised before the year was out.
Rigondeaux is a defensive wizard and master counter puncher. He perfected this style during his lengthy amateur career. He moves around and he's exceedingly hard to hit. When an opponent opens up, he is quick to counter and then move out of range. Rigondeaux takes what is given and nothing more. Though effective in getting wins, it is not effective in being a box office draw.
So why would any manager put their fighter in with someone who is an experienced defensive counterpunching wiz and has zero box office appeal? There are three major problems when considering facing Rigondeaux.
First, he has perfected a style that makes him extremely difficult to beat. Second, that style in all likelihood can only make his opponents look bad. Finally, since Rigondeaux is not a big draw the paycheck for the opponent will not be anywhere near worth the risk of facing him in the ring.
For all of these reasons, Guillermo Rigondeaux is the clear cut most avoided boxer in 2013. If he continues to fight in his current style, he will likely be on top this list again in 2014.
2nd Place – Gennady Golovkin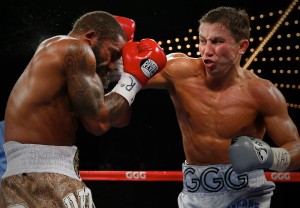 Gennady Golovkin is the exact opposite of Guillermo Rigondeaux. Golovkin fights in an aggressive fan friendly style. He also has big time punching power. Golovkin seeks and gets knockouts. It's this style and ferocious power that makes him such an avoided fighter.
Golovkin has a lengthy amateur background and has very good boxing skills. He has become very skilled at working behind the jab to set up his power shots to the head and body. Though he fights in an aggressive offensive minded style, his defense is not too bad, either. He knows when to cover up and has exhibited very good head movement of late making him a more difficult target to land cleanly against.
The biggest strength for Golovkin is his debilitating power. He has legitimate one punch power. In 2013 alone, he scored one punch knockouts to both the head and body. When Golovkin lands, his opponents feel it and thus become hesitant to open up themselves. Once his opponents become hesitant to open up, Golovkin usually begins to pour it on which generally leads to a stoppage or knockout victory.
The financial incentive is not there yet for a big name between Junior Middleweight and Super Middleweight to step in the ring with Golovkin. Golovkin's box office appeal is growing but not yet to the point of multi-million dollar paydays for some of the stars. Other contenders see too much risk and still not enough reward to get in the ring with him. Thus, for at least the moment, finding quality opponents willing to step in the ring with Golovkin is a challenge.
Also Receiving Votes
Sakio Bika: Sakio Bika is not necessarily known for his boxing skills or punching power. He is, however, a very rugged fighter who fights in an awkward style. Bika is not easy to beat let alone look good against. Additionally, he has been known to bend the rules. Bika has gotten skilled at throwing the well-timed low blow, occasional well placed elbow and landing rabbit punches when the referee is not looking. It's not difficult to see why his name appears on this list.
Erislandy Lara: Erislandy Lara has brought his skills from his Cuban amateur days to the pros. He is a slick boxer with excellent counter punching skills. Lara also carries a pretty decent punch and unlike a lot of former Cuban amateurs is not afraid to be a little more offensive minded when the time warrants. He does not have a big name yet and a lot of fellow Junior Middleweights see him as a high risk low reward caliber opponent. Thus he has found his way on the most avoided list for 2013.
Carlos Abregu: Like fellow Argentinians Marcos Maidana and Lucas Matthysse, Carlos Abregu carries legitimate one punch knockout power. Abregu is also tough, rugged and somewhat awkward. In 2012, his awkward style and power helped him stop big time prospect Thomas Dulorme. But since that fight, Abregu has found it tough to find anyone willing to fight him. The risk versus reward factor does not fall in his favor. He is not a big enough name and too dangerous for any of the top Welterweights to face. He is too risky for any contenders or top prospects to face based off of what he did to Dulorme. Thus, has become an avoided fighter in 2013.
Sergey Kovalev: Sergey Kovalev makes this list for one reason. The man can flat out punch. So far in his career, when he has hit an opponent flush they have either gone down or been hurt. Initially, opponents took fights with him thinking they could extend him into deep waters and maybe expose him some. However, that has yet to happen because Kovalev has taken all of them out early in their respective bouts. This devastating power has now made him an avoided man in the Light Heavyweight division.