The Worst Decision in Boxing in 2014:
The Boxing Robbery of the Year is not exactly a prestigious "award". Nonetheless, it's an important designation, showcasing some of the stinky side of the Sweet Science, and giving the rightful winner of the fight his just due. This year, it's a good thing we didn't cheat and write our awards early, because a late entrant became the easy choice for the worst boxing decision of the year — Oscar Encandon's Split Decision win over Tyson Cave.
Robbery of the Year – Encandon vs. Cave
Occurring on a special Thursday night ESPN card on December 11th, the Oscar Encandon vs. Tyson Cave match was an eliminator for a Super Bantamweight title. The stakes were therefore high for fighters who had yet to truly be on that stage, and the Canadian Cave came out and took control of the bout early.
In fact, he seemed to dictate much of the entire fight, so much so that ESPN's online fan scoring had voted him the winner of each individual round, giving him a theoretical 120-108 score. Now, you could say you preferred Encandon's aggression to Cave's boxing, but even if that tosses a handful of close rounds to Encandon, Cave should clearly have had enough in the bank to win the decision.
Not so much. Encandon took home a split nod, with each fighter getting a 115-113 card, and an outrageous 117-111 going to Encandon. Consider that Encandon's own promoter wants a rematch.
The decision also sent Teddy Atlas into a full-on apoplectic rage. Atlas had scored the fight 10 rounds to 2 for Cave, and couldn't believe his eyes or ears at the verdict, calling the judges cowards and the sport a sham.
Runner-Up: Miguel Vazquez vs. Mickey Bey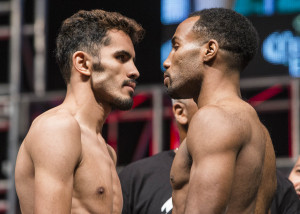 I want to be clear about this – Mickey Bey did not defeat Miguel Vazquez when they fought on the pay-per-view undercard of September's Floyd Mayweather vs. Marcos Maidana rematch. Judge Robert Hoyle turned in what might be one of the single worst scorecards in the history of the sport, handing in a literally unfathomable 119-109 verdict in Bey's favor, with each fighter also getting one 115-113 card in their favor.
Let's forget the fact that Bey, only a few fights removed from a stoppage loss at the hands of John Molina, in no way deserved a title shot. That Vazquez has been criminally overlooked and underrated for his career. That his last real loss came to freaking Canelo Alvarez in 2008. Let's forget about all of that, and focus on the fact that Vazquez is a tactician with a not particularly aesthetically pleasing style. It cost him his title, and it shouldn't have.
Since we pay attention to what really happens, and not what a Win-Loss record tells you, we still have Miguel Vazquez ranked as the Lightweight division's top contender, whereas Bey barely sneaks into the top 10.
The Sad Life of Mauricio Herrera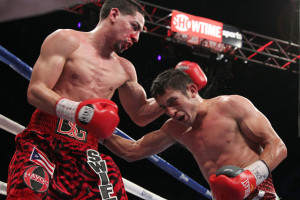 Mauricio Herrera simply cannot catch a break. This guy is more or less the definition of "hard luck", continually on the wrong side of the decision. Many believe he deserved to defeat Danny Garcia. Most believe he deserved to defeat Jose Benavidez, in another last-minute addition to our robbery of the year discussion.
(Not to mention, that card also featured the questionable draw between Timothy Bradley and Diego Chaves, a fight most believed Bradley to easily win. That's three last-minute stinkers here. Did boxing judges decide to take December off or something?)
Herrera has a win over Ruslan Provodnikov, which got him absolutely nowhere. Chris Algieri has a win over Provodnikov, and parlayed it into a fight with Manny Pacquiao!
Somebody give Mauricio Herrera a freaking break!