The Best Trainer in Boxing in 2014:
The Trainer of the Year award in boxing tends to bring up the same old names time and again. Perhaps that causes a bit of fatigue, or a lack of appreciation for the difference that certain trainers have year in and year out, from fighter to fighter. Nevertheless, this year we're unapologetically handing our award to shall we say, a familiar name.
Freddie Roach – 2014 Trainer of the Year
Freddie Roach won the 2014 Trainer of the Year award on June 7th, the night Miguel Cotto thumped Middleweight champ Sergio Martinez. I said it the next day. And despite a compelling argument from at least one other potential recipient (see below) I never was able to veer from that path.
That's because Roach was vital to a drastic overhaul of Cotto at this stage of his career. After a spirited effort, but defeat, to Floyd Mayweather, Cotto was seemingly outclassed by Austin Trout. Perhaps there were a few more paydays left to be had, but Cotto's time at the top of the sport as over.
Then he began working with Roach, and in their first fight together, he annihilated Delvin Rodriguez. Alright — that was a great showing, but nobody was surprised that Cotto won the fight against that caliber of opposition. But to move up to Middleweight for the first time in his career, and to not only win, but destroy, the reigning champ… that couldn't speak any louder to the effect that Roach has had.
Roach has gotten Cotto back to what he was doing when he was at 140 lbs, seeking and destroying, throwing that deadly left hook to the body, and working with a varied offensive attack. He's not sitting back and reacting anymore, he's going out and getting things done, and making his opponent react to him. Roach took a Hall of Fame fighter at the end of his rope and gave him new life, and keyed him to what is perhaps the biggest and best win of his entire career.
Throughout the rest of his stable, Roach saw some mixed results. Manny Pacquiao defeated Timothy Bradley and Chris Algieri. Ruslan Provodnikov beat Mike Alvarado, but lost to Algieri. Zou Shiming has been improving, Brian Viloria is back on a winning streak but hasn't stepped back up in class. Antonio DeMarco just lost to Jessie Vargas. As I said, a mixed bag.
But the transformative effect he had on Miguel Cotto, and Cotto's performance in that fight, was hands down the single best demonstration this year of what a trainer can do for a fighter. That's why Freddie Roach takes home our 2014 Trainer of the Year honors.
Runner up: John David Jackson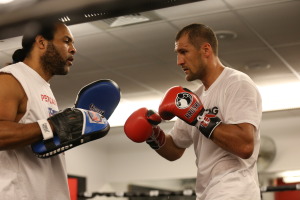 Sergey "Krusher" Kovalev is used to bulldozing his opponents. The KO record, and the nickname, both attest to that. However, John David Jackson is helping Kovalev not by simply cheering him on as he bludgeons his foes, but rather by helping him to refine his craft and learn new tactics.
Kovalev has taken huge strides under Jackson's tutelage in the past few years. Nowhere was that more visible than in Kovalev's win over Bernard Hopkins. This is a guy he wasn't going to knock out or wear down. There would be no submission or surrender. Kovalev had to be prepared to go the distance, to avoid Hopkins' traps, and also to be mentally strong enough to not give into any of his mind tricks, either.
You'd be forgiven if you've misled into thinking that Kovalev just walks forward and punches. Kovalev strong like bull, yes?
That's not his game, although that's all he has needed against some opponents. He cuts off the ring. He sets up his shots. He waits for the right opportunity. In large part, he can thank Jackson for those attributes.