When looking back at the year that was, some years have rather clear overarching themes, whether it's a litany of awful decisions or controversial calls, or a single fighter dominating the scene. This year contained a mixture of history, along with the emergence of bonafide new stars, and together, those two factors make up the bulk of my top 6 boxing moments of the year. Take a look.
[Note: Beyond this very comment right here, neither Floyd Mayweather nor Manny Pacquiao figure into the best moments from 2014.]
Miguel Cotto TKOs Sergio Martinez
Miguel Cotto became the true Middleweight Champion of the world, and a 4-division titlist, by pummeling Sergio Martinez en route to a 10th round TKO victory. The crowd was rocking at Madison Square Garden on June 7th, in support of the Puerto Rican icon's upset bid, and Cotto set the tone, and won the fight, from its very opening moments.
With three knockdowns on the ledger by the time Round 1 was finished, a winner had all but been declared, and a new champion crowned. An amazing feather in the cap of Cotto's Hall of Fame career.
Bernard Hopkins Rewrites History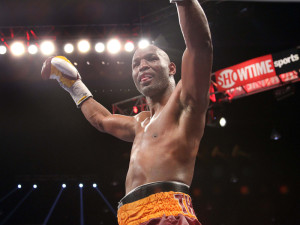 Talk about feathers in the cap of a Hall of Fame career. It's hard to wrap your head around what Bernard Hopkins has been able to accomplish, fighting at the absolute highest level of the sport at nearly 50 years of age, and just how old that is.
Golfers are in rarefied air when they win in their 40's. They walk around a course and swing a club. NASCAR drivers win accolades if they win races in their 40's. They're driving in circles making left turns. Bernard Hopkins was battering men half his age, and winning and unifying titles against them, while then agreeing to take on one of the most feared fighters in the business.
He was two months shy of 50 for the Sergey Kovalev fight. He made guys like Archie Moore seem like they retired young. Absolutely hard to fathom and something you should never expect to see again.
Vasyl Lomachenko Shows How a Top Prospect Does It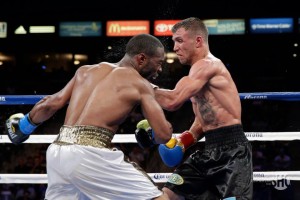 The contrast in the careers of Vasyl Lomachenko and Gary Russell was too phenomenal to ignore as they clashed on June 21st. Lomachenko, one of the best amateur fighters in history, agreed to meet Russell in his 3rd pro fight, after taking on and narrowly losing to Orlando Salido in his 2nd. Russell, a heavily hyped American prospect, was coddled for years, fighting a who's-who of "who's that?" opponents while managing to stay in the limelight with television dates.
Guess who won? Lomachenko easily handled Russell, in a fight which wasn't as close as the scorecards indicated. He moves onto potential super fights, whereas with Russell, we wonder if his lack of opposition caused his career to plateau before it ever even took off.
The Wrecking Balls That Are Sergey Kovalev & Gennady Golovkin
When Sergey "Krusher" Kovalev or Gennady "GGG" Golovkin fight, you watch. Each man is a full-fledged must-see fistic television attraction.
They both love staying active, too. They fought three times apiece in 2014, going a combined 6-0, 5 KOs. Golovkin's year was highlighted by wins over Daniel Geale and Marco Antonio Rubio, while Kovalev took care of that aforementioned 50-year-old mad-man, Bernard Hopkins. That brings their combined records to 57-0-1, 51 KOs, which is nearly as spectacular as a potential all-time hard-hitting Heavyweight title fight.
There are no signs of slowing down. Golovkin squares off against Martin Murray in February, and Kovalev is slated to face Jean Pascal. Both are climbing the pound for pound charts.
Terence Crawford Becomes the Next Big Thing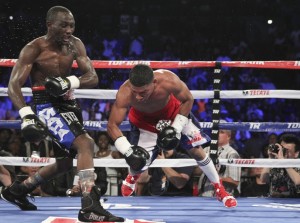 Terence Crawford rose from prospect with potential to one of the best fighters in the world in an astonishingly short amount of time. Most analysts were split in terms of who they'd favor in his match against Yuriorkis Gamboa on June 28th (that gives June three of our top six moments here) but Crawford would leave no doubt who was the better man.
Surviving a few shaky moments early against the dynamic, unbeaten Cuban, he began systemically, technically, breaking him down, winning via 9th Rd TKO. A thorough one-sided win against Raymundo Beltran is no joke, either, and it brought him our Lightweight Championship.
The sky is the limit for Crawford, and it should be fun getting to see him reach that peak.
Carl Froch vs. George Groves Rematch Puts 80,000 In Wembley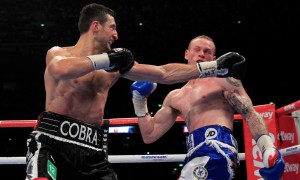 The hype, and the trash-talk, were nonstop heading into Carl Froch's rematch against George Groves, and 80,000 people showed up to see whether or not Groves would right the perceived wrong from their first clash. The Cobra had other plans, of course, erasing memories of any type of controversy with a decisive 8th Rd TKO win.
Froch vs. Groves II was a massive event and a unique spectacle, the type that doesn't come along too frequently, even in the domestic-rivalry-obsessed British boxing scene.