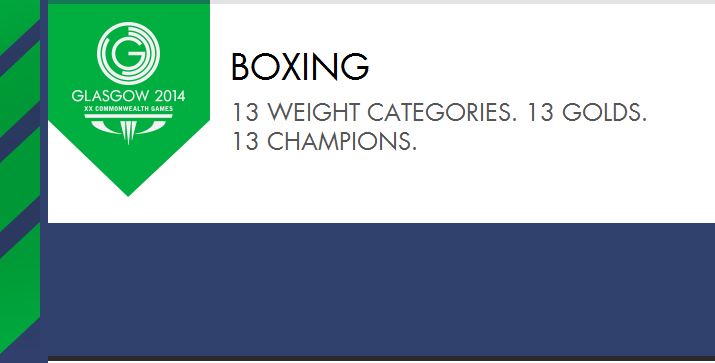 The 2014 Commonwealth games are well underway in Glasgow. The fights have been coming thick and fast, with plenty of talking points and intrigue to match the talent in the ring. At the halfway stage, now is an appropriate time to recap what has happened thus far, and look ahead to the fights to come.
Weight-Class Results Round-Up
(winners in bold)
Men's Light Flyweight
Malaysia's Muhamed Mohd Redzuan slightly resembled a young Manny Pacquiao with his southpaw stance and fighting rhythm, impressively outboxing Mohibulla and Suntele in the opening rounds. This has earned him a bout with Wales' Ashley Williams in the quarter finals.
Williams worked hard in his opener to beat Jonathan Maquina, with his opponent tiring in the latter stages of the bout due to the Welshman's body attacks and aggression.
Northern Ireland's Paddy Barnes is the Gold medal holder and favourite here, and remains on course to retain his status after an excellent performance of rapid-fire combination punching in the second round.
Scotland's Aqeel Ahmed won his first contest on his 22nd birthday, sending the crowd into raptures after a strong showing to reach the quarter finals.
Men's Flyweight
The success story of this weight class has undoubtedly been the host nation's own Reece McFadden. The teenager from Motherwell faced world number one Andrew Selby in the first round, but McFadden's high tempo combined with mouthpiece issues and subsequent warnings for Selby saw the Scotsman through in the upset of the tournament so far.
That wasn't all though. Next up McFadden faced England's Charlie Edwards in a clash of national rivals, another fight he was not expected to win. Yet again, McFadden surprised, with darting movement and quick flurries leaving the taller Edwards without answers.
McFadden will have to continue to fight well for a medal, though, as next up for him is relentless Botswanan Oteng Oteng, who stopped Blackman in his opener.
Elsewhere, Sri Lanka's Rathnakaye can consider himself lucky to remain in the tournament, with poor scoring benefitting him at the expense of Uganda's Semitala in the second round, while Northern Ireland's Rory Dalton remains a medal hopeful having started the competition well.
Men's Bantamweight
Michael Conlan of Northern Ireland opened the games' boxing with a sound performance and followed up with a similarly solid showing to reach the quarter finals.
South African Ayabonga Sonjica fought more like a Cuban, completely outclassing a more experienced opponent and rarely being hit in the second round. Sonjica could be one to watch, though to medal he will have to get through Sean McGoldrick of Wales.
McGoldrick engaged in one of the best fights of the tournament, and a clash of styles, to beat Australia's Jackson Woods in an extremely close-fought contest.
Joe Ham and Qais Ashfaq will re-ignite the Scotland/England rivalry in the quarter finals, both having successfully negotiated their second round bouts.
Men's Lightweight
Wales' Joseph Cordina has looked good thus far, outclassing David Gauthier having knocked him down in the first. His reward is a quarter final against aggressive New Zealander Chad Milnes.
Another interesting quarter final clash sees an all-Caribbean match-up between Trinidad and Tobago's languid Michael Alexander and Barbados' awkward Cobia Breedy.
21 year old Alexander has used his long range perfectly. This, along with his southpaw stance, makes him difficult to get inside against. Breedy showed an unconventional style in his opening contest, lulling his opponent in with a low guard and forward-leaning posture, but proved elusive and effective. This fight represents an intriguing contrast of styles.
Men's Light Welterweight
Scotland's Josh Taylor has put in two sharp, measured performances to reach the quarter final stage, where he will meet Wales' Zack Davies. Davies has done the job twice with a high guard and efficient approach.
England's Sam Maxwell has won through to the last eight too, and must be considered in with a good chance of medalling, though he will have to get past one of the above to reach the final.
New Zealand's Leroy Hyndley roughed up his opponent in the second round, producing four standing counts as he won through. Considering the favourable draw, he must hold hopes of reaching the final.
Men's Welterweight
The 69 kg division has arguably been the best and most exciting of the entire games. It has produced perhaps the fight of the games; Ghana's Azumah Mohamed against Nauru's Joseph Deireragea. Deireragea burrowed on Mohamed's chest on as he worked on the inside, while Mohamed lent on the ropes and picked his man off coming forward.
Scotland's Lewis Benson suffered heartbreak in an early exit to come-forward New Zealander Bowen Morgan. Morgan has refused to take a breath or a step back in the tournament so far, and clearly it's working for him. His style saw him overcome Botswana's Tswiige to reach the quarters.
In the last eight Morgan will meet England's Scott Fitzgerald, who got past the aforementioned Mohamed to reach this stage. Fitzgerald's straight shots were enough to see off Mohamed in another exciting bout, and his contest with Morgan is one to mark in the diary.
Australia's Daniel Lewis, Canada's Custio Clayton and South Africa's Tulani Mbenge will also have medal dreams having impressed so far.
Men's Middleweight
The fight and performance of the round came when England and Scotland collided once again, with Anthony Fowler and Kieran Smith respectively clashing. Fowler looked as strong as an ox, and his lead right hand worked well against the southpaw Smith. Smith occasionally strafed Fowler with backhands of his own, but ultimately it was not enough. Fowler rocked his man on a number of occasions to silence the light-hearted boos from the crowd.
Northern Ireland's Conor Coyle worked hard to the body to win through to the last eight, while Trinidad and Tobago's Aaron Prince staved off a last ten second spurt from Godfrey Strachan; who nearly threw the kitchen sink at him, to seal victory.
The award for most unlucky goes to Canada's Brodie Blair, whose facial injuries prevented him from advancing to the next stage, in spite of his winning both of the two rounds fought in his fight against the lucky Muziwo, of Zambia.
Men's Light heavyweight
New Zealand's David Nyika was too good for the host nation's Scott Forrest as he got through to the last eight. Forrest was too slow and predictable for the faster, cleaner boxing of Nyika.
Nyika will be joined by Northern Ireland's Sean McGlinchy and Wales' Neil Thorley, amongst others.
Men's Heavyweight
The first round produced thrills as England's Warren Baister got the better of Northern Ireland's Steven Ward in a hard dust-up. Baister hurt Ward on a number of occasions, and thoroughly deserved to get the nod.
Stephen Lavelle of Scotland did well to beat Wales' Kody Davies with a good performance. Should he reach the semi finals he may face New Zealand's David Light, who scored a big knockout in the first round.
Men's Super Heavyweight
South African Paul Schaefer eventually overcame the looser boxing style of PJ Leeui of Samoa in the opening round. Leeui started well, with surprising hand speed taking into account his considerable size, but faded with lack of fitness a key issue. Schaefer took full advantage with effective aggression.
Australia's Joseph Goodall overcame New Zealand's Mailata to reach the quarters, timing Mailata's onrushes with clean shots and calm boxing.
England's Jo Joyce and Scotland's Ross Henderson will fight for a place in the semi finals in a fight that will be fired by an intense atmosphere, and a higher than normal chance of an early finish.