2014 Boxer of the Year Award:
Winning the Fighter of the Year award is a special honor. It means that across the entire sport, there was no other single fighter who did as well, or really defined the year as you did. While there were several names to consider in 2014, one fighter broke through the pack just a little bit more than the rest. Your 2014 Fighter of the Year is Omaha's Terence "Bud" Crawford.
Terence Crawford Wins 2014 Fighter of the Year
Crawford fought three times in 2014, improving his record along the way to 25-0, with 17 KOs, and reaching a height of number 11 in our pound for pound list. Each of his three fights made a major impact. First, he went to Scotland and defeated Ricky Burns in hostile territory. It was a major step up in class after facing only several fringe contenders, and Crawford passed the test with ease, even under difficult circumstances.
Next, he squared off against unbeaten Cuban Yuriorkis Gamboa, and this time he was able to enjoy the comfort of his own raucous hometown crowd. Gamboa was a former top 10 pound for pound fighter who fell off in prestige just a bit due largely to inactivity. Crawford showed fantastic ring IQ, awareness and adaptability by changing up his approach, and then putting the hurt on Gamboa. He knocked him down four times en route to the TKO9 win, displaying a versatile skill set, with speed, power, and a fighter's instinct and will to win.
Last but not least came his fight with Raymundo Beltran, a fighter who deserved a win over Burns himself but couldn't come away with a decision in our 2013 Robbery of the Year. Despite the more eye-catching name of Gamboa on the resume, it was only in his fight with Beltran where he became our Lightweight World Champion. Beltran is a hard-nosed fighter who's trouble for nearly any other fighter in the division, but he had nothing for Crawford.
Crawford looks set to begin campaigning at 140 lbs. While that causes some havoc with our championship lineage, creating a vacancy right after filling it, it should lead to any number of fantastic fights in that deep and talented division.
Fighter of the Year Runners Up
Miguel Cotto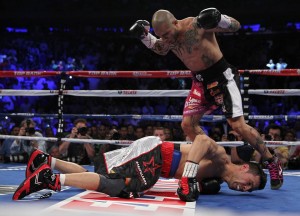 Miguel Cotto fought only once in 2014, but what a performance it was. Moving up to Middleweight, Cotto squared off against the division champ, Sergio Martinez at Madison Square Garden this June. He scored three knockdowns within the 1st Round and never looked back, eventually scoring a TKO10 victory.
Cotto became the official Middleweight World Champion, picked up a title in a Puerto Rican record 4th division, and nabbed perhaps the single best win of his career all in one outing.
Sergey Kovalev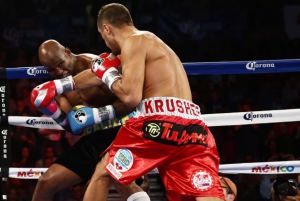 Krusher, now 26-0 with 23 KOs, sent "Superman" into hiding, blew through two opponents, and then squared off against the ageless Alien, Bernard Hopkins. Kovalev fight like a fighter his age should and didn't let the guile and mind games of Hopkins bother him. It was a rare non-knockout win for Kovalev, but one of his most impressive showings. He's not resting on his laurels either, agreeing to face Jean Pascal in Canada in 2014.