The Worst Decision in Boxing in 2015:
Boxing has always had bad decisions, and it always will. It's an unfortunate part of the game. Yet, some years are worse than others, and thankfully, 2015 was relatively modest in terms of how many downright stinker verdicts there were. Looking back at recent years, the worst decision designation could have been doled out to a dozen different outcomes, while this year, two fights stood atop our list.
"Winner": Vyacheslav Glazkov's UD Over Steve Cunningham
Steve Cunningham's career, more than any other fighter of his era, has been defined by being on the wrong end of awful decisions. It's become an unfortunate trademark for USS, and it happened arguably twice this year. Most egregious though was his unanimous decision loss against Vyacheslav Glazkov.
In our original results write-up, we said:
Cunningham controlled the fight, and despite a stronger finish from Glazkov, had put enough rounds in the bank to win the decision. He's been a hard luck fighter his whole career, and before the scorecards were even read, you can tell you he was about to be screwed yet again. It was just in the air. And surprise, that's what happened. Giving Glazkov 8 rounds is absolutely incorrect. At best, it was a draw, but Cunningham winning a 115-113 type decision would have been most just.
The judges scored the fight 116-112, 115-113 and 116-112 for Glazkov, who now gets to fight for a vacant portion of the heavyweight title in January. Cunningham, who has called for fans to show more outcry over bad decisions, next had a questionable draw come against Antonio Tarver, who failed a post-fight drug test.
Runner-Up: Jean Pascal's UD Over Yunieski Gonzalez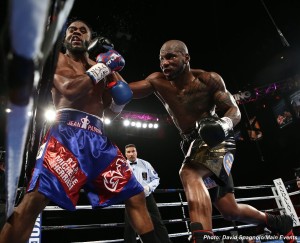 Jean Pascal simply did not appear to have his best game when he met Yunieski Gonzalez this July. The unbeaten Cuban took the fight to the former champ, and seemed to control the action throughout the bulk of the encounter with his aggression, while landing harder, cleaner blows. Yet, as is so often the case, the big name fighter got the win. The decision crushed Gonzalez, who broke down in the ring upon hearing the verdict. Afterwards, he had this to say:
 "I am so sad. I was the real fighter. That was taken from me. He did not win, I did. I am the real winner."
When a fighter gives it his all and as he says, has it taken from him unjustly, it's difficult both to understand, and to see.
Comments
comments