Erik Skoglund (24-0, 11 KOs) continues his title charge following an impressive performance against Derek Edwards (27-6-1, 14 KOs) in Nyköping, Sweden.
The 24 year-old Swede used his height and reach advantage to good effect, keeping Edwards at range throughout the ten-round contest. Despite trailing on points, Edwards remained a threat as he looked to land his big overhand right.
However, it was Skoglund who came closest to scoring a knockout. An uppercut in the sixth-round sent Edwards to the canvas, but the referee ruled it a slip. In the tenth-round, the American was once again in trouble with Skoglund unloading a barrage of punches before the final bell.
The judges scored the fight 100-90, 99-91 and 99-92 all in favour of the home fighter, who expressed his delight at the result.
''This was one of his toughest fights of my career,'' said Skoglund. ''Edwards was dangerous throughout the whole fight, but I stuck to my game plan and kept him at a distance.
''It was like a dream scenario for me, everything went exactly as we planned. I felt that I was close to getting the stoppage, but he was tough and I couldn't land the final punch.
''This was an important test for me against a World-class fighter, and I think I passed.''
''I was very impressed by Erik performance. He fought the perfect fight,'' said promoter Nisse Sauerland. ''Derek is a seasoned professional and he came here to win, but was beaten by the better man.
''Now, Erik can take some time off and enjoy his Christmas break, before we get back to business next year. He proved he's ready for a step up and we will look to deliver him a big title fight in 2016.''
On the undercard, Swedish Olympian Anthony 'Can You Dig It' Yigit (16-0-1, 7 KOs) proved his potential against DeMarcus Corley (42-26-1, 25 KOs), forcing the veteran to quit on his stool at the start of the fourth-round.
''It was a great fight,'' said the Stockholm fighter. ''DeMarcus is definitely one of the best boxers I've ever faced, and that was one of the best performances I've ever delivered. Next year, I want to continue my progress and fight the best fighters out there.''
Full Results from Manchester
Billy Joe Saunders was crowned WBO World Middleweight Champion after outpointing Andy Lee last night at the Manchester Arena. He became the twelfth and latest British World Champion winning on a majority decision with scores of 115-111, 114-11 and 113-113.
The Hatfield Star dropped Lee twice in third round, but went on to out-think and out-box the Limerick puncher for the remainder of the fight.
Saunders, a 2008 Olympian and a former British, Commonwealth and European Middleweight Champion, said, "I can't believe that I'm finally world champion. It's been my destiny to win a world title and I always knew that I would do it, but it's unreal that I finally done it. Andy Lee has my full respect, he a true fighting man and the better man won, I know he will come again, he must be disappointed losing his world title, but he'll come again. He was a hard man and I thought I had him in the third round, but he showed what a tough man he is and made me rethink my plans, but it showed I can adapt at world level. I'm having a good rest over Christmas with my kids who I haven't seen over the last six weeks and then I'm ready to look forward to a big 2016 and I'll fight anybody out there. I'd like to thank my promoter Frank Warren who has been with me since day one and delivered everything he said he would. Also a big thanks to my trainer Jimmy Tibbs and his son Mark who have been with me since the beginning and for this fight we've been together for 24/7 for six weeks and they have put me through hell, but I know everything they did was for my good."
In the joint top of the bill, Liam Smith successfully defended his WBO World Super-Welterweight title for the first time against Jimmy Kelly.
In the first Manchester v Liverpool world title showdown in over 80 years, Smith blasted out his unbeaten rival with a seventh round stoppage.
The unbeaten Liverpool ace broke down Kelly with powerful body shots and showed his power and accuracy.
He put together some hard, close, combination punching that sapped Kelly's strength and resolve. In the sixth with Kelly getting desperate, he launched a head butt on Smith and was deducted two points.
In the next round the referee called a halt when Kelly's trainer Ensley Bingham waved the towel signalling his man had had enough.
A delighted Smith said afterwards, "Kelly put up a tough challenge, but I knew that I was levels above him. I was comfortable in there and I started breaking him down from the beginning and I knew I was hurting him when I was landing the body shots. He was a hard man and was hanging in there and I said to his corner to pull their man out. They did in the seventh, I'm sure Kelly can build himself back up again. As for me, I'd love a unification fight in 2016, I know there are big fights on the horizon and I can't wait."
FULL RESULTS FROM THE MANCHESTER ARENA
6 X 3 Minute Rounds Super-Welterweight Contest
JOE SELKIRK WKO1 (2:20) ZOLTAN TURAI
4 X 3 Minute Rounds Light-Heavyweight Contest
ANTHONY YARDE WKO1 (1:35) CURTIS GARGANO
4 X 3 Minute Rounds International Super-Bantamweight Contest
RAZZA HAMZA WTKO1 (0:25) MICHAEL STUPART
4 X 3 Minute Rounds Super-Middleweight Contest
DALE COYNE WPTS4 (40-36) JAMIE AMBLER
6 X 3 Minute Rounds International Middleweight Contest
VIJENDER SINGH WTKO2 (0:35) SAMET HYUSEINOV
THE VACANT WBO EUROPEAN LIGHTWEIGHT CHAMPIONSHIP
10 X 3 Minute Rounds
TOM STALKER MAJORITY DRAW (94-96 Evans, 95-95, 95-95) CRAIG EVANS
THE COMMONWEALTH AND VACANT BRITISH SUPER-WELTERWEIGHT CHAMPIONSHIP
12 X 3 Minute Rounds
LIAM WILLIAMS WTKO2 (0:10) KRIS CARSLAW
THE VACANT WBO EUROPEAN SUPER-FLYWEIGHT CHAMPIONSHIP
10 X 3 Minute Rounds
PAUL BUTLER WTKO6 (2:45) SILVIO OLTEANU
THE WBO INTERCONTINENTAL SUPER-LIGHTWEIGHT CHAMPIONSHIP
10 X 3 Minute Rounds
JACK CATTERALL WTKO3 (2:38) NOE NUNEZ RODRIGUEZ
THE WBO INTERCONTINENTAL SUPER-FEATHERWEIGHT CHAMPIONSHIP
10 X 3 Minute Rounds
MITCHELL SMITH LPTS10 (94-98, 94-96, 93-97) GEORGE JUPP
THE WBO WORLD SUPER-WELTERWEIGHT CHAMPIONSHIP
12 X 3 Minute Rounds
LIAM SMITH WTKO7 (2:35) JIMMY KELLY
THE WBO MIDDLEWEIGHT CHAMPIONSHIP OF THE WORLD
12 X 3 Minute Rounds
BILLY JOE SAUNDERS WPTS12 (112-114, 111-115, 113-113) ANDY LEE
THE WBO INTERCONTINENTAL MIDDLEWEIGHT CHAMPIONSHIP
10 X 3 Minute Rounds @ 160 lbs
TOMMY LANGFORD WTKO5 (0:39) ROBERT SWEIRZBINSKI
4 X 3 Minute Middleweight Rounds Contest
JACK FLATTLEY WPTS4 (40-37) DAN BLACKWELL
Close-Up on Tom Langford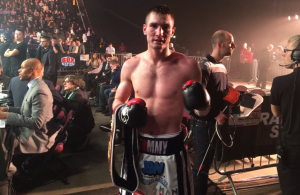 Tommy Langford (15-0) extended his unbeaten run with a fifth round stoppage of Polish national champion, Robert Swierzbinski (15-5) on December 19th in Manchester, live on BoxNation TV.
The Bideford-born, Queensberry Promotions star defended his title for a second time over 10 rounds against the worthy challenger from Bialystock, resulting in the third stoppage in his last four fights, capping off an amazing year for the 26-year-old prospect that has seen him reach the top five in the British and WBO World rankings.
Trained by Tom Chaney at his Hall Green Gym in Birmingham, Langford vowed to reward his travelling fans with a spectacle and he certainly delivered on that promise.
The 26-year-old dominated from the first bell, using his swift, stiff jab to good effect. On the minute mark Langford scored a sweet uppercut and looked to work the body early on in what was an incredible opening round for champion.
A straight right hand through the guard landing bang on the button in the second round saw his European counterpart hit the deck but remarkably no knockdown was given.
He continued the pressure with rib-rippling blows coming close to stopping the contest on a couple of occasions, drawing comparisons to former WBC World middleweight champion, Richie Woodall from the commentators.
In round three, Langford visibly upped the pace throwing an impressive variety of punches with plenty of pop in them.
Despite the success, Langford continued to use the double jab to good effect throughout even tripling it in the final seconds of the round.
In round four, Langford hurt Swierzbinski early on and referee, Terry O'Connor gave a standing eight count shortly after when the Pole briefly took a knee before getting up instantly only to be met with two right hooks from the assiduous Brummie fighter, all inside the first minute.
Midway through the round, Langford took a couple of flush shots from Swierzbiniski, one right hand and a left jab, in his hurry to get him out of there but 30 seconds later, the relentless pressure saw two crushing right hands floor the man from Poland.
The punch-perfect performance continued into the fifth round with trademark crippling body shots that visibly hurt the 33-year-old travelling opponent causing referee O'Connor to step in and stop the contest.
Langford told the BoxNation cameras post-fight, "In the first round, I was a little bit tense but once I settled down I started breaking him up."
He admitted, "I'm never going to be a one-punch knockout artist, but I've improved on my strength and it's really become an asset."
The ardent West Bromwich Albion fan nicknamed the Baggies Bomber achieved his goal of beating Swierzbinski in a quicker time than Chris Eubank Jr. managed back in May 2014 when he stopped the same opponent in round seven.
"I've had a wicked 2015 and I'll be looking to push on in 2016," said Langford in his ringside interview. "I will be looking to get some tests under my belt and the Commonwealth, British and even European, I'll be looking at next year."
Langford's next outing will be held at the Echo Arena Liverpool on February 13th on the undercard of Derry Mathews WBO World lightweight title shot at champion Terry Flanagan in a Liverpool v Manchester derby.