When following boxing coverage, there are times where seemingly-important items are just not discussed. It's almost as if the entirety of those who cover boxing collectively agreed to leave certain topics alone. It is understandable to an extent. Not everyone can hop on a plane to do investigative reporting. Some of the issues are impossible to decipher, so leaving them alone is just easier to do. Whatever the reason.
You still have to wonder why some things seem swept under the rug. Here are some recent examples that might have raised your eyebrows:
The Coverage of Oscar Diaz
You might remember Oscar Diaz, a pretty good little fighter from Texas. He had flattened out as a possible contender after getting stopped by Golden Johnson in 2006. By 2008, he was on a comeback when he faced welterweight contender Delvin Rodriguez on an ESPN fight.
He looked wobbly in the 10th and before coming out for the 11th, he held his hands to his head and made a groan that I'll never forget–before collapsing in the ring and being taken on a stretcher to the hospital. He survived, but I couldn't really tell you what kind of condition he is in because THERE HASN'T BEEN ONE WORD ON THE TOPIC.
Shameful. The poor guy spills his guts in the ring. On TV no less. And absolutely zero updates in the subsequent 4 years since his downfall. All we know is that he survived. I can only guess that reality is not a comfortable topic and no one wants to cover it. That doesn't mean it's OK to just forget about the guy as if he never existed. He almost died entertaining us in the sport we love. He is owed a little more than that.
The same also applies to Gerald McClellan and any other fighter who paid the steepest of prices. Whatever is to be gained by sweeping these men under the rug for the sake of our comfort level is outweighed by the utter heartlessness of forgetting them altogether.
Showtime's Handling of Antonio Tarver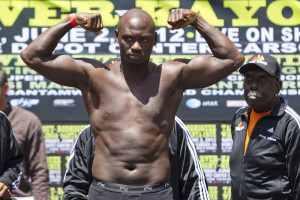 So he tests positive after a fight and disappears from the broadcast booth without a word of mention? I can understand the position of Showtime to an extent. There are enough fighters-turned announcers to work with who aren't coming off a PED scandal. I'm just not so sure that is just cause to deny a man his opportunity.
I don't profess to know all the ins and outs of this situation. For all we know, Tarver was hanging by a thread and this just pushed him off the edge. At the same time, I found him to be insightful and personable on the air. Looking back, that was a pretty costly night for Tarver, but I think the damage he did to his actual boxing career was ample enough punishment. For him to completely lose his entire profile within the sport seems a little on the harsh side.
Disappearing Fighters
It's always been funny to me that in other sports, whenever an athlete is out of action for some reason it becomes a hot news item. A relief pitcher could get suspended for ten games and it's a top story. The starting quarterback for Rice is out and you'll hear about it. But in boxing, fighters can fall off the face of the earth and it will barely discussed if at all.
You'll watch these fighters on TV and the whole storyline will build, then just fall off a cliff. You get interested in the fighter, then it's nothing for a year. And you never know why. Some recent examples:
James Kirkland was coming back from the loss to Ishida, builds a little momentum with a win over Angulo, catches a break against Molina in March of 2012, then nothingness.
Remember when Kelly Pavlik squeezed two fights inside of a month in June/July? Seemed like he was on the fast-track to rebuild. Now it looks like he's taking the balance of 2012 off. If you were guiding Pavlik, would you have him fight twice in a month, then let him ride pine for at least 6 months?
Following a nice win in September 2011 over now-WBC Featherweight Champion Daniel DeLeon, unbeaten Yuriorkis Gamboa looked primed to hit the big time. As of this writing, he hasn't fought since (14 months). At least he has a fight scheduled–a bout with Miguel Beltran, Jr, on December 8. Beltran, Jr. has won one of his last three fights. Can anyone really explain why Gamboa, almost 31, is going to be taking at least a year-and-a-half off between meaningful fights?
Ring inactivity is something we have been forced to re-evaluate in recent years. A top fighter fights twice a year nowadays and it's passable. Ring inactivity, however, is not a good thing, regardless of how much the sport has changed. Running backs blow out knees, rehab, and return to the gridiron in a shorter amount of time than the typical layoff of an uninjured fighter.
The people who guide these young men's careers are not amply called out on the topic of ring activity. Look at other sports. The guys in charge are constantly taken to task. In boxing, managers and promoters can let a guy languish on the shelf without explanation and no one seems to care.
The coverage of boxing is different. There is no real structure. It's basically a traveling circus. The framework of other sports makes it easier to cover some of the things you see missing from boxing news. That doesn't mean we shouldn't acknowledge certain things.
Fallen fighters should get the respect they deserve. Former champions who lose high-profile announcing gigs over a positive PED test should be a newsworthy item. Promoters and managers should be held accountable for the quality of the career-progression of their charges.
I'm just saying.