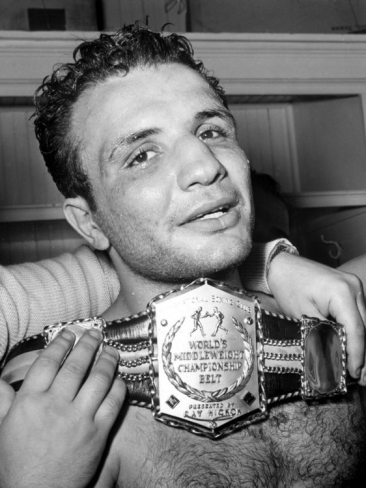 On November 14, 1947, 65 years ago today, middleweight great Jake LaMotta faced Billy Fox at Madison Square Garden… and threw the fight. To his credit, LaMotta had long refused to cooperate with the mob, which held a tight grip on boxing in the '40s and '50s.  As LaMotta eventually believed, however, if he didn't agree to both pay up and take a dive, he'd never get a shot at the middleweight title.  Or so he thought.
I hold LaMotta in the highest regard, but he should have followed the example of recently deceased Carmen Basilio.  He became both welterweight and middleweight champ, and did so without kowtowing to the mob.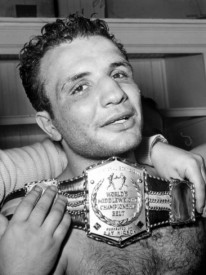 Fox was very much the property of gangster Frank "Blinky" Palermo, as demonstrated by his improbable ring record. Fox had his pro debut in 1943, and over the next four years, he won each and every fight — 36 in a row, all by either KO or TKO.  One can only wonder about the legitimacy of those wins — ow many of them were 'Palermocized'?
Fox finally got his comeuppance in early 1947 when he was TKO'd by Gus Lesnevich in the 10th.  Was the loss designed to give the impression of verisimilitude?  Palermo taking a leaf from those dictators who almost, but not quite, manage to get 100% of the vote?  The loss to Lesnevich was certainly an anomaly, given that Fox won his following seven fights (including his defeat of LaMotta) by, you guessed it, KO or TKO.
By the time of LaMotta-Fox, Palermo had gotten smug. Or lazy. Everyone and his kid brother knew the fix was in. The day before the fight, Fox was the 11-to-five favorite; with only hours to go, Fox was three to one. At that point, bookies refused to take further bets on Fox.
Pre-fight suspicions were so rampant that Eddie Eagan, chairman of the New York State Athletic Commission (NYSAC), twice went to the fighters' dressing rooms to warn them.  But LaMotta wanted a shot at the title.  He'd paid the mob a non-refundable $20,000 (at least $200,000 in today's money) and agreed to take the dive. Eagan's admonishments were water off a duck's back.
Fox's performance against LaMotta wasn't going to win any Oscars.  As the "Raging Bull" himself described it:
"The first round, a couple of belts to his head, and I see a glassy look coming over his eyes.  Jesus Christ, a couple of jabs and he's going to fall down?  I began to panic a little.  I was supposed to be throwing a fight to this guy, and it looked like I was going to end up holding him on his feet….  By [the fourth round], if there was anybody in the Garden who didn't know what was happening, he must have been dead drunk."
Fox TKO'd LaMotta in the fourth.  But the fighter didn't succeed in selling it and NYSAC wasn't buying it, and withheld the purses and suspended LaMotta.  Nonetheless, the 'Bronx Bull' still got his shot at the championship, taking the title from Marcel Cerdan in 1949 (only to lose it to rival Sugar Ray Robinson in 1951).
"Blinky" eventually went to prison, though he died a free man. As for Billy Fox, with the stain of the LaMotta fiasco his mob backing disappeared, as did his success in the ring. He only won five of his final 14 bouts, going 5-8-1, being kayoed five times in the process.