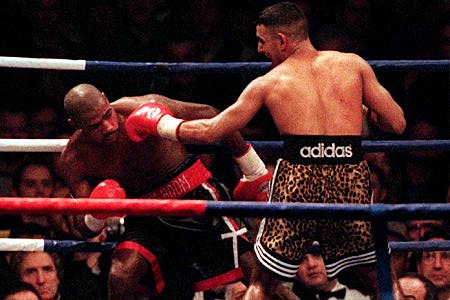 Best of British Boxing Part Two:  Best Fights
Within the second part of Best of British boxing series, I will take a look at the best British fights within the following categories; best debut by a British boxer on the world stage, the biggest upset by a Brit and best all British fight.
The British contribution to the sport of boxing has been filled with tense domestic dust-ups as well as the mixed results of Brits trying to "break America".  Here, I have considered the British fights which have been the most impactful in terms of being etched in our minds along with the history books.
I have also left out in-ring tragedies (such as Watson and Mclellan) so that we can firmly focus on this being a celebratory look at British boxing. 
Best Debut by a British Boxer on the World Stage: Prince Naseem Hamed vs. Kevin Kelley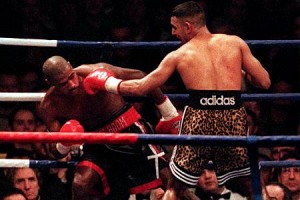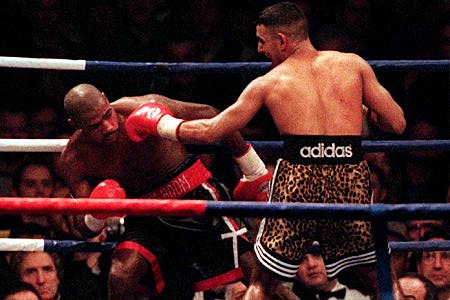 In the build-up to this fight between 2 big punchers and the 2 best featherweights at the time, Kevin Kelley had warned Prince Naseem Hamed "He got missiles but I got nitrogen bombs".  Hamed's response; "When I'm done with you in the ring, I'll give you a job putting up my posters, make sure there's no creases in 'em!"
From the outset, this fight was a promoter's dream and on fight night, before the first bell had sounded, Kelley was standing on the ring ropes furious as Hamed spent 10 minutes on his flamboyant ring entrance.
Then, in the first round Kelly put Hamed on the seat of his leopard-skin trunks and the place erupted.  What ensued after that was a classic fight in which there were six knockdowns and Hamed ultimately knocked Kelley out.
Though he divided a rather partisan crowd, there were a horde of traveling Brits and it was truly one of the most electric nights in boxing.  Like him or loathe him, the Prince had arrived.
The Biggest Upset by a British Boxer: Randy Turpin vs. Sugar Ray Robinson
By the time Sugar Ray Robinson had embarked on his "European tour" he was already an all-time great having held the Welterweight title for 5 years and subsequently stepping up to the middleweight division.  In the process, he enjoyed an amazing 90 fight win-streak!
It was no wonder then that Randy Turpin, the lad from Leamington, wasn't given much of a chance when their fight took place in Earls Court, London.  But when the bell sounded for the first round, it was apparent that Turpin did not fear Robinson and was certainly not awestruck by the occasion.
Instead, he just went to work with a solid straight left that he could not seem to miss with and proceeded to outbox Robinson for the duration of the fight.  Turpin had done the impossible and handed Robinson his first loss in 90 fights.
Despite Robinson's questionable schedule and ill preparation for this fight, nobody could have predicted this result in a million years, which makes Turpin's fight the biggest upset in British boxing history.
Another notable upset was Lloyd Honeghan's destruction of one of pound for pound great of the 80s, Don Curry.  As impressive accomplishment as that was, Curry was not Sugar Ray Robinson.
Best all-British Fight: Chris Eubank vs. Nigel Benn I
This classic encounter centered on an animosity that went far beyond any promotional imperatives.  These two simply did not like each other, at all.  In one corner, you had the eccentric and, at times, peculiar character in Eubank and across from him was the no-nonsense, former army man dubbed as "the Dark Destroyer", Nigel Benn.
Their rivalry helped the sport's popularity peak during the early 90s and was at a time when many of their championship fights were aired on national television.  The high-profile nature of their contempt for one another made this encounter a "not to be missed" sporting event.
In Benn's defense of his WBO belt, casual observers and hardcore fans alike tuned in to watch one of the most action-packed displays by British fighters.  Benn's brawler-style against Eubank's counterpunching  produced a showcase of heart, chin, courage and big punches from each man.
The respect was definitely there at the end of the fight in which Eubank stopped Benn in Round 9, even if the love wasn't.  However many years after that fight, there is the recognition that they cemented each other's legacy with that encounter and they have become friends since.
As Harry Mullan put it "How much should you pay a man to bear his soul? Because that is what Eubank and Benn did in the most thrilling contest I have ever watched in a British ring".