British Boxing History – The Best of the Best, Part I

Following the recent success of the British boxing team at the Olympics, I thought it timely to consider who the all-time greats are in British boxing.  As with all lists, this is my subjective view on the Best of British boxing, and certainly is up for debate.
In the first part of this series, I will rank who belongs atop of the field in the following categories; Best fighter, fan favorite, most entertaining and best current fighter. In part 2, I'll take a look at some of the best fights involving Brits.
Best Fighter: Lennox Lewis
The majority of the biggest fights involving a British fighter in recent history have involved Lennox Lewis.  He stands tallest among his peers as the most dominant champion in British boxing history.
He won gold at the Seoul Olympics and compiled a professional record of 41-2-1.  One could have argued a case for Joe Calzaghe as an undefeated fighter but the losses on Lewis's record were avenged in quick succession and he had the toughest level of competition in the process.
Having beaten every man he faced, Lewis's reign as undisputed heavyweight champion at a time when Heavyweight boxing still flourished undoubtedly puts him as the best fighter which Britain has ever produced, in my mind.
[Also See: Top 10 British Fighters of the Modern Era]
Fan Favorite : Sir Henry Cooper
It was a sad moment for the boxing fraternity when Sir Henry Cooper passed away last year.  In the post-war era, Cooper had shared the ring twice with the brash Cassius Clay.  Having famously put Clay down with his patented left hook, he earned respect for his efforts against the greatest heavyweight of all time.
Outside the ring, he was revered as a warm, amenable personality in a sport that so often infers the opposite of its practitioners.  His appearance in TV commercials only reenforced him as a household name and one who transcended the sport.
Other notables may include Barry McGuigan, whose fights were followed by viewers of mainstream TV.  Ricky Hatton and Frank Bruno are also worthy of a mention, as they attracted tens of thousands of traveling fans abroad to watch their fights in the United States. Still, Sir Henry will go down as arguably the most loved character in British boxing history.
Most Entertaining – Prince Naseem Hamed
Whether you were susceptible to the arrogant charms of Prince Naseem, or turned off by the cocky displays of a man with complete disregard for his opponent's abilities, you always tuned in to watch his fights.  Because win or lose, you knew something spectacular was likely to happen.
Stature-wise, he had unusually powerful legs for a featherweight and literally launched himself from unimaginable angles to detonate fight-ending blows.   Although, it was also this style that often left him vulnerable to knock downs himself, as he, and we, would learn later.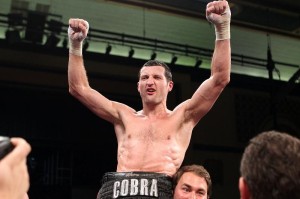 Graham Houston once wrote that, "The greatest thrill of professional boxing is the knockout, especially the big punch landing when all looks lost."  Hamed was a clear example of why fight fans sit on the edge of their seats, and his personality combined with his style made for sheer entertainment.
Best of today: Carl Froch
After one of the most grueling work schedules of any active fighter today, the Nottingham-based Froch is the best current fighter in Britain.  He has fought Andre Ward, Mikkel Kessler, Glen Johnson, Arthur Abraham and Andre Direll in the Super Six Tournament and is coming off a career crowning win against Lucian Bute. Before that, just two more fights against Jean Pascal and Jermain Taylor. No big deal.
Often described as a throw back, Froch possesses a granite chin, finishing power and an almost gladiatorial look.  More importantly though, he doesn't duck anyone and has received equal recognition stateside for his willingness to compete at the highest level.