In this week's three punch combo, I will first break down next Saturday night's bout between Andre Berto and Robert Guerrero.  Next, I will examine Johnathon Bank's upset win over Seth Mitchell and look closer at the futures of both men.  And finally, I will look at the future for Carl Froch following his win over Yusaf Mack on Saturday.
Previewing Andre Berto vs. Robert Guerrero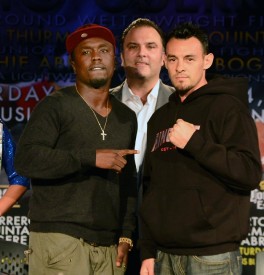 Andre Berto faces Robert Guerrero on Saturday night on HBO.  This is has the potential to be classic clash and it's an evenly matched fight on paper.
One of the reasons I love this matchup is that a legitimate argument can be made for either man to win this fight.  Upon breaking down this fight, the first thing on paper that jumps out is that Berto is naturally the bigger man having fought most his career at welterweight.  Guerrero on the other hand started his career at Featherweight and only recently moved up to the Welterweight division.
Another advantage for Berto is that he possesses some of the fastest hands in the sport.  His opponents are often surprised by his hand speed.  This neutralizes their attacks by making them hesitant to open up in fear of being quickly countered by Berto.
So Berto is bigger, faster and probably the more gifted athlete.  What does Guerrero have going for him?  Guerrero might not possess Berto's hand speed or power but he is no slouch in those categories either. He is a very smooth boxer-puncher and will probably have a much higher work rate than Berto. This may help Guerrero carry some close rounds on the judges' scorecards.
[Also See: Exclusive Interview with Robert Guerrero as He Trains for Berto]
Guerrero is also much better defensively than Berto.  In his most recent fights, his opponents have found him to be a very difficult target to hit from his southpaw stance.  And his southpaw stance will also be a big advantage as Berto has had trouble with southpaws in the past, (namely Luis Collazo and Victor Ortiz.
There is one other important factor to cover:  Berto tested positive for performance enhancing drugs prior to his scheduled rematch with Victor Ortiz in June.  The big questions are why did Berto find it necessary to take PED's and was he taking PED's prior to any of his other bouts?  If he was taking PED's in prior camps and not now, what impact will that have on him psychologically and physically in this bout?
I have gone back and forth on predicting a winner and changed my mind since the fight was announced.  Berto was taking PED's prior to the Ortiz fight because he obviously thought he needed something more to win.  [Editor's note: Berto has stuck to his story that he had a tainted supplement and never purposefully used a performance enhancing drug].
Since he is being watched very carefully, we know he will be clean entering this fight.  I think this mayhurt Berto mentally and he will be holding back more than in the past in fear of tiring late in the bout.  Therefore, I think Guerrero will out-work him throughout the bout and earn a clear cut unanimous decision victory.
Banks Scores Huge Upset KO Victory Over Mitchell
Johnathon Banks scored a stunning second round knockout of heavyweight prospect Seth Mitchell on Saturday night in Atlantic City.  The win by Banks may be the biggest upset in the sport this year.
Johnathon Banks was an afterthought by most observers coming into this bout.  And for good reason.  He spent most of his career at cruiserweight and lost his only significant bout in that division by knockout to Tomasz Adamek.
Banks moved to the heavyweight division after the loss and strung together some wins against very suspect opposition.  He had one blemish as a heavyweight, and that was a draw to veteran trial horse Jason Gavern.
So how did the smaller Banks pull the upset?  The answer is simple.  Unlike many fighters in his situation, he decided to go for it. He showed that he was not in there to survive, go rounds and collect a paycheck.
By simply letting his hands go in the 2nd round he gave himself the one opportunity he had to win the fight. And he caught Mitchell with a left uppercut followed by a right hand that Mitchell never recovered from.
I understand the talk after the fight was about a potential matchup for Banks against Wladimir Klitschko.  Given the close relationship Banks has with Klitschko, including serving as Klitschko's lead trainer in his last fight, I do not think that fight will ever come off.  Instead, I look for Banks to fight Alexander Povetkin for Povetkin's portion of the heavyweight title.  With this win, and the fact many of Banks' recent fights have taken place in Europe, he would be a very marketable foe for Povetkin.
As for Seth Mitchell, it seems a lot of people were writing him off after this loss. I would strongly caution against that however. Remember heavyweights have been knocked out before and written off only to come back to capture titles.  In the last twenty years, it has happened to both Lennox Lewis and Wladimir Klitschko (multiple times for Klitschko; Lewis was also kayoed twice, but was already well established historically by the time Hasim Rahman got to him). So let's not pass judgment and write off Mitchell's career as a relevant heavyweight just yet.
Carl Froch Makes Quick Work of Mack
Carl Froch impressively took apart and stopped Yusaf Mack in the 3rd round of their super middleweight title bout on Saturday night.  Though the outcome was not unexpected, Froch deserves credit for his overall performance.
After the bout there was a lot of talk about a rematch with Andre Ward for Froch.  Frankly, I think that it is too soon to be discussing that.  Let's not forgot that it was less than a year ago that Ward thoroughly dominated Froch in Atlantic City.  Ward has only gotten better and there is no reason at this point in time to think a rematch would be any different than the first fight.
Lucian Bute has a contractual option for a rematch with Froch next year in Montreal.  I wrote recently that the fight would not be a good idea for Bute.  I think this performance by Froch may get Bute and his management team to rethink exercising that clause.  Bute can make good money fighting second tier opposition in Montreal before stepping up in competition again.
So where do I think Froch should go?  How about the Light Heavyweight division?  Chad Dawson and Jean Pascal are supposedly going to fight on HBO early next year.  The winner would be recognized as the legitimate Light Heavyweight champion, as long as Ward stays at 168 pounds, in any event.
Froch would be a natural to fight the winner, and if Froch can beat Dawson or Pascal and capture the legitimate Light Heavyweight Championship, then it may be time for the rematch with Ward in 2014.