In this week's 3 punch combo I will begin by stating my opinion on who I would like to see Saul "Canelo" Alvarez face in his upcoming spring bout. Next, I will state why there is no need for a bout between David Haye and Vitali Klitschko. And finally, I'll break down the upcoming Lightweight crossroads bout between Dannie Williams and John Molina.
Canelo's Next Opponent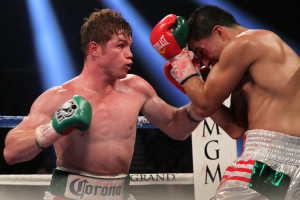 Saul "Canelo" Alvarez appears headed toward a spring fight.  Many names have been tossed about but so far no opponent has been announced. So let me state my opinion on which direction I think Canelo should go.
First of all, I am going to put Floyd Mayweather Jr. aside right now as a potential opponent for Canelo. It seems Golden Boy is trying to build that fight up some more and a spring matchup is unlikely.
So with Mayweather out I feel the top remaining opponent for Canelo would be Austin Trout.  Trout is an undefeated titleholder and is coming off a career defining win over Miguel Cotto.  Trout also holds a win over Canelo's brother Rigoberto Alvarez.
There has been some criticism of some of Canelo's recent foes.  They were either well past their prime (Shane Mosley) or fighting well above their natural weight (Josesito Lopez).  Well, Trout is a natural Junior Middleweight and in the prime of his career. And he is very highly ranked in the Junior Middleweight division. [ProBoxing-Fans.com ranks Canelo and Trout as #'s 1-2 at 154 lbs]. This fight therefore makes the most sense for Canelo and a win could start to put his detractors aside.
If not Trout, then I would not mind seeing Alfredo Angulo. Angulo, like Trout, is also a natural Junior Middleweight.  He would certainly represent the strongest and hardest punching foe Canelo would have faced to date. And Angulo's style would definitely make for an entertaining fight for as long as it would last.
My hope for Saul "Canelo" Alvarez's spring fight is for a unification bout with Austin Trout.  But if Golden Boy chooses to go in another direction, I would not mind Alfredo Angulo.  However it plays out, Canelo needs to take a step up in competition and face a legitimate contender in his upcoming bout.
No Need for Vitali Klitschko vs. David Haye
There have been persistent rumors in the recent months regarding a match between WBC Heavyweight Champion Vitali Klitschko and David Haye. I sincerely hope that common sense prevails and the fight does not come off.
David Haye had his opportunity at a Klitschko in 2011 when he faced Wladimir in Germany.  And Haye's performance was abysmal that night.  He barely made an effort to fight. According to CompuBox, Haye threw a total of 290 punches (about 24 per round) during the course of the 12 round fight. He was clearly afraid to open up and more interested in just surviving the 12 rounds with taking as little punishment as possible.
Haye collected a nice paycheck and announced his retirement from the sport shortly after the fight.  But Haye would soon reappear at a post-fight press conference for the Vitali Klitschko-Dereck Chisora bout, and at this press conference he would initiate an infamous and embarrassing brawl with Chisora.
This of course would set up a bout with Chisora for Haye.  Haye would win this fight by 5th round TKO and fully launch his campaign to face Vitali Klitschko.
My question is exactly what has Haye done to earn a fight with Vitali Klitschko?  Haye put on a complete non-effort in his bout with Wladimir Klitschko.  It was truly an embarrassing performance. Is there any reason to think a fight against Wladimir's brother Vitali will be any different?
David Haye has done nothing to earn a big money bout against Vitali Klitschko.  He is a great talker and shameless self-promoter.  But this alone should not earn him another shot at a Klitschko brother.
Dannie Williams vs. John Molina Preview
This week's edition of Friday Night Fights on ESPN2 features a matchup of Lightweights between Dannie Williams and John Molina.  This is a very intriguing fight and absolute must win for both men.
In 2012, both Williams and Molina suffered losses in crucial fights in their respective careers.  Williams lost a ten round unanimous decision in March to Hank Lundy.  And Molina was shockingly stopped in the first round in September by Antonio DeMarco.
Williams and Molina each deserve credit for taking this fight.  This is a very high risk and high reward fight for both men.  The winner of this fight will almost certainly get a bigger opportunity in the not so distant future.  However, the loser takes a big step backwards and would have a long way to climb to get back into contention.  This is the definition of a crossroads fight in boxing.
The styles of both men also make this an interesting bout. Williams is definitely the better boxer and has a very sizable speed advantage.  He will look to control distance on the outside with jab.  Williams needs to keep this fight at a certain range and work combinations off the jab with his fast hands.
Molina will come straight forward behind the jab and look to do his work on the inside.  He will try to turn this fight into more of a brawl.  Molina will also look to land his hard shots with precision timing since he can't match Williams' speed.  And his best shot to win this fight may be to catch Williams with a well-timed big right hand.
I tend to give the edge to Williams in this fight.  He is the much better pure boxer and has a decisive edge in speed.  Molina though does have a puncher's chance and will be dangerous as long as he is standing.  But I think Williams learned a lot from his loss to Lundy and will be more focused on sticking to a game plan of controlling distance from the outside.  And in the end earn a decision victory over Molina.
Comments
comments