In this week's three punch combo I will begin by once again taking a critical look at Deontay Wilder's career development, after the news of his turning down a bout with Bryant Jennings.  Next, we will look at how the latter stages of Vic Darchinyan's career have in a way mirrored that of the late stages of  Bernard Hopkins' career.  And finally, we'll examine why Edwin Rodiguez will not get his wish and fight Kelly Pavlik in the near future.
Deontay Wilder
I was excited this week when I heard that a match between heavyweight prospects Deontay Wilder and Bryant Jennings was being worked on for December.  In the past I have been critical of Wilder's opposition and this would have represented a solid step up in class.  However, Wilder's management reportedly has already rejected the fight and decided to go in a different direction.
In my estimation, this is a very poor decision by Wilder and his management team.  First, after his last couple fights Wilder has stated he is willing to fight any heavyweight out there.  So why continually make that statement and then turn down legitimate opponents?
Secondly, Bryant Jennings is an opponent Deontay Wilder should be able handle if we're too believe he has a real future in the division.  Jennings did not have much of an amateur background and despite being a good athlete is still raw inside the ring.  He is also not a big puncher.  In his big win at the start of the year against Maurice Byarm, he was taken the distance by Byarm in a tough ten round fight.  Byarm was subsequently destroyed in his following bout in two rounds by prospect Magomed Adbusalamov.  Jennings' other big win this year was against a very faded Sergei Liakhovich.  Jennings repeatedly hit Liakhovich with clean shots but only got the stoppage when Liakhovich's corner threw in the towel realizing their fighter had no chance to win.
Wilder had a brief amateur career but rose to great heights in that time.  He has a very good jab and is a big puncher. I think he would easily be able to work behind the jab against Jennings and set up his big power punches. If he were careless, Jennings is not a big puncher and Wilder should be able to walk through his shots.
There is no reason for Deontay Wilder to continue fighting heavyweights who can barely hold their own on the club level.  He and his management team need to reconsider his current career path.  And they should start by coming back and accepting the fight with Bryant Jennings.
Vic Darchinyan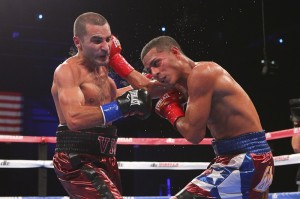 Vic Darchinyan scored an upset on Saturday night with his ten round unanimous decision victory over prospect Luis Orlandito Del Valle.  Darchinyan was coming off two consecutive losses and seemed to finally be past his prime.   However, his awkward style and power punching kept the young Del Valle tentative throughout the bout.
Darchinyan's career path is starting to follow that of Bernard Hopkins.  And what I mean by that is seemingly every time Darchinyan's career seems to be winding down, he pulls off an upset to get right back in the thick of things.  In 2007, Darchinyan suffered a devastating KO loss to Nonito Donaire and that was followed by another loss early in 2008.  He then went on a tear, including wins over titlist Dmitri Kirilov, a big upset over Christian Mijares three months later and then a dominant showing over Jorge Arce in his following bout.
Following a loss to Joseph Agbeko in July 2009, Darchinyan's career seemed to be reeling again.  But once again he would reel off three straight victories before a loss to Abner Mares in December 2010 once again set his career back.
However, in an even money fight against Yonnhy Perez in April 2011 Darchinyan's career was once again revived when he destroyed the former Bantamweight titlist.  This however was followed by straight decision losses coming into the Del Valle fight.
Much like Bernard Hopkins has done, Darchinyan has shown that whenever he has been written off he has come back with a vengeance.  Darchinyan has had a remarkable career and for some reason I sense this was not the last time he will pull off an upset victory.
Edwin Rodriguez and Kelly Pavlik
Edwin Rodriguez called out Kelly Pavlik following his 8th TKO victory over Jason Escalera.  Though I like the match and feel this would be a good step for Rodriguez I do not think the fight will happen.
First of all, Rodriguez is a very big Super Middleweight.  He fought last year at 174 pounds and put on an additional 20 pounds following the weigh in for Saturday's bout against Escalera.  Pavlik had much of his success in the 160 pound weight class and just recently came up to 168 pounds.
Secondly, Andre Ward is coming off a brutal schedule.  It would be safe to assume he may be searching for some opponents in his next few bouts that may have big names but are considered very vulnerable.  Well, Kelly Pavlik certainly fits that description.  I do not think I am going out on a limb by stating that Pavlik has to be on the short list of opponents for a big money fight against Ward.  So why would Pavlik take such a dangerous fight against Rodriguez and risk losing out on the division's big ticket?
A more realistic bout for Rodriguez would be a match with Thomas Oosthuizen.  They have the same promoter so the fight would be relatively easy to make.  And both are at the point in their respective careers where they need to win a fight against a top 10 Super Middleweight to really establish credibility in the division.