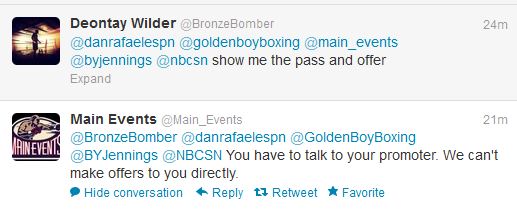 The boxing rumor mill is back with another edition, as there has been lots of chatter today concerning some interesting subjects. This includes Timothy Bradley's next fight, slated for December 15 in Miami, as well as a very intriguing clash of unbeaten American heavyweights, Deontay Wilder vs. Bryant Jennings, which has been reportedly turned down by Golden Boy, Wilder's promoter. Read on for the details.
Bradley to face Berto in Miami?
Timothy Bradley returns on December 15 in an HBO-televised event hailing from Marlins Park in Miami, Florida. It will be the first boxing event at the glitzy new home of the Miami Marlins. According to the linked article, from Kevin Iole, Andre Berto is being considered for the fight, although it isn't a done deal:
Arum would not divulge Bradley's opponent because he said the opponent has agreed to terms but has yet to sign his contract. Sources told Yahoo! Sports that HBO has checked into former champion Andre Berto's availability and is pushing for the fight.
Berto would clearly make sense for this match. As a Haitian-American, he'd be a large draw in the Miami region, and he's been looking for a high profile match since his reinstatement. And for fight fans at large, Bradley vs. Berto is certainly intriguing and worthy of our attention. A clash of styles, and a showdown between two of the best guys in their division.
Wilder vs. Jennings Would be Great, But it's a No Go
A Twitter kerfuffle took place today as news broke that Main Events had proposed a 50/50 split for a Deontay Wilder vs. Bryant Jennings showdown on an upcoming NBC Sports Fight Night card, but Golden Boy declined the offer. See the photos above for some of the details and reactions to that.
This definitely would have been a great fight. It's a meaningful match for both men not only in the scheme of the entire heavyweight division, but also in establishing the hierarchy amongst the American heavyweights out there right now. Jennings is clearly the more established of the two right now, but Wilder manages the higher profile thanks to his surprise bronze medal at the 2008 Beijing Olympics.
Golden Boy's alleged rejection of the deal has a lot of people scratching their heads. It's no secret that Wilder's rise has been a slow one, and his only adds further credence to the fact that they're feeding him soft opponents, padding his record and biding their time.