In this week's 3 punch combo, I will first discuss the fighter who, in my opinion, is the clear cut 2012 Fighter of the Year.  Next, I will take a closer look at two fighters who gained this weekend despite losing efforts. And finally, I will take a closer look at Shawn Porter's career following his draw on Saturday against Julio Diaz.
Nonito Donaire for Fighter of the Year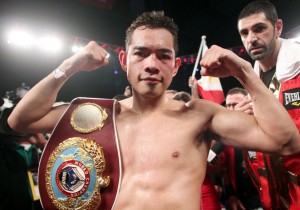 It's that time of year again to start handing out the yearly awards in various categories.  And no better way to start than with the fighter of the year award.
This year's fighter of the year is unquestionably Nonito Donaire.  He fits all the criteria necessary to win the award.  He was active with four fights in 2012.  All his fights were against top level foes and he was dominant in each one.
Donaire started the year off with a decision win over Wilfredo Vazquez Jr.  It was a complete performance by Donaire that included a knockdown of Vazquez in the 9th round.
He followed that up with another impressive decision victory over IBF Super Bantamweight champion Jeffrey Mathebula.  Though Mathebula was taller, Donaire was able to work his way in and land the harder shots throughout the bout.  And in the 4th round, Donaire put Mathebula down with a highlight reel counter left hook.
In October, Donaire faced Toshiaki Nishioka.  Nishioka was a top 20 pound for pound entrant coming into the fight and many thought he could pull the upset of Donaire.  But Nishioka was never in the fight.  Donaire completely neutralized his attack while landing big shots of his own.  Nishioka was down in the 6th and then finished off in the 9th.
Finally, Donaire's most spectacular performance came this past Saturday in Houston against Jorge Arce.  Arce came straight forward and was more willing to engage Donaire than any other of his recent opponents.  By doing so, Arce left more openings and Donaire took full advantage.  He put Arce down in the 2nd with a left-right combination.  And Donaire closed the show in the 3rd with a vicious left hook that put Arce out for good.
Nonito Donaire is well deserving of the fighter of the year award for 2012.  And I have a feeling this is not the last time the award will be presented to Donaire either.
Victorious in Defeat
In the sport of boxing, there are occasions when fighters can rise in rankings and in the public eye despite clearly losing a bout.  And this Saturday, two fighters made quick ascensions in such losing efforts.
Alberto Guevara came into his bout against Leo Santa Cruz a complete unknown.  Though undefeated, Guevara had fought entirely in Mexico and faced nobody of note.  He was thought to be a mere opponent to showcase Santa Cruz's skills on network television.
However, Guevara showed he was more than an opponent.  He was winning the early rounds by out-boxing Santa Cruz.  He used movement and angles to score and not allow Santa Cruz to get off punches of his own.   This was in clear contrast to other recent Santa Cruz fights where he was completely dominant.
In the 2nd half of the fight, Guevara slowed and Santa Cruz was allowed to get in range to get off his lethal combinations.  Santa Cruz would take a well-deserved decision victory by sweeping the 2nd half of the fight.  But, overall, Guevara's performance showed that he does belong with the top Bantamweights in the world.
Jorge Silva came into his fight against Alfredo Angulo considered to be no more than an opponent.  Silva, like Guevara, was a relative unknown.  He was also coming up in weight to face a much bigger and stronger man.  This was really thought to be no more than a showcase for Angulo.
But Silva did not get that script. As a matter of fact, he was more than willing to trade Angulo and had success doing so even hurting Angulo in the 1st round.  Silva showcased fast hands and when he was not sitting in front of Angulo showed he could box from the outside as well.
As the fight wore on, Angulo's size and power overwhelmed Silva.  Amazingly, though he was hit with many flush power shots, Silva would go the distance where he would lose a unanimous decision.
Silva showed he is a viable contender.  He is only 20 years old, and has a lot of room to grow. Plus, fighting men more his size at Welterweight will be beneficial to him as well.
What to Make of Shawn Porter?
Shawn Porter and Julio Diaz fought to an entertaining draw on Saturday night.  Both fighters had their moments and the final outcome of a draw seemed appropriate.
It seems in the aftermath of this bout that a lot of fight fans are writing off Shawn Porter.  I think this is way too premature to do.
First of all, Diaz was a very solid opponent.  He is a former world champion and had won four of his previous five bouts coming into this fight.  He clearly was not the washed up fighter some had speculated he had become.
Secondly, it is not always a bad thing for a young fighter to have a blemish on his record early in his career.  Back in the old days of boxing, it was not uncommon to see young fighters in tough and lose early on in their careers.  One example of this is Billy Conn.  He would lose many fights early in his career.  But he would later go on to become Light Heavyweight Champion and almost pry the Heavyweight Championship from Joe Louis.
My point here is that young fighters can lose early in their careers and have success down the line.  They learn from the experience and come away a better fighter than before.  In this case, with Porter, keep in mind he was not knocked out or really hurt during the bout either.
Shawn Porter clearly has talent.  He needs to find his identity as a fighter.  I think he is going to take a lot away from this fight with Diaz.  And in the end, this blemish on his record will only help propel his career down the line.