In this week's 3 punch combo we will first break down this weekend's matchup between former World Champion Sergiy Dzinziruk and prospect Jonathan Gonzalez.  Next, we will look forward to the fan friendly Marcos Maidana and Jesus Soto Karass match, which is slated for the undercard of the Saul "Canelo" Alvarez vs. Josesito Lopez bout. Finally, with the 14th anniversary of the final USA Tuesday Night Fights episode this past Saturday, we will look back on the series that played such an important role in the sport and is still missed today as an outlet for exciting and competitive fights between up and coming boxers.
Sergiy Dzinziruk vs. Jonathan Gonzalez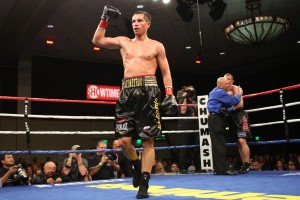 On Saturday night, there is an interesting Junior Middleweight bout taking place between Sergiy Dzinziruk and Jonathan Gonzalez.  Dzinziruk enters the fight as the veteran, former world champion trying to revive his career. Gonzalez enters the fight as the undefeated prospect facing his first stern test as a pro.
On paper this appears to be a very evenly matched fight.  Dzinziruk is an excellent ring technician but is coming off an 18 month layoff following his knockout loss to Sergio Martinez.  Gonzalez is a good aggressive in fighter who can also fight on the outside.  His record also indicates he can punch, with 13 knockouts in 15 wins.
Though many fight fans think very highly of Gonzalez, I think he is in a bit over his head in this fight.  Gonzalez has been less than impressive in last two wins against Richard Gutierrez and Billy Lyell.  In the Gutierrez fight, Gonzalez was unable to cut off the ring and allowed Gutierrez to survive the distance.  And in the Lyell fight, Gonzalez showed defensive liabilities that could be exposed by a better technician.
I do think in the early going that ring rust will be a factor for Dzinziruk and Gonzalez may have some success as a result. However, as the fight progresses I feel Dzinziruk will start having success boxing Gonzalez from the outside.
Dzinziruk possesses an excellent jab and is a very sharp puncher once he gets in rhythm. I look for Dzinziruk to figure out Gonzalez in the middle rounds and start exposing Gonzalez's defensive liabilities as the fight progresses.  Gonzalez's ineffectiveness to cut off the ring will also come into play as he will find it very hard get on the inside and land his own combinations on Dzinziruk.  In the end, look for Dzinziruk's sharp punches to wear down Gonzalez for a late TKO victory for Dzinziruk.
Marcos Maidana vs. Jesus Soto Karass
There are many great fights on the boxing calendar in September, and one matchup that is being overlooked because of the many great bouts scheduled is the matchup between Marcos Maidana and Jesus Soto Karass on September 15th on the Alvarez-Lopez undercard.
We all know that styles make fights, and the fight between Maidana and Soto Karass has explosiveness written all over it due to the styles of each man.  Both are aggressive action fighters who attempt to not take any backward steps in the course of a fight.  Add to that the fact that both fighters are slow of feet and defensively challenged, and we should see a high rate of punches connected for each man.
I do expect Maidana to win but feel Soto Karass is a live underdog.  The reason I feel Soto Karass has a legitimate chance is that he is an excellent body puncher.  Maidana has been hurt in the past to the body and with the conviction that Soto Karass throws downstairs, he should be considered dangerous.
With that being said, my prediction is Maidana will stop Soto Karass by the 6th round.  Soto Karass is very slow, will come straight forward and is an easy target to hit.  Maidana is lethal with the right hand and will find no problem landing on the defensively handicapped Soto Karass.  And though Soto Karass is a good body puncher he leaves himself wide open to counters when he focuses on the body.  Maidana will take full advantage of those openings and in the end will earn a stoppage victory over Soto Karass in an action packed fight.
USA Tuesday Night Fights
This past Saturday marked the 14th anniversary of the final episode of USA Network's Tuesday Night Fight Series.  As a kid growing up, this series had special meaning to me like so many fight fans of my generation.  For me personally, before I had access to the premium networks it was the main source of boxing for so many years.
The names that appeared on the series while it ran was a who's who of boxing in the 80's and 90's.  Roy Jones Jr, Oscar De La Hoya, Fernando Vargas, Shane Mosley, Vinny Pazienza and so many others made appearances in their early careers.  And of course the series highlighted the comebacks of many fighters including George Foreman, Larry Holmes, Roberto Duran and Hector Camacho.
There are two particular fights that for one reason or another I will never forget.  On March 25, 1997 Derrell Coley stepped into the ring against Kip Diggs in a crossroads bout for both men.  Diggs was in control of the bout throughout, out-boxing Coley and gaining a lead on the scorecards entering the 11th round.  In the 11th, Coley was able to turn the fight with his punching power and stop Diggs to gain his biggest win to date.  Not only was the finish dramatic, but Coley's emotional tearful celebration afterward made for quite a television moment as it showed just how much this fight meant to Coley.
The other bout I will never forget took place just a month later at the famous Blue Horizon in Philadelphia between heavyweights Darroll Wilson and Courage Tshabalala.  Tshabalala came in as the hot prospect and early on was in control of the fight.  In the third round, he had Wilson hurt and by the end of the round Wilson was out on his feet.  However, Wilson showed tremendous heart coming back out for the forth and turned the tables hurting his suddenly tired opponent.  Wilson would knock out Tshabalala in the fourth, and to this day it remains one of the greatest comebacks I have ever seen in the sport.
The Tuesday Night Fights Series was an important source for boxing for many years.  Hopefully someday another network will take a flier on a mid-week boxing show that will allow many fighters to gain the exposure they so badly need.