In this week's three punch combo I will first examine why there should be concern for Glen Johnson ending his retirement to face England's George Groves in December.  Next, I will look at why Miguel Vazquez's difficulties during Saturday's title defense against Marvin Quintero may actually provide a boost to his career.  And finally, I'll question Gabriel Rosado's decision to turn down a nationally televised fight in December.
Glen Johnson's Short Lived Retirement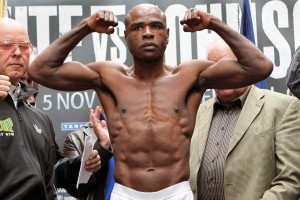 Glen Johnson announced this week that he will end his short lived retirement and face George Groves in England on December 15th, but I am holding out hope that somehow Glen Johnson will reconsider his decision and go back into retirement.
Johnson is 43, and following a decision loss to Andrzej Fonfara in July, announced his retirement.  It seemed to be well timed as this was the third straight loss for Johnson and Fonfara doesn't appear to be anything more than a decent club level fighter.
But Johnson has decided to give it another go and face Groves in December.  And here is why I am so concerned about this decision.  Groves is young and a good puncher.  But he is not a devastating puncher.  Johnson has an iron chin and always gives an honest effort no matter what.
I see Johnson taking a lot of clean punches from Groves but not showing any signs of being hurt.  Unfortunately, this is when fighters actually do get hurt and that is what most concerns me about this fight.
Johnson has for years been one of the best ambassadors for the sport of boxing.  He has always been very committed and dedicated and regardless of who he was fighting, always showed up in top shape and always gave an honest effort.  If he lost a fight he would give his opponent their just due and never make any excuses.  And outside the ring he is regarded as a genuinely good and decent person, and is often described as the "nicest" guy in the sport.
In the past, I have been a big advocate of fighter's honoring their contractual agreements.  I think this is an exception to that rule however.  Maybe somebody close to Johnson can talk to him and talk him out of this.  However it happens, I really hope Glen Johnson reconsiders his decision and goes back into retirement.
Miguel Vazquez's Win and The Business of Boxing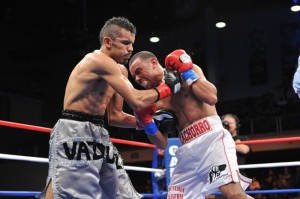 Miguel Vazquez narrowly escaped Verona, NY, Saturday night with his IBF Lightweight Championship with a split decision victory over Marvin Quintero.  Oddly enough however, the unimpressive victory on television may be just what was needed to propel Vazquez into bigger fights into the next year.
The fight on paper seemed to be a showcase bout for Vazquez.  Quintero came into the fight with a decent record of 25-3, 21 KOs, however there were really no recognizable wins on Quintero's resume, and all three of his losses came by knockout.
Vazquez came out early boxing and moving as was much expected.  However, Quintero started to have success working his way in with aggressive charges and then landing combinations once on the inside.
As the fight progressed into the middle rounds, it appeared that Vazquez may be on the verge of an upset loss.  However, Vazquez's better skills started to show late in the fight and he was able to win enough rounds down the stretch to earn a very close split decision victory.
By holding onto his title and looking vulnerable in the process, Vazquez has actually positioned himself very well to finally start earning some bigger fights in the next year.  If Vazquez had come out and dominated Quintero with a brilliant boxing display then he would have remained a very avoided fighter in the division. Why would an Adrien Broner, Antonio DeMarco, or Ricky Burns want to risk so much to gain so little?
But by looking so vulnerable and keeping his belt, Vazquez becomes a natural target for another champion in a unification bout.  It's funny how the sport of boxing works sometimes.  The poor performance by Vazquez on Saturday, though certainly not his intention, may give his career a big jumpstart in the end.
Gabriel Rosado's Decision
On Wednesday it was announced that Gabriel Rosado would be facing veteran Elvin Ayala on the NBC Sports Network on December 8th.  However, the following day Rosado apparently changed his mind and decided not to go forward with this bout.
Rosado's decision is very peculiar.  He is arguably the sport's hottest fighter coming off three impressive knockout wins all on television.  The opponent for this fight, Elvin Ayala, is known as a light hitting defensive minded fighter.  Ayala also has a questionable chin having been knocked out twice.
This should have been a perfect opportunity for Rosado to put on yet another impressive performance on national television.  Ayala was the perfect opponent on paper for Rosado to look good against.  And another impressive knockout victory on television would only further enhance Rosado's marketability.
But he decided to pull out and wait to face Cornelius "K9" Bundrage for the IBF Junior Middleweight Championship.  In doing so, Rosado is turning down a golden opportunity to once again make a statement on television.  And with television dates in boxing so limited in the end he may be hurting his checkbook when seeking bigger fish (Saul Alvarez?) down the line.