There is nothing in sport that quite matches the adrenaline shot that is a boxing rivalry. A sport of merciless violence by its very nature, the only way to amplify the heat inside the ring is to add personal dislike. British boxing has had rivalries aplenty over the years, and is right now overflowing with potential high-publicity, quality match-ups that could once again force the nation to sit attentively around their television screens.
Over two parts I will discuss some of the most spiteful British boxing rivalries, both in the recent past – which I will detail here in Part 1 – and in the contemporary field, which I will discuss in Part 2.
Benn and Eubank set the benchmark
During the 1990's, Nigel Benn and Chris Eubank accosted each other in the ring on two separate occasions. In both matches, what followed can only be described as hate-fueled war between two of Britain's most accomplished fighters of their generation.
As personalities, they were polar opposites. Eubank's self-righteous, pompous individualism did not sit well with the hardened punter, but his awkward ways enthralled them nonetheless. Benn, on the other hand, brought with him boundless courage, fight-closing power and an ominous glare only furthered by his all black attire. It was Eubank, known as "Simply the Best", fabulous and nonchalant, against Benn, "The Dark Destroyer", bristling with tenacity.
Their first fight took place at a high tempo. Benn led with right hands and pounded the ribcage of his defiant foe, while Eubank used the ring as he always did at his best; pausing, stopping and starting but almost always engaging, ripping Benn with uppercuts on the inside.
After eight back and forth rounds, the ninth and final round only continued in vein. With Benn's left eye closing, he continued to march forward; he had previously put Eubank on the canvas but couldn't finish the job. Eubank rallied back at his man, however, stunning Benn and stopping him on his feet.
The second meeting was a fight of similar action three years on from their initial duel. This time they fought in front of a huge crowd at Old Trafford, the home of English football giants Manchester United. For both, the end result probably wasn't top of their wish list, a draw that left some with desires unfulfilled due to the lack of a definitive ending.
However, the excitement their two affairs generated brought boxing right into the mainstream with a bang. Not only this, but it also left a huge weight of expectancy hanging over future British rivalries. The domestic standard had been set, and it would be a hard, if not impossible act to follow.
[Also See: Carl Froch vs. Eubank & Froch vs. Benn Fantasy Fights]
Hatton and Witter, Calzaghe and Froch postulate but fail to deliver
In the 2000's, Ricky Hatton and Joe Calzaghe emerged as Britain's most coveted boxing stars, with both adorning many people's pound for pound lists as they ascended to the top of their divisions; Hatton at light welterweight and Calzaghe at super middleweight.
During a period of bogus "world" title fights, Hatton and Calzaghe spent a large portion of their respective ascensions taking on opponents who were not on their level. Rivalries began to emerge, with British super fights a possibility not to be sniffed at.
For Hatton, it came in the form of Junior Witter; a slick, unorthodox switch-hitter from the Ingle school. Following Witter's win over Alan Temple, Hatton was called to ringside and asked on a potential clash between the two. A spiky conversation was had, but it never threatened to spill over.
Hatton, although aggressive inside the ring, did not appear entirely comfortable dealing with the subject in front of the cameras while Witter, although confident and assured, did not thrill inside the ropes. A fight seemed close to fruition in early 2003, two years on from their first exchange, but again nothing came of it and the fight fell into ignominy, seemingly for good, when Witter lost to Devon Alexander.
Joe Calzaghe, for all his greatness, spent many an interview fending off the abrasive barbs of his younger heir to the throne; Carl Froch. Froch would ultimately become friendly with Calzaghe outside of the ropes, but the two were never able to get it on, a great shame particularly given Calzaghe's retiring undefeated and Froch's run through the super middleweight division since.
You can never say never in boxing, and with Hatton returning from retirement and Witter winning the British title recently, a match-up between the two men from opposite sides of the Pennines is not absolutely out of the question. However, the significance of the bout would be significantly diluted were it to take place at any time from hereon in.
Froch and Calzaghe are destined not to meet, in part due to the fact that Calzaghe has seems comfortable in his position as pundit, but also because Froch's need is far lesser now than it was when he was an upstart aiming to get airtime. In short, two excellent rivalries that could have entertained the domestic crowds and spawned rematches found themselves dispersing into thin air, nothing but braggadocio and empty machinations.
Haye and Chisora conflict amidst controversy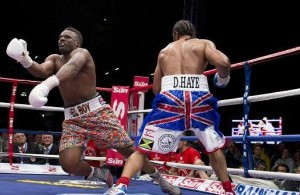 Earlier on this year, David Haye and Dereck Chisora took part in one of the more intriguing British match-ups of recent times, even if the intrigue was primarily fostered within the realms of distasteful public brawling.
There had been some quiet snippets of banter between the two in the lead up to Chisora's world title tilt at Vitali Klitschko, but what were whispers became full on shouts in the wake of a post-fight, bar-room style brawl clash between them.
When Chisora stepped away from the spotlight and confronted Haye, Haye responded by letting his fists fly, a bottle perilously placed in his right hand. The small-scale riot became infamous, and by the time the fight had been announced, marketed and the two were finally in a ring together, the British public were frothing at the bit, regardless of the scandal associated with the fight's licensing (The match-up was sanctioned by the Luxembourg boxing federation as Chisora had his British license withdrawn in the wake of his brawl with Haye, while Haye himself gave back his British license upon his prior retirement in 2011).
The fight itself lived up to the hype. With the naturally bigger Chisora barreling forward with little acknowledgment of technique, and the smaller Haye picking his shots with precision and speed, there was always an air of the inevitable – the fight would not last the scheduled ten rounds. Alas, Haye ended the matter with a jarring overhand left as Chisora probed forward and another knockdown as Chisora, hurt, lurched back into the fray.
In the aftermath of Haye and Chisora, several domestic tussles have grown in public interest, with the likes of David Price and Tyson Fury as well as Kell Brook and Amir Khan gleefully setting the scene for future fights. I'll talk more on those two rivalries, as well as a few others that could get British pulses racing, in Part 2.