In this week's 3 punch combo, I will first analyze why the recently announced Pauli Malignaggi-Shane Mosley bout makes sense from a business perspective. Next, I will examine whether the time is right for Bryant Jennings to challenge Wladimir Klitschko. Finally, I will look at Kelly Pavlik's decision to retire from boxing.   
Malignaggi-Mosley: The business of boxing
This past week, Golden Boy formally announced the bout between Paulie Malignaggi and Shane Mosley on April 27th in Brooklyn. Though many fans may not like it, the bout does make tremendous business sense.
Malignaggi is from Brooklyn and has a good fan base in the city. His presence as a headliner in Brooklyn will help drive ticket sales.
Mosley is a future Hall of Famer and one of the most popular fighters of his generation. He adds a big name to the event which will help with the overall marketing of the fight. Mosley will draw the attention of the general sports fan which will help not only with ticket sales but also to television viewership.
Another important factor on the business side to keep in mind for Showtime is that they were able to pick this fight up cheaply. The fighters are making relatively modest paydays for an event this magnitude. Mosley, for example, is making the lowest purse of his career since 1998.
Also keep in mind the winner of Malignaggi-Mosley will be in line for something bigger down the line. In my opinion that will be a big money rematch with Miguel Cotto.
Cotto will fight again at some point. In all likelihood, Cotto's team will be looking for two things when choosing an opponent. They need first need a marketable foe. And second need someone who has shown vulnerabilities. Well, either Malignaggi or Mosley would fit this bill.
Golden Boy not only sets up what should be a profitable event for all parties involved with Malignaggi-Mosley but also sets up an even bigger event down the line. And this exemplifies the business side of the sport at its best.
Jennings-Klitschko?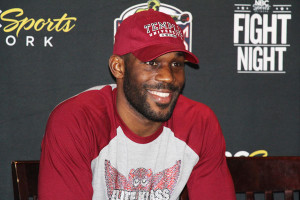 This past week rumors circulated that Bryant Jennings was in play to face Wladimir Klitschko in April. The question becomes whether or not the time is right for Jennings to take this bout.
The Heavyweight division is currently void of talent. So it's not surprising that Jennings name would be tossed around as a potential Klitschko opponent. Jennings did rise from obscurity last year to become one of the top prospects in the Heavyweight division — ProBoxing-Fans.com ranks him at number 10 in the heavyweight division.
But is the time right for Jennings to take the big leap and fight for the title? Jennings is a good athlete but a relative newcomer to boxing. He had on 17 amateur bouts and so far only 16 professional fights. Jennings still has a lot of learning and growing in front of him.
Though it may seem too soon for some, in my opinion Jennings and his people should jump all over this opportunity to face Klitschko.
[Also See: Klitschko Readiness Rating Series]
Recently, Heavyweight prospect Seth Mitchell seemed to be on a collision course to face Klitschko. Like Jennings, Mitchell is a good athlete and relative newcomer to boxing. And his dreams of a big money fight with Klitschko were dashed when a more seasoned fighter exposed his weaknesses.
Let's not forget that in his last bout, Jennings was hurt and in some trouble against Bowie Tupou.
My point here is that given Jennings' background he should capitalize now on his career momentum. If he passes on the opportunity to face Klitschko, now then that opportunity may never come again.
Kelly Pavlik's Retirement
Kelly Pavlik formally announced his retirement from boxing over the past weekend. Though I hope the retirement is sincere, I do not sense that we have seen the last of Pavlik in a boxing ring.
First, if this retirement is legit, then Pavlik deserves some appreciation for what he did in the sport of boxing. He was a very fan friendly fighter before well before he ever won the Middleweight Championship. Pavlik looked for knockouts and often got them in sensational fashion. As boxing fans, we knew when a Pavlik fight was on television it would not disappoint.
One thing somewhat forgotten about Pavlik was the tremendous heart and desire he always showed in the ring. For example, in his Middleweight Championship winning performance over Jermain Taylor, Pavlik was dropped and hurt badly by Taylor in the 2nd round. A lot of fighters would have succumbed but not Pavlik.
Pavlik is currently only 30 and has not really sustained much damage inside the ring. However, his skills have eroded and he is in danger of simply entering a stage in his career where he is an opponent. So his decision to retire now is very wise.
With that said, we will probably see Pavlik in the ring again. Most fighters who retire at his age get that itch to come back at some point in time. They find it very hard to adjust once that spotlight is forever gone. Plus, in Pavlik's case, he is a big name and can potentially make a lot of money in a comeback bout.
I sincerely hope as a fan of Pavlik's that his retirement is permanent. He gave us a lot of thrills over the years and the timing of this retirement could not have been more perfect. However, the realist in me says we have not seen the last of Kelly Pavlik in a boxing ring.