In this week's three punch combo I will first put together my December holiday wish list for the sport.  Next, I will state why Robert Guerrero could give Floyd Mayweather Jr. problems if they do face each other in the near future.  And finally, I will break down Ricky Hatton's loss to Vyacheslav Senchenko on Saturday night.
December Holiday Wish List
The calendar for the month of December for the sport of boxing is loaded.  And with the holiday season upon us. I thought it would be appropriate to lead off this week with a December holiday wish list.
The item at the very top of my wish list is for a definitive clear cut result for Pacquiao-Marquez IV.  There first three fights were very close and each could have gone either way.  Hopefully, this is settled once and for all with one man establishing himself in this fight as the clear victor. And the Pacquiao-Marquez chapter in boxing history is closed for good.
The second item on my wish list is for Miguel Cotto and Amir Khan to bounce back off their losses earlier this year with impressive wins.  The sport needs stars and both Cotto and Khan are big names with big fight potential for 2013.  But their star power fades with a loss in their respective bouts or with a less than impressive performance.  So let's hope they both re-energize their careers with impressive performances that get the boxing world buzzing once again.
The final item on my list is for some good fights on network television.  NBC has a card planned for December 22nd that is headlined by the rematch between Tomasz Adamek and Steve Cunningham.  CBS is also rumored to be lining up a card for December 15th.  Hopefully the shows do well and this drums up interest for more boxing on network television in the not so distant future.
Mayweather vs. Guerrero Time?
Robert Guerrero scored a hard fought unanimous decision victory over Andre Berto on Saturday night.  In the post-fight interview, Guerrero stated in no uncertain terms his desire to next face fight pound for pound kingpin Floyd Mayweather Jr.
Firs,t let me state I think this fight is going to be made.  Both Guerrero and Mayweather have affiliations to Golden Boy so no issues on the promotional side of things.  Guerrero has fought well of late and really earned his way into a bigger fight.  And his back story with his wife overcoming cancer makes him a person that sport's fans in general root for and would want to see succeed on the big stage.  Of course, this would only help the pay-per-view promotion of the bout.
I think Guerrero would give Mayweather a much bigger test than most experts would predict.  One of the big questions when Guerrero entered the Welterweight division was how he would be able to absorb punches at Welterweight.  In his bouts against Selcuk Aydin and Berto, two legitimate Welterweights, Guerrero was hit flush but never showed any signs of ever being hurt.  It's hard for me to see Mayweather being able to seriously hurt Guerrero either.
Guerrero in the past has won bouts fighting from a distance and controlling the tempo of the bout.  However, in the Berto fight, Guerrero fought mostly a rugged fight on the inside and was able to have much success in doing so.
When Mayweather has had difficulty it has been when his opponents tried to take the fight to the inside and make it more rugged. He had a tough time twice against Jose Luis Castillo when Castillo was able to take the fights to the inside. And more recently, in the Cotto fight when Cotto was able to turn the fight more rugged.
Mayweather's best asset of course is his speed.  Guerrero cannot match that but he also could not match Berto's speed.  However, if Guerrero is able to fight Mayweather like he did against Berto he couldneutralize that advantage for Mayweather.
One other thing needs to be addressed when looking at this potential fight, and that's the age of Floyd Mayweather. Floyd Mayweather Jr. turns 36 in February.  Eventually, at some point in time, age will become a factor and the reflexes, particularly on defense, will start to go.  Remember what happened to Roy Jones Jr. against Antonio Tarver.  Guerrero may end up being to Mayweather what Tarver was to Jones Jr.
Hatton vs. Senchenko Aftermath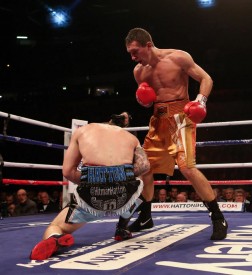 Ricky Hatton's comeback came to a sudden end when he was knocked out with a body shot by Vyacheslav Senchenko in their Welterweight bout on Saturday.  Following the bout, Hatton announced that he would once again go into retirement.
The problems outside the ring for Hatton in his three and a half years off clearly had a major impact on the result.  The excessive drinking and drug use took a toll on him in this comeback attempt.  And losing the 70 pounds, though not all done at once, seemed to contribute in his lack of energy as the fight progressed.
There is no doubt in my mind that a Ricky Hatton of a few years ago would have broken down and stopped Senchenko.  But this was clearly not the same Hatton.  Though he was putting on pressure early and having some success, it was not the same relentless pressure we had grown accustomed to seeing from a prime Ricky Hatton.
But with that being said, in the early going Hatton was having success with his moderate pressure.  It seemed as if he may still have just enough to get by this fight and set up something bigger down the line.
However, as he wore down some in the middle rounds Senchenko began picking up the pace of his own.  Without Hatton constantly in his chest, Senchenko began letting his hands go more and not surprisingly found Hatton an easy target to hit.
Even with Hatton wearing down I had the fight dead even coming into the 9th.  Senchenko is not a power puncher but the left hook body shot he landed to Hatton's liver was debilitating.
Both fighters deserve credit for their performance.  Senchenko should get a big fight, possibly Amir Khan, based off this win.  And Hatton should hang his head high as he gave it everything he had and in the end appropriately went out on his shield.
Comments
comments