Fight Prediction: Garcia vs. Judah
April 27 sees Zab Judah make what will probably be his last stab at a world title, when he faces Danny Garcia in Judah's own backyard of Brooklyn. Although Garcia is the favorite in this fight, some circles see Judah as a strong dark horse. According to this line of thinking, his recent losses were either at welterweight or to fighters perfect for exploiting his weaknesses (i.e. Amir Khan), and Garcia is neither of those things. Which view of Garcia vs. Judah is the right one?
Zab Judah (42-7, 29 KOs)
5'7 1/2″ tall, 71″ reach, southpaw, 35 years old
Former three-time light welterweight champion; former World Welterweight Champion
Zab Judah is the standing veteran among world class 140- and 147-pounders today, having challenged for his first world title 12 long years ago. For a fighter known for his inconsistent performances, that at least is a consistent statement of excellence, as is the fact that he is currently ranked as the #7 light welterweight in the world.
Judah is a boxer-puncher, blessed with speed, slick skills and power. On the downside, Judah has a troubling tendency to lose focus, a tendency that has cost him more than a few fights over the years. Judah is also cursed with a suspect chin. Finally, at 35 years of age and with substantial boxing miles on his body one has to wonder if Judah's reflexes and speed are not already beginning to slide.
Danny Garcia (25-0, 16 KOs)
5'8 1/2″ tall, 68 1/2″ reach, 24 years old
WBA-WBC Light Welterweight Champion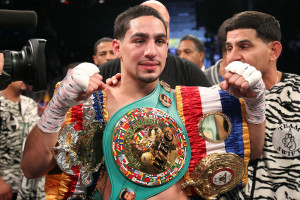 "Swift" Garcia is ranked as the #2 light welterweight in the world, and a strong case can be made for him as the top dog in the division. A Philadelphia fighter with a solid amateur background, Garcia has 120 amateur fights and a 2006 US national amateur championship under his belt. He is quick, as his moniker "Swift" implies, has good fundamentals, and good durability.
Unlike a lot of young fighters today, Garcia is comfortable fighting on his back heel. Against that, it must be said he tends to wing his shots, making them wider than is really necessary.
Analysis
From a style makes fights angle, Judah certainly has the stuff to produce an upset. He can probably match Garcia for speed, even at this late stage of his career, and certainly exceeds him in experience and sheer skill. Furthermore, I think that unless Garcia fights a very disciplined game, his liking for wide punches leaves him open to some serious counters from a fighter of Judah's caliber. Finally, Garcia's experience against southpaws in general is limited, and Judah is his first-ever world class southpaw.
Against that, it must be said that Judah is on the downside of his career, while Garcia is surging into the very elite of the profession. "Super" Judah's last big win was a squeaker over Lucas Matthysse that many thought he lost. His last clear , top-level victory was stopping Cory Spinks in 2005. Since then, he owns five losses in fights against world class opponents against the questionable win over Matthysse, and the last three of those losses ended before the final bell. Garcia, on the other hand, is undefeated and peaking, positively brimming with confidence.
Garcia vs. Judah Preview
It's hard not to see Garcia having some difficulty with a man of Judah's skill and physical prowess, especially given the fact that Judah is a southpaw and is very far from being a shot fighter. Even so, it is just as hard to not see a fighter of Garcia's ability not reaching and denting Judah's chin over time. So the question is "what happens when Garcia connects?"
It is hard to forget that in Garcia's last two fights he knocked out Amir Khan and Erik Morales, both men of undoubted boxing ability. While Khan is just as chinny as Judah, Morales certainly is not. Judah might not fall down and stay down the first time he gets clocked by Garcia, but he'll fall badly enough to start a downward spiral. This fight won't see the final bell.
Prediction: Danny Garcia TKO6 Zab Judah