In this week's three punch combo I will first take a closer look at the recently announced bout between Nonito Donaire and Jorge Arce.  Next, I will look forward to what could be a breakout performance by Erislandy Lara when he faces Vanes Martirosyan on Saturday night.  And finally, I will state why I feel that despite their victories over the weekend, both Fernando Guerrero and Lucian Bute's careers seem to be on a quick downward spiral.
Nonito Donaire vs. Jorge Arce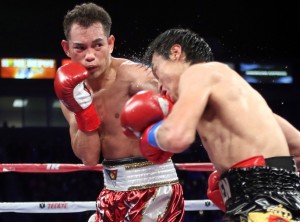 This week it was officially announced that Nonito Donaire would be facing Jorge Arce on December 15th on HBO.  I am really looking forward to this bout and think we may finally see Donaire's full talents on display.
There are several fights in the coming weeks that have major implications on the pound for pound rankings.  And Donaire-Arce may be as important as any of those bouts.
In February 2011, Donaire scored a sensational knockout over Fernando Montiel and shot up the pound for pound rankings.  Since that performance, Donaire has faced fighters who have been more interested in playing defense then trying to win.  The result has been four fights where Donaire has not really been able to showcase his full talents and essentially just takes what his opponents have given him.
The good news for fight fans is Jorge Arce is by no means a defensive-oriented fighter.  He is a warrior who will come straight at Donaire and be more than willing to exchange punches.  By doing so, Arce will also allow Donaire to showcase his offensive skill set which had fight fans drooling after the Montiel knockout.
In my estimation, there has been a reason why the opponents Donaire has faced recently have fought largely defensive.  They were no doubt very wary of his speed and power.  Finally, Donaire will have an opportunity to showcase those attributes against and I think that will lead to a performance much like the Montiel fight.  And once again, fight fans will be buzzing about this immensely talented fighter.
Lara vs. Martirosyan
This upcoming weekend has several big fights with many fighters looking for a break out performance.  I think when all is said and done this weekend the one fighter who will put up the best performance and be getting the most buzz amongst boxing fans will be Erislandy Lara.
Lara, a former Cuban Olympian, faces another former Olympian in undefeated Martirosyan on Saturday night.  This is a fight that makes sense as both fighters have been seemingly seeking out big fights but for a variety of reasons have not been able to land anything noteworthy.
Stylistically, the bout seems to play right into Lara's hands.  Lara is a southpaw boxer puncher who prefers his opponents to be aggressive as opposed to showing movement and angles.  Lara also loves to counterpunch, and Martirosyan, who is aggressive by nature and not a mover, should give Lara plenty of counterpunching opportunities.
Martirosyan has also had troubles against southpaws in the past.  In 2009, he faced southpaw Kassim Ouma.  Ouma was well past his prime but gave Martirosyan everything he could handle.  If a faded Ouma could  present such difficulties to Martirosyan, then imagine what a prime Lara can do.
I think given these facts Lara will score a spectacular early knockout victory over Martirosyan that will have the boxing world buzzing.  And this should put Lara in line for some potentially bigger bouts in the loaded Junior Middleweight class in the coming year.
Lucian Bute and Fernando Guerrero
Generally, I try not to pass judgment too quick on fighters coming off crushing losses in their careers.  Fighters are human and sometimes do just simply have a bad night.   However, in the cases of both Lucian Bute and Fernando Guerrero, I think we have now seen enough to realize their career paths may be taking a steep downward fall.
In June of 2011, Fernando Guerrero was knocked out in devastating fashion by 40-year-old journeyman Grady Brewer.  After three bouts against nondescript opponents, Guerrero took on former world title challenger JC Candelo on Saturday night.
From the opening bell it was apparent Candelo was a shot fighter.  He just followed Guerrero around the ring unable to let off any punches.  But Guerrero was also hesitant and seemingly very wary of Candelo's right hand, despite the fact Candelo was not throwing it.
Guerrero's cautiousness is what concerned me.  He clearly has not psychologically gotten over the knockout loss to Brewer.  I understand he did stop Candelo in the end.  But that was after several rounds of very cautious fighting.  There is no doubt he is a gifted athlete.  However, the psychological effects of the KO loss are still apparent and something I am not sure Guerrero will ever be able to shake off.
In his first fight since being stopped by Carl Froch in May, Lucian Bute scored a 12 round unanimous decision victory over the tough but limited Denis Grachev.  The win sets up a rematch with Carl Froch sometime next year.
Bute spent too much time looking for counter opportunities and was too often an easy target for the awkward Grachev.  And if a slow Grachev found him an easy target just imagine what Carl Froch would do in a rematch.  Or for that matter any other top Super Middleweight contender.  Bute was just fortunate in this fight that he was facing someone who was not really a big time puncher.
Bute made a career of defeating "B" level fighters.  Since he was making big paychecks in his adopted hometown of Montreal fighting such fighters he really had no reason to ever aim for the division's elite.  The first time he fought a top five level fighter, Carl Froch, he was completely dismantled.  He could go back to fighting "B" level opponents and probably be somewhat successful.  But it's very hard for me to see him ever competing with the top fighters in his respective weight class.
Comments
comments