With the Mayweather vs. Ortiz fight time set for 9 PM Eastern (that's actually the Star Power PPV start time, with three full undercard bouts, the real Mayweather-Ortiz time will probably be around 11:30 PM eastern), the boxing world if buzzing with anticipation and final thoughts about the battle. So, we figured we would chime in as well. Here are 3 final quick-hit thoughts and questions, specifically about "Vicious" Victor Ortiz, before Mayweather vs. Ortiz time tonight.
—-> At fight time, check out our live Mayweather-Ortiz results and round by round blog!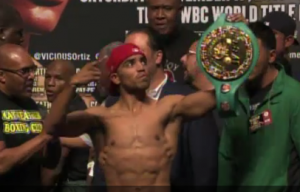 1. Did anybody else think that Victor Ortiz looked a bit rattled at yesterday's weigh-in? At times he seemed in awe of the event and the spectacle of the affair, and at other times he seemed a bit uneasy. Whether or not the factors into his mental state tonight is a question to seriously consider.
2. How much is Ortiz going to weigh on the unofficial scales this evening? He came in as a full-fledged middleweight when he met Andre Berto earlier in the year, and he looked much more muscular than Mayweather at the weigh-in. It's likely that Mayweather comes in right around 150 lbs, and Ortiz may come in as high as 165 lbs to give himself every ounce, literally, of extra strength and power that he can find.
3. What is his strategy for the fight going to be? We know that Mayweather is adaptable, and we know that he responds excellently to come-forward pressure fighters by laying back and countering them on their way inside.
Is Ortiz going to reach outside of his typical game plan, and rely more heavily on his jab, and some movement? Or is he going to bull forward and try to show Mayweather what a 24-year-old, 165 lb kid with power-punching ability in both hands can really do? That will in part determine not only how the Mayweather-Ortiz results play out, but it will also determine how much excitement we get at Mayweather-Ortiz fight time. Another boxing clinic by Mayweather, a stand and trade battle (unlikely) or a tense affair with Ortiz swinging sledgehammers at a barely-escaping Pretty Boy Floyd?
It's the opportunity, and pay-day, of a lifetime for Vicious Victor tonight. We'll all get to see what he's made of and we'll also get to see where the 2011 version of Floyd Mayweather stands in the boxing world. Get ready for a fun night and one of the biggest boxing events of the year, and as of right this second, it's just a few hours until Mayweather-Ortiz fight time is finally here!