Live Floyd Mayweather vs. Victor Ortiz Results, Round by Round Blog and Star Power PPV Updates
On September 17th, the Floyd Mayweather vs. Victor Ortiz fight will finally take place after months of hype, promotion and buildup. Will Money Mayweather maintain his undefeated record and dominate another opponent, or will Vicious Victor shock the boxing world with a big KO win to defend his WBC welterweight crown? You'll be able to find live Mayweather vs. Ortiz results on fight night right here on ProBoxing-Fans.com.

Mayweather vs. Ortiz Round by Round Scorecard
| | | | | | | | | | | | | | |
| --- | --- | --- | --- | --- | --- | --- | --- | --- | --- | --- | --- | --- | --- |
| Round | 1 | 2 | 3 | 4 | 5 | 6 | 7 | 8 | 9 | 10 | 11 | 12 | Total |
| Floyd Mayweather | 10 | 10 | 10 | – | – | – | – | – | – | – | – | – | – |
| Victor Ortiz | 9 | 9 | 9 | – | – | – | – | – | – | – | – | – | – |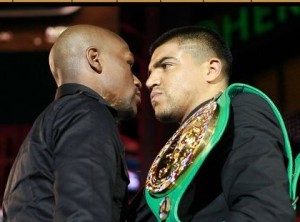 Current Star Power PPV Status: Now: Mayweather-Ortiz OVER!
Mayweather wins via KO4

Unofficial weights: Ortiz 164 lbs; Mayweather 150 lbs

Mayweather vs. Ortiz Results – Round by Round Blog Updates
Rd 1: Mayweather comes out throwing right away. He opens up the action. Looking fast. Those black and orange trunks are terrible. Ortiz lands a right hook. He is looking fast too. Mayweather working on the inside. Lead right for Mayweather, and then he ducks back barely avoiding an Ortiz shot. Ortiz presses him in the corner. Mayweather is all about the right hand lead, also lands a hook. He's just feeling it out with his jab. Ortiz is bouncing around a lot. Ortiz has some moments but Mayweather landed some very nice, clean shots in round 1.
Rd 2: Ortiz offering a lot of head movement. Mayweather comes in and almost slips. He got tagged and seems a bit off-put by it. Keeps on going back to that straight right lead, and the drops right down after to protect himself.  Misses with a big one with Ortiz on the ropes. An Ortiz hook is blocked. Ortiz goes to the body with a nice hook. Mayweather lands a nice right hand, then Ortiz bulls him to the ropes and throws a bit. Ortiz gets Mayweather back to the ropes and lands. Then bounces in the center of the ring. Mayweather jabs to the body. Mayweather teeing up with straight rights, then Ortiz bulls him to the ropes again. Mayweather times him coming in with another straight right. Close round to Mayweather.
Rd 3: Ortiz coming forward and throwing and Mayweather stepping back out of the way. Ortiz lands a left lead which he has been throwing a lot of, then Mayweather counters. Mayweather comes forward now and backs him up, which keeps Ortiz from throwing. Mayweather lands a left hook. Big right from Mayweather momentarily wobbles Ortiz's knees. Mayweather uses his jab to steer Ortiz out of the way when he comes forward. Ortiz lands a shot, Mayweather shakes his head no, then lands a big right. Very, very nice Mayweather round but Ortiz gets in a nice shot at the end.
Rd 4: Mayweather comes out and really opens up in the first 30 seconds, throwing about a dozen shots in a row. Haven't seen Mayweather open up like that in a long time. They get broken up and Mayweather smiles. Ortiz gets Mayweather against the ropes and throws some huge bombs but Mayweather averts almost every single one of them, despite the crowd cheers. They were very close though.
Ortiz hurts Mayweather and throws some heavy leather, but then he jumps in with a head butt and Cortez breaks them up. He docks a point from Ortiz. Ortiz apologizes, hugs Mayweather and kisses him on the cheek. Then the action is about to start again, Ortiz isn't quite paying attention… then Mayweather pops right in and tags him with a very hard shot. Ortiz is stunned, and Mayweather comes in again and then DROPS ORTIZ. Ortiz was almost still apologizing, Mayweather throws a left hook, then a right hand, and Ortiz can't beat the count and get up before 10. And it's a KO4 for Mayweather!
It was a somewhat dirty or cheap first shot by Mayweather, but the first thing you learn in the boxing gym is Protect Yourself At All Times. Ortiz didn't, and Mayweather took advantage and scored a brutal KO. Plus, the Ortiz head butt was very, very dirty… he literally jumped up and leaped in with a butt. Mayweather was pissed, and Ortiz wasn't ready… bottom line it's a clean KO.
Also, it should be noted, Ortiz did not complain. He and Mayweather were hugging and congratulating after the fight. Wow, crazy stuff here with the way this ended.
After the fight, Mayweather tells Larry Merchant that he never gives him a fair shake. They start yelling at one another, and Mayweather yells at him and says that HBO needs to fire him, that he isn't shit, and on down the line. Then Merchant says if I was 50 years younger I'd kick your ass! What a crazy scene, and Mawyeather storms off and then Ortiz is interviewed, and while he doesn't believe it was a great, clean KO, he wasn't complaining either. What an intense/crazy scene between Mayweather and Merchant, following up after a crazy fight ending. What a night! That's all folks, thanks for tuning in!
Event Updates/Notes
11:45 pm: Ring walks! Ortiz comes out first. Looks serious, focused and ready to go. Then it's Mayweather's turn, and he's wearing a black hood with orange patches… Halloween about 45 days early. He's taking his time before heading out there, making Ortiz wait. He walks out to the ring with 50 cent flanking his side, and some body guards, followed by his team. 50 cent has Mayweather's belts wrapped around him, and he's working the mic. 11:50 pm, both guys are in the ring… intros and then fight time! Mayweather got to enter the ring second, but he is introduced to the crowd first.
Interesting stat: Mayweather has a +30 differential in percentages of punches he lands – 46%, opposed to opponent's punches landed – 16%. That's by far the highest difference in the game, with Andre Ward being 2nd.

11:40pm Stars in attendance… Christina Aguilera… Mark Whalberg…. P-Diddy…. Anna Pacquin… Mike Tyson… Magic Johnson…. and more. Mexican national anthem time, sung by Mariana Estrada, as we see footage of the final pad work and warm ups for Ortiz and Mayweather. US national anthem dedicated to 9/11, sung by Jasmine Villegas.
11:35 pm: Just waiting for the main event to get underway. They are showing promo videos now.
11:25 pm: Canelo gets a 6th round TKO win, albeit from an early stoppage. Mayweather vs. Ortiz is next!
11:15 pm: We see footage of Joe Cortez giving the instructions to Mayweather. Mayweather laughs off a warning about using his elbows. Then after the next round Cortez talks to Ortiz's camp, and trainer Danny Garcia makes a very big point of talking to Cortez about those very elbows.
10:52 Canelo-Gomez ring walks! Gomez looks very serious, Canelo much more relaxed and light. 11 pm.. fight getting started.
10:45pm Morales wins by TKO after the 10th, as Cano's face was a busted, bloody mess….
9:50 pm: Vargas-Lopez is now over, with Vargas taking home a razor thin Split Decision to stay undefeated. 1 fight down… Morales-Cano getting started at 10 pm
In between rd 6 of Vargas-Lopez, we see shots of Ortiz and Mayweather entering the arena, at about 8:15 pm eastern and 9:15 pm eastern respectively. Ortiz was all smiles and had a bounce in his step, Mayweather, flanked by his kids, seemed calm, cool and ready.
Star Power PPV Undercard Results

Saul Alvarez vs. Alfonso Gomez
Round 1 starts off pretty slowly. You can tell how much more power Alvarez has compared to Gomez. His punches come in thudding. And then boom, with about 10 seconds left in the round Alvarez drops Gomez to the canvas with a left hook.
Gomez doesn't look worse for the wear after the late KD in round 1. Comes out aggressive, lands some good shots. Canelo is just a big boy in there. Gomez comes forward and throws some combinations. Canelo goes to the body with two hooks. Good comeback round for Gomez.
Alvarez goes to work with an aggressive spurt.  Gomez lands a series of body shots and then works behind his jab. Gomez looking pretty good in there. he is getting off first and keeping Canelo guessing. When Alvarez throws though, it's with bad intentions. Very good round for Gomez.
Gomez starts round 4 strong. Alvarez with his back to the rope doing a lot of posing and waiting, then he throws a hard combo and does more waiting. Lands a good uppercut, and gets more active towards the end of the round.
Canelo looks a little bit befuddled right now. Gomez has taken him by surprise. Crowd chants, "Canelo, Canelo". Gomez bending very low with his bobbing and weaving, working behind his jab. When Alvarez gets close, he pushes him away. Good combo for Alvarez. He backs Gomez up and lands a few more shots. Finding some rhythm now.
Alvarez throwing his hands more in round 6. Lands a big right that has Gomez paused. Another big right lands and Canelo jumps in and lands a huge thudding right. Gomez is backing up and hurt. And the ref jumps in and stops it! Ah, that's way too quick, particularly since Gomez may have been winning the fight to that point.
Canelo wins via 6th round TKO… and a premature stoppage. Too bad for Gomez, who was fighting his heart out.
Erik Morales vs. Pablo Cesar Cano
Morales comes out slow, Cano doesn't look intimidated by the stage. Looks.. well, stronger, younger and faster. Morales not really in the fight yet. Tame first goes to Cano.
Morales coming out stronger at the start of the second. He's not flabby, but not exactly a tight midsection either. Cano lands several big rights, then stays behind his jab when Morales comes forward. Morales already appears to be cut a bit. Another Cano round, probably.
Cano is staying active, using his youth and speed to his advantage. Working with his jab, bouncing around, staying on his toes. Morales lands a few good rights. Morales following more than applying effective pressure.
Is Morales waiting to turn up the heat.. or is it just not there for him tonight? He answers my question by storming forward, landing a good 1-2 and sending Cano backward. Cano stands tall and answers with a few combination shots of his own. Cano now bleeding as well, from his left. His cut is worse than Morales'. Best round for Morales.
While Morales is looking more aggressive and active now, it comes in spurts. He can't maintain it for more than a few seconds. Cano gets Morales backing up now. Lands some big shots. Morales ends up with his back to the ropes. Morales turns it around and backs Cano up. Cano's left eye is very swollen. Big right from Cano at the bell.
Both of these guys are dishing it out and taking it here. Morales has landed the bigger shots in the 6th, including a left hook which stands Cano up. Walking straight in now and firing heavy handed shots. Cano is game but looking tired by the end of the stanza.
Morales' face is really busted up and bloody right now. Some great action here as they trade. Both men literally see blood and are going for it. Morales really has a bloody stream down his face, wow. Cano stepping it up as the round ends.
Round 8 starts with a bit of a lull. But then the two engage. Both are all kinds of busted up, Cano oozing blood from his nostrils, Morales having it pour down his left cheek. Morales landing big overhand rights. Cano lands  a stiff jab. Morales getting the better of this round, but his white trunks are now nicely stained red. Cano lands a low blow. Morales jabs at the bell.
Both men have slowed down a lot. Morales still walking forward, Cano trying to stay busy. His punches seem to have lost a lot of steam. Morales lands a few big lefts, then a big right. Very good round for Morales who may be pulling away now.
Morales really busts up Cano's face here in the 10th. Both eyes are bruised and swollen, and blood just exploded all over the place. Pause to see the doctor, and surprisingly the doc lets the bout goes on. Cano is really, really a mess. Can't believe the fight is going on. Alright, and now the fight is stopped in the corner after the round.
Morales TKO 10 in a blood battle, and he takes home the vacant (very silly) WBC 140 lbs title
Jessie Vargas vs. Josesito Lopez
Both guys coming out looking strong. Similar builds, sizes and styles. Lopez certainly does not have an "opponent" mentality, and at the least, he should give Vargas a hell of a test. Close 1st round.
Lopez taking on more of the aggressor role. Backs Vargas up with a straight right and goes to the body. Vargas then begins coming forward, unleashes some combos and then trades and they tie up. Both men doing good body work. Lopez working on cutting off the ring. Nice trading at the close of round 2.
Vargas lands a nice right but Lopez is unfazed. Lopez then comes forward and does some damage, Vargas gets backed up into a corner. Vargas trying to rely on his jab, also throwing a lead left hook. Lopez is much stronger than Vargas, and on the inside he is doing much better work. Vargas would be smart to start jabbing and moving much more. Big Lopez round!
In the run up to this fight I had been calling Josesito Lopez the "prospect killer". He looks to be on his way to earning that name once again. Lopez applying effective pressure and seeming to slow Vargas down in a big way.
Vargas on the bicycle a bit more in round 5. Lands a very nice body shot. Lopez walking him down. Better round for Vargas though working behind the jab and circling the ring between all of his punches.
Vargas doing good here in round 6. Lopez's work rate is down as he is following Vargas more than cutting off the ring. Vargas's jab working well. Lopez turns up the heat later in the round, but Vargas probably won this round early.
Lopez is cut by his right eye. Official ruling is an accidental headbutt during last round's action. Staying aggressive and working hard, lands a big left. Vargas looking better than he did a few rounds ago though. Close round.
Vargas docked a point for a low blow here in the 8th. Might have been quick to take away that point, and it's a close fight here. He comes back strong after that though and does some good work. Then off a break Lopez lands a very big right that pushes Vargas back against the ropes. Lands a big left uppercut to the body. Jabs Vargas back to the ropes and looks for something big.
The 9th is another close round and each fighter is playing his role, Vargas using more movement and his jab, Lopez forcing the action and using pressure. Lopez isn't throwing as much, might be bothered by his cut, which is worsening.
10th and final round… Vargas comes out very strong, throws about 10-15 jabs in a row in sets of 3s. Standing his ground. Lopez isn't coming as strong. Vargas looking very good, dominating. Suddenly Lopez springs to life and stuns Vargas with a hook. 30 seconds left. Vargas suddenly looks done. Needs to make it a few more seconds. Lopez runs out of time…
Vargas-Lopez Official Scorecards: 95-94 Lopez, 96-93 Vargas, 95-94 Vargas… winner by split decision and still undefeated, Jessie Vargas.
————
We hope you enjoyed all of our round by round scores and continuous updates for the main event and all of the undercard bouts on the Star Power PPV. As always, ProBoxing-Fans.com is your go-to place online for all of the boxing news coverage you need. Thanks for checking out our live coverage and updates with the Mayweather vs. Ortiz results.