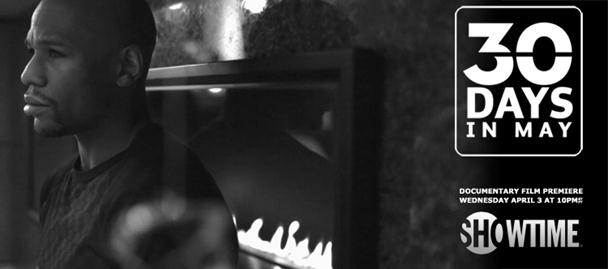 Floyd Mayweather 30 Days in May Documentary:
On Wednesday night, the Floyd Mayweather documentary movie on Showtime, 30 Days in May, made its premier. Right here, you can read a full recap of the Mayweather documentary to see what it was all about, what was revealed, and more. There was a lot of hype behind this, and a lot of talk about behind the scenes footage and so forth, so take a look to see what really went down, and whether it not the documentary lived up to its promise.
[Check out our Mayweather vs. Guerrero preview & prediction]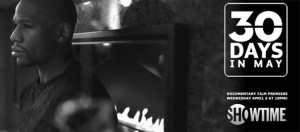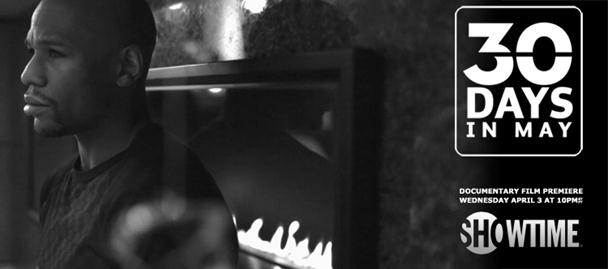 30 Days in May begins with a quick burst of text on the screen, saying when and how Mayweather plead guilty to the charges which of course lead to him serving time in jail.
Interspersed with footage of Mayweather cruising around Las Vegas, we hear about the entire process, how his sentence was postponed until after his upcoming fight with Miguel Cotto, and so forth.
Then we see that the footage of Mayweather cruising around Vegas is on June 1st, it's Mayweather on his way to jail, ready to go turn himself in for his sentence. We see video footage of Mayweather in court, turning himself in, being handcuffed and then lead away. Then, we see text — 27 days later — and it brings us back into the beginning of May and the beginning of this story, 30 Days in May.
[Also See: The Flashy Lifestyle of Floyd Mayweather Photo Gallery]
Of course, it's the date of the Floyd Mayweather vs. Miguel Cotto fight. Mayweather talks about what it's like being in the spotlight since he was a teenager, how he doesn't mind if fans boo him, because they know who he is, and how nobody has a sales pitch like he does.
The documentary cuts back after his win over Cotto, and we see his record change from 42-0 to 43-0. We see footage of Mayweather in the shower after his win, rinsing himself off. Mayweather talks about how he wishes he had gotten the knockout, and how he had tried.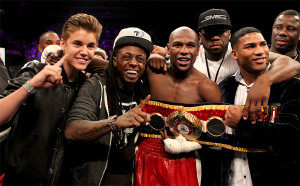 We see Justin Bieber hanging out in the locker room with Mayweather's kids — he's certainly more at home there than with any of the actual adults. Yet, Mayweather puts his arms around Bieber and they hang out in front of the cameras a bit.
Mayweather talks about being a super hero, and then wanting to fight other super heroes. In the post-fight press conference, Mayweather addresses the Manny Pacquiao fight, Bob Arum, and why in his opinion the fight isn't ever going to happen. But it's Cinco de Mayo — it's his day.
We get ushered into Mayweather's home, and see the extreme extravagance of it all. Mayweather has an extreme lifestyle of luxury. "My mentality is fuck it, it's going to be what it's going to be," says Mayweather, and we go down to 26 days.
Then we hear from Mayweather's mom, and see Mayweather talking with his family. We hear Mayweather talking about how perspective changes over the years, and how if it didn't, then you've been wasting your time.
Hasim Rahman shows up, surprisingly. He's hanging with Mayweather and is singing his praises. Next, Mayweather talks about his perception of normal. How it's normal for him to drive a Rolls Royce and do what he's doing, how he had dreamed as a kid about being richer then the Jackson family.
We're in the Mayweather Boxing Club, and Yuriorkis Gamboa is there, amongst others. But there's kids there training too, and we hear a neighbor and friend talk about how Mayweather is such a strong member of the community.
Mayweather and his kids then head to a Drake concert and take it all in and have a great time. In the voiceover, we hear about how Mayweather believes he contributes about a $1 billion to the city of Las Vegas in a 3-day weekend when you consider all of the money spent and various sources.
After that, we see Miss Jackson herself, Shantel Jackson. She talks about how they don't mention Floyd's upcoming jail sentence very much. She says she honestly doesn't think he's ready for it. We see video of Mayweather hanging out, watching ESPN, and the two of them doing normal couple things, driving around, going to dinner.
Jackson says that Mayweather enjoys people being around, and how he's a people pleaser. He gets more flamboyant and outgoing when more people are around. His upcoming jail sentence is just three months, but for him, it could be a life time. Because now he's on somebody else's schedule, he's being told what to do, and when.
She doesn't think it will sit well with him, and she says this will change things for him, make him listen to himself more. She says at the clubs, he buys bottles for everyone and is partying, but he's doing it for entertainment for everyone else, and not for himself. And we're down to 15 days before jail.
Mayweather says even though you can't drive 10 cars at one time… people have 10 cars. So you can maintain 10 cars. And so he says in terms of females, the same thing applies. If you can take care of that many you can have that many.
Miss Jackson basically says they're open and it doesn't bother her. Since she's letting him be him, it's not a disrespect to her.
Mayweather is in Atlanta. He does a radio show, and then he's at a strip show, and says something to the effect of, well, we were born naked, why not let us party naked. The strippers come back to Mayweather's room and a whole bunch of them are hanging out and partying, naked, with Mayweather and crew hanging around and partying.
A friend talks about how for Floyd, life's about showing people other things he has experienced, about sharing life with friends, showing them things. We see Mayweather hanging out around the home around all his luxury, and more friends talking about him. Then it's back to the club. We hear and see a lot more about Mayweather partying and enjoying himself.
"I feel like if I play hard, I'm gonna work harder," and he likes to play. Then he says, when all of it's done with, everyone is gone, it's the next day… Floyd Mayweather is still comfortable. And we're down to 10 days left.
More footage of Mayweather, his family talking about him and life, him dealing with everything around him. He's in the gym training. He's walking around Las Vegas and fans want to be with him, some are harassing him and saying inappropriate things. He's hanging at the pool with his kids. Mayweather says even though his house and everything else is paid for, without everything he has, he'd still be the same.
Mayweather says HBO is foul, and he complains about Larry Merchant. He says the network treats him like a ho. Clearly, the writing on the wall for a very long time, and he wasn't planning on sticking around with the network. I wonder who paid for all of these cameras and documentary footage — hmm, Showtime?
We're down to 0 days left. Mayweather and crew are hanging out and 2 am partying. We have a musician on the piano performing, people are cooking food. He's dancing and shadow boxing. His buddy is talking about him once again, and he does a great Floyd Mayweather impression. He sounds like him a lot. Finally Roger Mayweather makes an appearance and mutters something why Floyd is going to jail or not.
It's day-of and Mayweather is talking and yapping. He says he'd rather the court have given him a year right off the bat, instead of costing him millions of dollars and taking multiple years of his life fighting it off.  Mayweather says he won't cause any trouble in there, he will give respect but will demand respect.
He has just hours left before he goes to jail. Miss Jackson talks about how the system is messed up and Mayweather didn't actually do anything. We see Mayweather hanging, counting his many ridiculously expensive watches, spending time with Shantel.
"I'm black, I'm rich, and I'm outspoken." Mayweather says that's three strikes against you, and the system is built for you to take a deal. We see the same footage from the beginning of Mayweather walking into court and being led away in cuffs. He says the system isn't right, and the charges are bogus.
After some more footage, we see Mayweather being released from jail. We see him reuniting with friends and family, talking about how he felt, how it was the best night of his life, driving away from jail. Now Mayweather is back driving his car, and he's going crazy talking shit about how they can't stop him.
Is he a different person? Absolutely, of course, he says. Mayweather says in jail you just get madder and madder. If they were expecting yes sirs out of him or anything else, then fuck that he says. Not for him. It played out the way it did, and that's life. He's out, tough times don't last, but tough people do.
Comments
comments