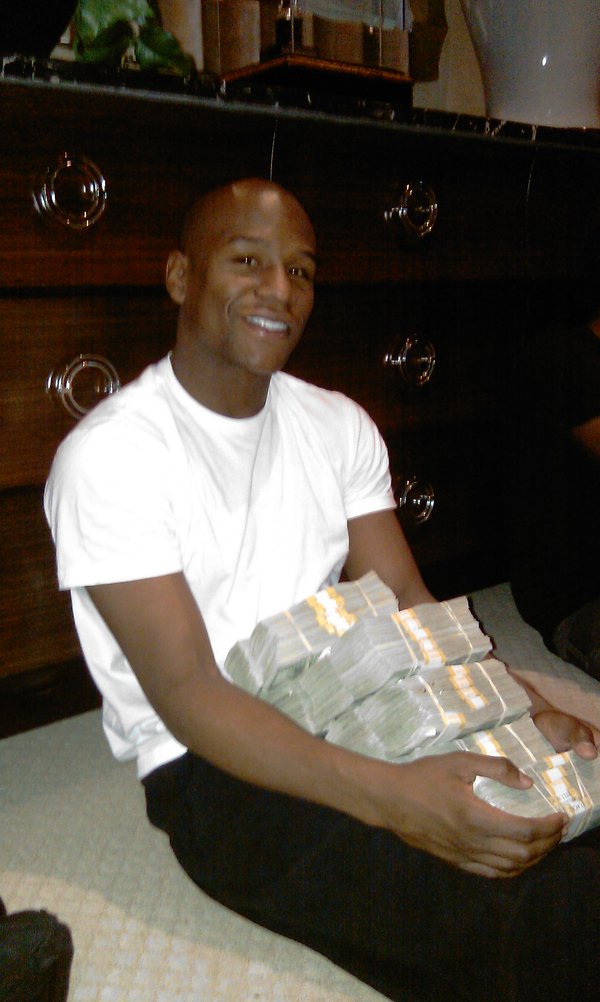 Floyd Mayweather Pictures – Cash, Bling, Betting Slips, Celebrity Friends & More:
There has been a ton of talk as of late about Floyd Mayweather's lifestyle out of the ring. His betting slips for tens or hundreds of thousands of dollars on single games, his decadent parties, his frequent sightings with celebrity friends like 50 cent, and much more.
Of course, his lifestyle outside of the ring has also come into question for his still-pending legal issues. But whatever the story of the day is it get's talked about, rumors circle, and Mayweather's name stays in the news. Right here you'll be able to find a full collection of Floyd Mayweather pictures and images with that famous, and infamous, lifestyle of his. Take a look….
Floyd Mayweather images gathered from public photo galleries sent via Twitter, Mayweather's official website, and more.
As you can see, there are dozens of pictures above. Something that has been talked about a lot has been Mayweather's betting slips on NBA games. One that made the rounds was his $41,000 bet on the half-time score of a Chicago Bulls game. But that wasn't even his biggest bet. Taking a look at the images above, there are at least a few larger ones than that, including one for $100,000. I'm sure we don't see images of the losing bets though!
There are also plenty of Mayweather photos above with huge stacks of cash. He's well known for flaunting his cash and being seen with massive piles of bills. So well known in fact that his birthday cake was made to look like a stack of bills with jewelry and other bling on it. You can see some pictures of the Floyd Mayweather birthday cake above too.
He mingles with celebrities, and most notably is good friends with rapper 50 cent. A lot of the images he posts online are Mayweather and 50 cent pictures hanging out together. But the celebrities he hangs out with range from Alex Rodriguez and Jamie Foxx, to Jerry Jones and George Bush at the Super Bowl, Marc Cuban and Cam Newton, and scores of others.
There are also some good pics of Mayweather's fiance Shantel Jackson, and the happy couple spending some time together courtside at games, on yachts and elsewhere. You can also see a picture of his fiance's huge ring.
Some boxing fans may hate him for all of this, but others definitely bask in it, too. However you feel about it, if any of this is a good thing for boxing fans, it might just be that the way he spends his money will precipitate a return to the ring before all is said and done. So enjoy this massive collection of Floyd Mayweather pictures and his flashy, extravagant lifestyle. Stacks of cash, $100k betting slips, bling, celebrities and more… all in the day-to-day life of Mayweather.