Point/Counterpoint for Mayweather vs. Alvarez:
With the mega fight between Saul "Canelo" Alvarez and Floyd Mayweather Jr. looming months off in the distance, there has been much discussion regarding the prospects of this very interesting matchup and its outcome.  Lines in the sand are being drawn and many fans and pundits are passionately discussing which side of the battle line they fall on. In that spirit, we offer our own "Point/Counterpoint" for the upcoming Mayweather vs. Canelo tilt.
Take a look at 5 reasons why Canelo will, or won't, defeat Mayweather, and see which side of the fence you fall on.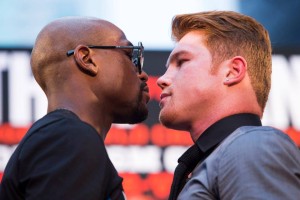 Point: Canelo Alvarez will beat Floyd Mayweather because he is big, young and strong.  Alvarez might be the biggest opponent Floyd has faced.  He is typically been at between 165 and 170 pounds on fight nights, which will be a huge size advantage for him versus Mayweather.  He has a knockout percentage of 70% and is a young and strong 23 years old.  Over the course of the fight, Canelo's power will wear on Floyd and ultimately, a big punch will land and seal it.
Counterpoint: Mayweather has never legitimately been knocked down, let alone knocked out, in 44 professional fights.  He might be the hardest fighter in the game to hit.  His defense is elite level and he rarely gets hit with any big shots.  Further, he has faced power numbers like Canelo's before.  He has been in with Cotto (73%KO), Hatton (67%KO), Marquez (65% KO), and others, and quite simply, it will take more than power to defeat Mayweather.
Point: Mayweather is too fast for Alvarez.  His handspeed is unmatched and beyond anything Alvarez has ever seen.  He will score at will, pile up points and run away with the scoring.  Floyd can beat the slower Alvarez to the punch and through 12 rounds, Canelo will wind up bloodied and battered.
Counterpoint: Alvarez's handspeed is underrated and probably as good as anybody Floyd has seen recently.  Guerrero just missed with several potentially damaging shots as Floyd slipped back out of range in their most recent bout. Canelo is slightly faster than Guerrero. The difference in Canelo's speed and Guerrero's will be just enough for those same shots to land from Canelo and change the outcome of this fight. Canelo will also get big shots on Floyd's body and this will slow and weaken Floyd and it will be Mayweather, not Alvarez, who will be bloodied and battered.
Point: Alvarez's youth is an advantage for him versus Mayweather.  He is younger than anybody Floyd has fought in over a decade. His youth allows him a combination of strength and durability beyond any levels that Floyd has faced in the recent past.  He will be stronger than Floyd and his durability will allow him to weather assaults from Mayweather while still moving forward with bodywork and powerpunching. The combination of durability, strength and youth will wear Mayweather down… and out.
Counterpoint: Alvarez's youth is actually an advantage for Mayweather. Alvarez is still a bit too raw and his lack of maturity and polish will bleed through in this high intensity event as Floyd frustrates him and gets into his head. It will be Alvarez's youth and Floyd's cagey ability to exploit it, which will be the difference in the fight.
Point: Mayweather is slicker, faster and more elusive than anybody Canelo has faced.  His style, guile and ring smarts are beyond what Alvarez can handle and Floyd will methodically break him down and exploit his weaknesses.
Counterpoint: In his last fight, Alvarez landed 49% of his power punches versus a crafty and elusive Austin Trout and historically has landed approximately 54% of his power punches. He is an accurate puncher with power and good footwork. While we all know Floyd is historically one of the great defensive fighters, Alvarez's size, accuracy and power help to leverage the effectiveness of the shots he does land and will allow him to get Floyds attention.
Point: Mayweather's experience in big events is too far beyond Alvarez's. Mayweather has fought in numerous big title fights and seems to flourish in the bright lights of high level events. Mayweather will take the spotlight in stride and will outsmart the young, still somewhat green and possibly a bit awestruck Alvarez.
Counterpoint: At age 23, Canelo has 43 pro fights to Floyd's 44 and is far more experienced and learned than his young age would lead you to believe. He is a huge star in Mexico and has existed and fought under massive media scrutiny in large, packed arena's in his home country for a while now. He is coming off of a high visibility title fight with Austin Trout in which he looked unaffected by any of pressures of being involved in a big event. He will not be fazed by any of the hoopla. Floyd will underestimate and disregard Canelo's savvy and experience, and this will allow Alvarez to gain an edge on fight night.
So who has made the stronger case here? Is Alvarez's power, youth and size too much for Floyd? Or is Mayweather really at another level in terms of skill, speed and elusiveness? Is Canelo strong enough to slow Floyd down? Is he mature enough to understand, construct and execute a winning game plan? Or is Floyd still just too good?
Any way you slice it, this is a very intriguing matchup and certainly one that will be discussed with vigor in the next few months leading up to this huge event. We won't get the answers to these questions until we finally get to see the two men square off in the ring against one another on fight night.
Comments
comments