The junior middleweight division was given a jolt on Saturday night as the undefeated yet relatively unheralded Austin Trout picked apart modern Puerto Rican great Miguel Cotto on route to a surprise unanimous decision victory. In front of Cotto's loyal army of Boricua men and women, Trout put himself at the forefront of the 154 lb division despite the odds being stacked heftily against him, and immediately called for a match with the weight-class' newest money-maker — Saul "Canelo" Alvarez.
Alvarez sat ringside, angling for a fight with Cotto, though the young Mexican looked decidedly unimpressed at times when the cameras turned to him. This could have been because of the hearty booing when his face came up on the big screen, though it could also have been because he was watching a super fight fall away from his grasp and there was nothing he could do but watch a new star emerge.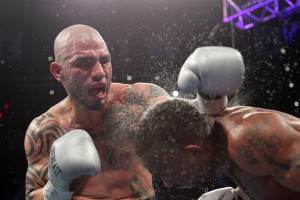 Cotto's time as a truly elite fighter may well be over and the slightly shocked post-fight reactions of some would suggest that, but there is no reason to be hasty. Austin Trout should be welcomed to the top of the junior middleweight table and there will No Doubt be bigger fights ahead for the 27-year-old from New Mexico, but a contest between Saul Alvarez and Miguel Cotto still holds plenty of luster, and here is why.
The perception of Cotto is way off
Following his defeat on Saturday, the internet has been awash with calls for Cotto to hang up the gloves. Keyboards were being mashed as fans stated Cotto to be a faded force, well past his best or, to put it more bluntly, shot. What is this writer's opinion on such matters? It's hokum.
The mistake has been made before and it will be made again, people can be over-eager to put a great fighter down. The fact is many people did not know who Austin Trout was prior to the past weekend, they expected Cotto to do away with him and get back a world title belt. As such, when Trout upset the apple cart by outscoring and outfighting him, they performed an about turn. In underrating Trout, they have over-egged the nature of Cotto's defeat. Their perception was, and remains, off.
The truth of the matter is Cotto was beaten by a taller, faster, fresher and technically solid southpaw world titleholder. Trout finally has the press he, in hindsight, has deserved. Let this not be a slight on Cotto. He found it hard to hit an elusive target, but he is no has-been. Not yet, anyway. The reality is Cotto still beats most contenders out there. Now, whether he has the motivation to face them is another matter, but that is the individual's decision, and cannot be interpreted by those on the outside.
Canelo needs a test
Ignoring for a second the aforementioned points, even if we are to believe that Cotto is a faded force, does that really rule him out of a clash with Alvarez? After all, Canelo's most testing opponent to date came in the shape of the well-worn Shane Mosley.
Alvarez has experienced a rise to fame since Golden Boy snapped him up and started shoveling him down the throats of the boxing public, but the only person to have shared a ring with the redheaded Mexican wonder that even came close to being a top ten contender was Ryan Rhodes, who in all respect was at 34 a spring chicken compared to Mosley.
Maybe I'm not being fair there, especially considering the unfortunate circumstances that conspired to prevent Canelo from getting his first major test earlier this year as Paul Williams tragically injured himself, James Kirkland priced himself out of a fight and Victor Ortiz broke his jaw on way to defeat at the hands of Josesito Lopez, who in turn was sacrificed to Alvarez despite his having never fought above welterweight. Honestly though, unfortunate or not, this version of Miguel Cotto is still a hell of a lot better than anything Canelo has seen to date, and the time is ripe for him to be stepped up.
Miguel Cotto deserves one last stand
Simply for all the entertainment he has given us over the years, Cotto deserves not to be written out of a potential marquee fight with Alvarez. There are battles he has won, and some he has lost, but he has always thrilled and has never backed away from a tough fight. If anything, his decision to take a high-risk, low-reward fight with an opponent like Trout deserves respect.
It is a cliche to say that every great fighter has one last great fight in them. The honest truth is whenever someone uses that saying it is the very last straw for them to grab at when trying to successfully promote a fight involving a once-great veteran.
However, Cotto could enter the ring with almost anybody at junior middleweight and it would still be at least a two-horse race. He was not brutally knocked out, nor was he slowly beaten down — he was simply outscored by the better boxer.
Cotto's face may bear the marks of a man well-tested throughout the years of a long and at times arduous career, but he has come back from defeat before and it would be foolish to write him off at this stage. A fight between Cotto and Alvarez would be the perfect cross-roads clash between the young lion and the grizzled pro, and it wouldn't simply be a passing of the torch scenario.
It's a chance to rekindle the war between Mexico and Puerto Rico
The feud between Mexican and Puerto Rican boxers is one of boxing's most traditional and storied rivalries. Both countries have a history of producing proud warriors who gel to give some of the most breathtaking battles this sport has seen.
Think Wilfredo Gomez against Carlos Zarate and Salvador Sanchez, Julio Cesar Chavez against the late Hector Camacho, and more recently, Giovani Segura-Ivan Calderon, JuanMa Lopez-Orlando Salido and Cotto himself against Antonio Margarito. The list could go on and on but would never lose its appeal.
Fans turn out in their droves for fights involving the two countries, cultural pride is at stake, machismo is on the line and it's a sure-fire bet the two sets of supporters would turn out in full force should Cotto and Alvarez get it on. The mere suggestion that Alvarez is the next big thing and Cotto is yesterday's news would only add to what would be a ferocious atmosphere. If the combatants and their management want to make a buck, put this on at Madison Square Garden and watch the queues form.
Cotto and Alvarez is a perfect clash of styles
Lastly, but perhaps most importantly, this fight would live in the memory. Cotto is a boxer-puncher who would likely use his feet against the larger Alvarez. Canelo would probably try to impose his size upon Cotto in the form of constant waves of attack.
Cotto looked bad at times when chasing down Trout, and he struggled with the classy boxing of Floyd Mayweather, but he wouldn't have to go looking for Alvarez. The result would be a competitive, back and forth clash.
In conclusion, should Richard Schaefer and his cohorts get together and give this duel the go ahead, forget the outcry and enjoy what will be an excellent match-up. Trout and Mayweather could still lie further down the line for Alvarez, but in the meantime why not take it one step at a time by facing Cotto first?
Cotto would relish the chance to leave one last great memory; Alvarez would love the opportunity to score a quick legacy-building win early in his budding career as a top class fighter, the fans would want to see it and they would damn sure enjoy what would be an entertaining, atmospheric night's action. All in all, it makes perfect sense.