On June 9, 2012 at the MGM Grand Garden Arena in Las Vegas, Nevada, Manny Pacquiao will once again face another opponent whose name is not Floyd Mayweather, Jr.  At this point, it doesn't matter who's to blame for the fight not happening – I just really do not care who Pacquiao or Mayweather fights anymore until they fight each other.
With that said, Manny Pacquiao will be putting his WBO welterweight championship on the line against Timothy Bradley, in what should end up being a great fight. Even though I thought Bradley was ducking Amir Khan, he turned out to make the right move, as he really just wanted a shot at greatness and a big payday against Pacquiao.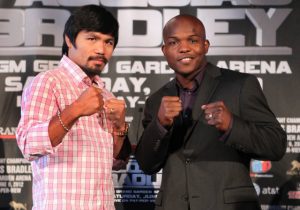 So, as upset as I am that Pacquiao vs. Mawyeather remains nothing but a tease, in boxing you have to let the chips fall where they may sometimes. As such, now Pacquiao has an opponent in front of him on June 9th that I feel will not just go after a big paycheck, but he will enter the ring and make a sincere attempt at solving the PacMan puzzle. Therefore,  I feel that the fight on June 9th can still be an exciting and hopefully great fight, and here are the top 5 reasons why.
5.  Bradley's Opportunity
I am sure there are a lot of boxing fans out there who believe Bradley will go into the fight with the intentions of being satisfied with just sharing the ring with the great PacMan and taking the money and run.  I'm not one of them though, and I believe that this is not going to be the case.
Yes, Bradley will have the big payday that he has been waiting a long time to receive, but he has a huge opportunity to do what no one has been able to do since 2005, and that is defeat Manny Pacquiao, something he has openly aspired to for years. He's going to make the most of his opportunity one way or another, and put up an effort to hand Pacquiao that L.
4.  Styles
Both guys have an aggressive style which can make for a good fight, and I feel that both fighters will come forward and war with each other. Neither one of these fighters is going to back down, so it will be a huge key in this fight as to who can use their aggression to their advantage the best to gain control in this fight.
3.  PacMan's Speed
One huge advantage that Manny will have over Bradley going into the fight is his unbelievably fast hands.  I believe that Manny can use this to take control of the fight, and overwhelm Bradley from the get go.
Manny is known for effectively using his speed in unorthodox ways which gives his opponents fits, and causes his opponents to retreat or turn off their own attacks.  Also, when Manny combines his speed with power and connects on Bradley for the first time, this is where we all will find out whether or not Bradley can pull off the upset.
Lately, with the exception of the great Juan Manuel Marquez, when Manny's opponent feel his power and great speed, they seem to go backwards and go on the defense for the rest of the fight. Will Bradley be able to dispel that pattern? Seeing that unfold and getting a chance to see Pacquiao's offensive speed and firepower will make this an exciting contest.
2.  Money
Nobody likes to say it, but money is a huge motivating factor for fighters, and that will prove to be the case here too. Bradley has another huge payday awaiting him if he can pull the upset, and he'll have other substantial paydays too if he puts on a game effort and makes an exciting fight.
Money might not be the key motivating factor for Pacquiao at this point in his career, but he knows that with a win, the Mayweather fight awaits, along with the $50 million or so he'll rake in for his efforts there.
1.   The Stakes
After Timothy Bradley defeated Devon Alexander last January in a battle for junior welterweight supremacy, everyone, including myself, thought that Bradley was insane when he turned down big money and another showdown under the bright lights with Amir Khan. While it made most of us believe that he was simply ducking Amir, Bradley just had bigger plans and they actually worked out.
The question is now whether or not Bradley can perform under the biggest of all stages when he squares off against the pound for pound king Manny Pacquiao. Add to that the fact that Pacquiao knows that he cannot take Bradley lightly, which means Bradley will have to be almost perfect to beat Manny when they meet in June.
As far as PacMan goes, his legacy is not at stake in this fight because he has done enough to cement himself as one of the all-time greats in our sport. However, before Manny rides off into the sunset, I am sure that in the back of his mind the question still lingers as to whether or not he can beat Mayweather, and I believe that this will be the motivation that will ultimately drive him past Bradley and ensure he shows up in top form, and puts on a thrilling encounter.
Two men will enter the ring at the MGM Grand in Las Vegas on June 9th, one fighter will have everything to gain, and one fighter wants to survive intact and would love to get a chance at dethroning another all-time great if he can get pass a young and hungry lion.
I believe that Bradley is going into the showdown with a winning attitude and is seriously trying to do what no one else has done since the great Eric Morales, and that is beat Manny Pacquiao, thus, making this an exciting fight to watch.