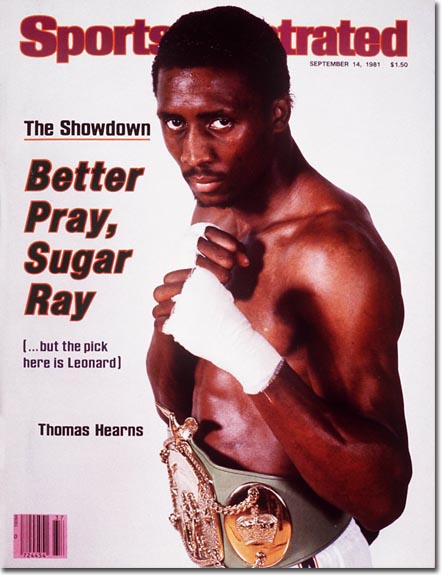 Top Fighters of the 1970s: Detroit

Clichéd car commercials aside, it's virtually impossible to walk around the great city of Detroit, Michigan without being reminded of its fighting past and tenacious present.  Nearly all great fighters to come through Detroit did so after spending some appreciable amount of time in the legendary Kronk Gym. The spirit of Joe Louis is pervasive whether you're catching a Red Wings game at the arena that bears his name, or admiring the downtown architecture, highlighted by the massive reminder of the man's deadly right hand.
The much maligned heart of eastern Michigan is easily one of the more overlooked boxing towns of the 1970s and, perhaps, it's somewhat warranted.  The "Motor City" wasn't churning out champions in that decade, and "feel-good" stories were hard to come by.  Yet for a city that had become a hotbed of racial tension and socio-political strife, it should be of little surprise that the Detroit boxing scene adopted much the same resolve of the area itself.  Marked by tough, tenacious pugilists who never let the odds get in the way of a good fight, Detroit produced some very colorful and dangerous fighters in the 1970s.
5. Alvin "Blue" Lewis, (31-5-0, 20 KOs), Heavyweight
Achievements: Nearly went the distance with Muhammad Ali in 1972
Why He's On This List: Looking back on the biography of Al Lewis, the biggest highlight that should draw your immediate attention is the company he kept during his career.  Having worked as a sparring partner for the likes of Muhammad Ali and George Foreman, Lewis may be the best known practice partner of the 1970s.  But, to not read further would be to do a great disservice to the Detroit native, who enjoyed a very solid professional career, even without holding championship gold.  Although the majority of his success came prior to the 1970s, Lewis performed admirably in two high profile bouts in the decade, losing by a seventh round disqualification to Oscar Bonavena and then to Ali in the eleventh round nine months later.
4.  Mickey Goodwin (40-2-1, 28 KOs), Middleweight, Light Heavyweight
Achievements: Finished the 1970s with a 19-1 record
Why He's On This List: Yes, technically Goodwin is from nearby Melvindale, Michigan and not Detroit proper. But, in boxing, it's fairly rare to find a guy who not only came up in one city but stayed there throughout the duration of his success. Goodwin was as local as they came, and represented both Melvindale and "The D" with pride.  Known primarily as a tenacious contender, Goodwin never seemed able to take the next expected step to stardom throughout his career.
A Kronk Gym product and Emanuel Steward protégé, Goodwin appeared to have all the tools to be a player in the middleweight division. But, personal issues and a questionable approach to training prevented Goodwin from reaching the lofty heights expected of him.  A decent fighter with an impressive overall record despite the myriad distractions. Passed away at the age of 51 in 2009.

3.  Hilmer Kenty (29-2-0, 17 KOs), Lightweight
Achievements: Undefeated for the 1970s (16-0)
Why He's On This List: Much like some of his brethren on this list, Kenty enjoyed the majority of his success in the 1980s when he captured the WBA lightweight title from Ernesto Espana.  Though, his opportunities in the '80s would have never been possible without his efforts and successes in the decade prior. Staying almost exclusively on the Midwest circuit during the '70s, Kenty was fed a steady diet of fighters who were either past their proverbial primes or never really had much of a prime to enter into at any point.
To his credit, though, the speedy lightweight fought whoever was placed in his path and, more times than not, made relatively quick work of them. A victory on the cards over journeyman Arturo Leon in June 1979 was followed up with a win via unanimous decision over Ralph Racine two months later.  The Racine would prove to be his most impressive of the decade and really help propel him into his WBA title run of the early '80s.
2. Hedgemon Lewis (53-7-2, 26 KOs), Welterweight
Achievements: NYSAC World welterweight title (1972)
Why He's On This List: Lewis was the perennial purveyor of potential in the welterweight division in the 1970s.  Plenty good enough to warrant consideration amongst the best competitors of the era, Lewis was never able to take advantage when the spotlight was its brightest.  On two occasions—once against Jose Napoles in 1974 and John Stracey in 1976—Lewis was unable to capture WBC and WBA welterweight gold.
Lewis did grab some of the regional spotlight with back-to-back decision victories over the tenacious Rafael Rodriguez over a two-month span but, unfortunately, that was not enough to correct his career path in the '70s.  Eventually making his permanent residence in Los Angeles, Lewis finished up a respectable career in 1976 and went on to become one of the most trusted cornermen in the sport, working closely with former trainer, and boxing legend, Eddie Futch.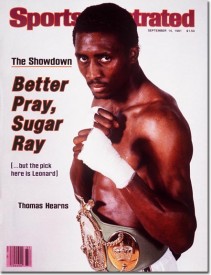 1. Thomas "Hitman" Hearns (61-5-4, 48 KOs), Light Middleweight and Welterweight
Achievements: Undefeated for the 1970s (24 – 0)
Why He's On This List: Undefeated for the decade—and most of the next three thereafter—Hearns is one of the most celebrated fighters of all time, let alone the Detroit metropolitan area.  Although Hearns didn't capture his first championship gold until 1980, he established himself as a force of the welterweight division in the '70s. With key victories over Clyde Gray and Mike Colbert, Hearns drew national attention and became one of the most feared fighters of his generation.
A pointed jab and naturally quick foot-speed catapulted Hearns to superstardom heading into the 1980s.  Plus, the man is owner of two of the best boxing nicknames of the past forty years: "Hitman" and "Motor City Cobra."  For those alone he should be immortalized on lists everywhere.