A new World Champion was crowned last Saturday night at Honda Center in Anaheim, California, when Saul "Canelo" Alvarez defeated Matthew "Magic" Hatton for the vacant WBC Super Welterweight Title, but more importantly, the Mexican phenom made a statement to the boxing world waiting for the arrival of its next star…he has arrived.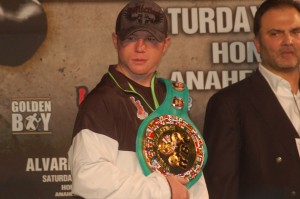 At just 20 years old, not only did Alvarez become the youngest 154-pound World Champion in history, but he also proved himself to be a huge draw with fans as his HBO debut was the most watched HBO Boxing After Dark main event in the past two years, and Televisa's broadcast of his fight in Mexico produced the highest rating for a boxing program on the network in the last three years.
His star power at the gate became evident as well, with attendance at Honda Center being 11,674, making it the second largest boxing crowd in the history of the venue, surpassing the throng of 9,612 that viewed Julio Cesar Chavez's 1996 win over Joey Gamache (when it was known as the Arrowhead Pond) and being second only to the 12,262 that watched Marco Antonio "Baby Faced Assassin" Barrera defeat Daniel "Cobra" Jimenez in 1995.
"Last Saturday night was one I'll never forget and I thank all my fans for their support," said Alvarez, who defeated Hatton by three identical scores of 119-108.  "I promise that I will always give them the fights they want to see and that I will proudly represent them and Mexico every time I step in the ring."
"There are great boxers throughout the sport, but at just 20 years old, 'Canelo' has the charisma to connect with people like no fighter I've seen," said Oscar de la Hoya, President of Golden Boy Promotions.  "He showed last week why we've been so excited about him and, now that he's a World Champion, he'll get his chance to fight all the big names and make history."
"Saul Alvarez' crossover appeal is evident and fans have embraced him as the next great Mexican warrior," said Richard Schaefer, CEO of Golden Boy Promotions.  "We had every confidence in him going into this fight and he not only delivered on all of our expectations, but he exceeded them.  I believe we're going to see a long reign of 'Canelo' at the top."