Adamek vs. Chambers Results from Newark
In an intriguing clash of heavyweight contenders looking to get back in line for another title shot at one of the big boys, Tomasz Adamek outpointed Eddie Chambers over 12 rounds at the Prudential Center in Newark, NJ. The official scorecards read 116-112, 116-112 and 119-109.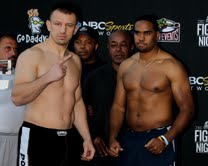 Don't be mistaken though, this wasn't a one-sided fight. In fact, it was Chambers who staked his claim early on, and was controlling the action with a mix of great defensive skills, and slick, quick offense.
However, Adamek brought the bigger guns to the fight, and as the battle went on, he was also basically doubling Chambers' output. This combination of aggression, power punching and sheer activity turned the tide for him, and he was able to take control of the fight.
Things were certainly up for grabs in the latter stages of the contest, however, Adamek had more left in the tank. In addition, Chambers also began complaining of a left arm injury from about the 3rd or 4th round on.
And so, while the right man probably got the win he deserved, the scorecards certainly still leave something to be desired. A 119-109 verdict is flat outrageous, and indicates a judge who perhaps was listening to the crowd more than he was actually watching the fight.
After the Pacquiao-Bradley travesty last weekend, and the continued aftermath from that, it's certainly worth pointing out ridiculous scorecards, even if they have the right man winning. Accepting a 119-109 scorecard in a fight like Adamek vs. Chambers is something which can make a result like Pacquiao vs. Bradley more likely to happen.
In earlier action, undefeated prospect Bryant Jennings easily took care of business against Steve Collins. Jennings took home a 100-89 x3 Unanimous Decision after scoring an early knockdown. Collins just wasn't in the same league, and despite a shiny record, had never been in with anybody near the caliber of Jennings.