The Ten Greatest Super Bantamweight Boxers in History
At the time of this division's creation in the 70's–people wondered what was the need for a pit stop between bantam and featherweight–a mere 8 pound spread. Junior featherweight seemed unnecessary–4 pounds away from the more glamor weight classes of 118 and 126. But 35+ years later, it is now an accepted division in the sport.
The great fighters in this weight class are numerous and the battles they waged unforgettable. Some great fighters who fought at 122 are not even on this list, having not stayed at 122 for very long. Others made their careers here. And some are in the middle. It's a bit of a tricky class to rate, constantly faced with the issue of what's more important–greatness or body of work. There's a little bit of both in this list. Enjoy!
1. Wilfredo Gomez (1974-1990)
When it comes to obvious choices for #1 fighters in divisions, there aren't many. As we work our way down in weight, there have only been 3 so far–Holyfield at cruiserweight, Robinson at welterweight, and Pep at featherweight. Gomez may be the most obvious choice of them all. There is simply no counter-argument. At 20, he was world champion, after knocking out Dong Kyun Yum, a fighter with 2 losses in 58 fights who had never been stopped.
After 5 defenses, Gomez faced preeminent Bantamweight Champion Carlos Zarate. The Hall of Fame puncher was 52-0. Gomez romped to a 5th-round knockout in a hallmark victory. The defenses kept piling up, usually against quality contenders. In 1981, Gomez had his first setback, coming up short in a try for Salvador Sanchez' featherweight belt. He went back to 122 and continued his reign of destruction, defeating "Kid" Meza and Lupe Pintor in a grand slugfest for the ages. He went on to win titles at 126 and 130, but junior featherweight is where he built his legend. 17 knockout wins in 17 title defenses? It doesn't get any more dominant than that.
2. Marco Antonio Barrera (1989-2011)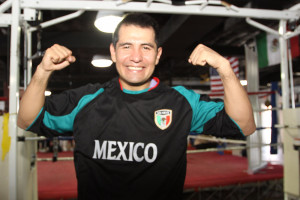 A teenage sensation at 115, a growing Barrera settled into 122 and forged a memorable run of thrilling fights and sensational victories. He knocked out hard-hitting ex-champ Eddie Cook, before snaring the WBO belt from Daniel Jimenez. After dusting off Frankie Toledo and Maui Diaz in quick order, he decisioned ultra-tough Agapito Sanchez. Then, Barrera engaged in one of the classics of this era in boxing, as he and Kennedy McKinney thrilled the Inglewood Forum audience. Barrera dramatically ended the bout with a 12th-round TKO. But after 2 more defenses and building a record of 43-0, Barrera puzzlingly lost two fights to Junior Jones.
Barrera would eventually reclaim his belt and rebuild his reputation. In his third defense, Marco Antonio engaged in a unification bout with fellow Mexican standout Erik Morales. It was another classic war and to many people's disgust–the split nod went to Morales. Many, including myself, remain steadfast that despite the closeness of the fight, Barrera clearly deserved to win. After 3 more fights at 122, he moved up and soon added Naseem Hamed and Morales' names to his resume.
Check out our entire collection of the all-time best fighters by weight class, as well as the breakdown of how these lists were made and what factors were included.
3. Erik Morales (1993-Present)
By the time he left 122 pounds in 2000, he was 36-0 and considered one of the best fighters in the world. A big junior featherweight, Morales was a special fighter at this weight. Despite a wispy frame, he was one of the more dogged warriors in the history of the prize ring. At 19, he defeated ex-champ Hector Acero Sanchez, setting up a title go against longtime king Daniel Zaragoza. It wasn't easy, but the young Morales stopped Zaragoza in 11 entertaining rounds to become WBC champion.
After 7 knockout defenses, including a wipeout of two-time Barrera-conqueror Junior Jones, Morales went the distance in a unanimous win over gutsy Wayne McCullough. Then came his classic war with Barrera and whoever you thought won the fight, there was no disputing Morales' grit or his standing as one of the more exciting fighters of his era.
4. Daniel Zaragoza (1980-1997)
After a short run as a bantamweight titleholder, Zaragoza moved up to 122 where he became a mainstay at the top for the next dozen years. After a loss to Hall of Famer Jeff Fenech, Zaragoza found his stride. He put together some nice wins, setting up a shot at the vacant WBC belt against comebacking Carlos Zarate–won by Zaragoza by 10th-round TKO. After a draw with tough Korean Seung-Hoon Lee, Zaragoza engaged in a thrilling trilogy with Paul Banks. Zaragoza would get the last word–winning the rubber match in 1991. Along the way, he defeated tough comp in Valerio Nati, Frankie Duarte, Chan-Young Park, and Kiyoshi Hitanaka.
Zaragoza lost the belt to unexceptional Thierry Jacob, then drew and lost by TKO (cuts) to Tracy Harris Patterson in 1993. In 1995, Zaragoza drew with Hector Acero Sanchez, but in the rematch later that year, he beat him to reclaim the WBC belt. Now pushing 40, Zaragoza experienced a career renaissance. He went to Japan for two defenses, knocking out tough Joichiro Tatsuyoshi and Tsuyoshi Harada. Then came a big win against undefeated Wayne McCullough. Zaragoza was at his cagey best in that fight–outthinking and outfighting the young Irishman. After beating Tatsuyoshi again in Japan, Zaragoza was gallant in passing the torch to Erik Morales.
5. Israel Vasquez (1995-2010)
The 4th Mexican in the top five went by the nickname "El Magnifico" and was one of the more exciting fighters in his generation. A 1997 first-round knockout in his formative years over future 122-pound standout Oscar Larios understated his prowess. But it would be a bit before Vazquez found his footing. A long winning streak would put him in line to take on Larios again in 2002. Larios would score a 12th-round TKO and Vazquez was left searching for answers. He would find them, knocking out Jose Luis Valbuena for the vacant IBF belt.
Vazquez, after a few defenses, decided to once again fight Larios for his WBC title. Israel evened the score with a big 3rd-round TKO. Vazquez would use that momentum to stop Jhonny Gonzalez is another hallmark win in 2006. Then came his epic 3-fight series with Rafael Marquez. Vazquez lost the first match, unable to continue after getting his nose smashed to bits. But his heroism was off-the-charts by twice turning the tables on Marquez in a pair of triumphant wins that cemented his legacy, but also sapped him on his vitality. It didn't matter. With 2 wins each over Larios and Marquez, including a win over Jhonny Gonzalez, he did plenty.
6. Wilfredo Vazquez (1981-2002)
The triple-division champion did his best work at 122, where he built an impressive resume. After an up-and-down title run at 118, Vazquez moved up and it didn't go well in the beginning, as Vazquez suffered a first-round knockout to Israel Contreras. He found his mojo and after rebuilding a bit, he got the best of former conqueror Raul Perez, stopping the 49-2-2 WBA champ in 3 rounds. He would hold the title from 1992-1995. He twice beat Thierry Jacob by knockout and traveled around the globe, beating the best of Europe and Asia. His best win came in his final defense–beating Hall of Famer Orlando Canizales, a long-reigning champion who hadn't lost in a decade.
7. Vuyani Bungu (1987-2005)
Bungu was considered a good fighter, but it was a shock when he lifted the IBF title from Kennedy McKinney–a fighter who had begun appearing on pound-for-pound lists. Proving it was no fluke, Bungu made 13 defenses, before leaving the division to campaign at featherweight. He was never dethroned. Among his defenses were wins over ex-champ Jesus Salud, a rematch win over McKinney, and a high-profile win over Danny Romero. The South African was a classy practitioner.
8. Kennedy McKinney (1989-2003)
The 1988 Olympic Gold Medalist beat a few toughies like Max Gomez and Jerome Coffee, before snagging the USBA title from ex-champ Paul Banke via dominating 6th-round TKO. That set up McKinney for a shot at ultra-classy Welcome Ncita's IBF belt. Ncita was 32-0, but could not stand up to McKinney, particularly his beautiful right cross, as he fell in 11. McKinney defended his belt against 26-0 Richard Duran, tough Rudy Zavala, and Jesus Salud. After a KO defense of Jose Rincones, McKinney repeated his win over the still-tough Ncita, this time by decision.
McKinney then dropped his belt to the man above him on this list–Vuyani Bungu. He stopped tough John Lowey, before losing a 12th-round TKO to Marco Antonio Barrera. It might seem odd to give McKinney credit for a loss, but if you have qualms with it, I suggest you go back and look at the fight. McKinney would lose a rematch to Bungu, but in his last shining moment, he won a slugfest over Junior Jones, who was fresh off two wins over Marco Antonio Barrera.
9. Toshiaki Nishioka (1994-Present)
As of this writing, Nishioka is still active and on a long run of wins in a streak that has lasted almost a decade. Nishioka has been a fixture on the scene for a long time, first challenging for a title at 118 in the year 2000. He came close, but could never unseat longtime bantamweight titleholder Veeraphol Sahaprom. In 2008, he won the WBC belt over 46-2-1 Napapol Sor Rungvisai. Two fights later, he went to Mexico to face longtime standout Jhonny Gonzalez, rising from the mat to finish Gonzalez in 3 rounds. Fighting quality opposition, he has since made 5 more dominant defenses, his last one coming against Rafael Marquez. The slashing southpaw is an exciting presence in the junior featherweight class.
10. Manny Pacquiao (1995-Present)
Is there a subconscious urge on my part to put Pacquiao on at least one list? With his resume spread out over so many divisions, Manny suffers in divisional rankings, but 122 might be where he has his best case. He never lost a fight at this weight and none of his bouts lasted the distance. He knocked out useful Reynante Jamili in his 122-pound debut and dusted off unbeaten Seung-Kon Chae in one round a few fights later. He then endured a tough challenge from unbeaten Nedal Hussein, before stopping him in the 10th round.
Two knockouts later, Pacquiao upset IBF champion Lehlo Ledwaba, 33-1-1, a champion with 6 title-fight wins who was well on his way to making this list. In his first defense, Pacquiao struggled against tough and dirty Agapito Sanchez in a 6th-round technical draw. Former bantamweight titleholder Jorge Julio, 44-3, was a resolute and fine campaigner who had never been stopped–until Pacquiao dispatched him in 2 rounds. Two more quickie knockout defenses later, Pacquiao moved up to featherweight.