This weekend's clash between fan favorites Sergey Kovalev and Jean Pascal is a de facto World Light Heavyweight Championship in the minds of many fans, and it certainly has the belts to go with that idea, since three of them are on the line. However, the real championship requires the real champion, and like it or not that is Adonis "Superman" Stevenson.
Instead of following on Pascal and Kovalev's heels in Montreal, Stevenson has his next, April 4th fight slated for Quebec City, the provincial capital. Instead of being on HBO, the fight will be televised by CBS. Instead of taking on a serious 175 lbs contender, Stevenson will fight a recently dethroned super middleweight titlist, veteran Sakio Bika.
Thus in every way but one, Stevenon's outing does not compare to that of Kovalev, whom he so ingloriously ducked last year. That one way counts for something though, because it is the undeniable fact that it is Stevenson who is the legitimate "man who beat the man," the World Light Heavyweight Champion.
Sakio Bika (32-6-3, 21 KOs)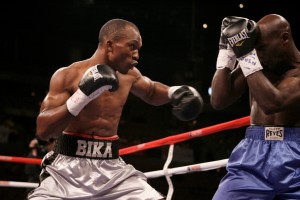 5'11 1/2″ tall, 71″ reach, 35 years old

Cameroonian-Australian

Former super middleweight titlist
For years, Bika was the toughest super middleweight who hadn't won a major title belt. All that changed two years ago, when he picked up the WBC's vacant strap. Unfortunately for Bika, his first defense was against Anthony Dirrell and was ruled a Draw. Bika lost the rematch.
That is the story of Bika's entire career in a nutshell. He is a hard, strong, brawling character, with the kind of thorny, bruising and awkward approach to boxing that sometimes makes even clear victors look bad. Bika has a track record for losing against any Top 10 level fighter he meets, even managing to blow his shot at French creampuff Jean Paul Mendy by hitting Mendy while he was down in the 1st Round.

Adonis Stevenson (25-1, 21 KOs)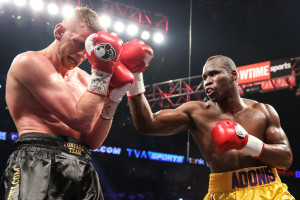 5'11" tall, 77″ reach, southpaw, 37 years old

Canadian

World Light Heavyweight Champion
Stevenson started off his championship reign in style, kayoing Chad Dawson in a single round before out-moving and out-shooting banger Tavoris Cloud, forcing him to quit on his stool, and stopping Tony Bellew. Since then, he has been treading water.
"Superman" is a knockout artist, the kind of guy who uses boxing skill to apply his power. He moves well and employs his out-sized arms to keep opponents at range, where he slings bomb after bomb at them. Against this, he has little infighting ability and hasn't shown much talent for generating the same bone-crunching power at short range.
Stevenson vs. Bika Analysis

On the surface, this fight should be easy to pick because Sakio Bika doesn't win big fights against world class opponents, and Stevenson is undoubtedly that. Furthermore, Bika is fighting as a light heavy for the first time in his career. That should spell out a win for Stevenson.
Yet there is that vulnerability Stevenson has to getting chopped up on the inside, where he can't employ his formidable power and his reach becomes a detriment. If there is one thing Bika does well, it's get rough in a guy's personal space. If Bika can close the distance and keep it close, he can win this fight.
Stevenson vs. Bika Preview

With Stevenson's reach, mobility and southpaw ways, I see him keeping Bika back and nailing him enough to carry the win. Yet I don't see Bika crumbling under Stevenson's power, and the Australian's brawling plays straight into one of Stevenson's key weaknesses.
Bika won't bag enough rounds to win the fight, but he will manage to make Stevenson work hard along the way. This isn't a fight that will make observers believe Stevenson should be the favorite in a clash with Sergey Kovalev, that is for sure.
Prediction: Adonis Stevenson close UD12 Sakio Bika