On June 18 in Guadalajara Mexico, Canelo Alvarez's title defense against Ryan Rhodes won't be the only interesting fight on the agenda. On the undercard, undefeated young up and comer Adrien "The Problem" Broner will take on Jason Litzau. Broner's talent and Litzau's ability to fight aggressively and leave it all in the ring will definitely make this a fight worth watching. The clash of styles will move one man closer to the title scene and set another back quite a bit.
Adrien "The Problem" Broner
Cincinatti, Ohio
21-0 (16 KO's)
Height: 5'7"
Last 5 Fights: Broner has been, for the most part, thoroughly dominant in his last 5 fights and has taken on a mix of battle tested veterans and unproven newcomers to the sport. In his most recent win, he captured the vacant WBO Inter-Continental super featherweight title with a slightly unimpressive win over the 41-2 Daniel Ponce de Leon. It certainly wasn't the dominant performance he's used to or that he wanted, so he will be looking to make a statement. His recent wins in the division so far at the young age of 21 is making him one of the most talked about fighters in boxing today.
Jason "The American Boy" Litzau
Saint Paul, Minnesota
28-2 (21 KO's)
Height: 5/10"
Reach: 73"
Last 5 Fights: Litzau has been victorious in his last 5 fights, capturing and defending the vacant NABF super featherweight belt in the process.  Litzau was the clear winner in most of these fights, however, in his most recent fight against Celestino Caballero, he eked out a split decision win.  This was a fight that Caballero was expected to win, and this split decision upset made Litzau a top contender in the division.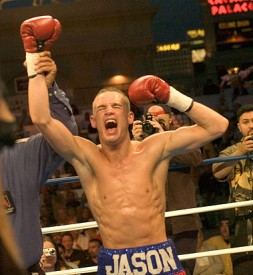 Broner and Litzau are both hungry for a title shot. They're both top contenders with not only a great deal of talent, but also a great deal to prove. They're hovering around the top of the super featherweight division; The young boxing prodigy and the veteran who has been up and down, but is now at the top of his game.
Clash of Styles: Broner is a slick, quick, young fighter who can pick an opponent apart and find his spots with blazing hand speed and an uncanny ability to be one step ahead of his opponents (at least those that he's fought so far) in a manner reminiscent to Floyd Mayweather. Although he's not as quick, powerful or flashy as Mayweather, he has similar tools and breaks his opponents down in a similar fashion.
Litzau is an aggressive fighter who throws a lot of punches. He has an ability to take the fight to his opponents and leave it all in the ring, which has earned him some impressive victories, but has also resulted in a few knockout losses to fighters such as Robert Guerrero who can counter the lanky, aggressive style that Litzau posseses. His punches can be wide and sloppy, and his chin is often there to be hit, however when he upset Celestino Caballero, he looked crisper and tighter than he has in the past.
Game Plan: If Broner wants to win this fight, he should throw a few more punches and try to pick Litzau apart. If he hangs back , Litzau may find a way to take the fight to Broner, which will create all kinds of problems for "The Problem." Broner can't give Litzau any opportunities to work his way in. If Broner wants to reach the top of the division, he can't rely on the other opponent making mistakes and then counterpunching off of these mistakes. He needs to create his own opportunities, and he needs to capture the attention of boxing fans.
Litzau must take the fight to Broner. He has a habit of doing this in other past fights (including his upset over Caballero), and must be aggressive if he wants to win this fight. Otherwise, Broner will keep his distance, use his speed and pick apart and dominate Litzau on points due to his superior movement.
Broner vs. Litzau Prediction
Many fight fans believe that Litzau has the height, aggressiveness and tools to take Broner down, and I could see why. He's tall for a featherweight, is a relentless attacker and will take the fight to Broner. However, I see Broner stepping up his game in this fight, and it will be a battle. Litzau will work his way in, but Broner will also find ways to pick apart Litzau's style. In the end, Broner will emerge victorious in a hard fought split decision.
Broner by Split Decision