Canelo Alvarez Defends His Title for the First Time & Returns to Mexico:
On June 18 in Guadalajara Mexico, unbeaten Saul "Canelo" Alvarez hopes to make his first WBC Junior Middleweight title defense in front of his hometown crowd. The only thing standing in his way will be English veteran Ryan Rhodes, who will be looking to use his experience to take out the young champion and bring the WBC Belt back to England.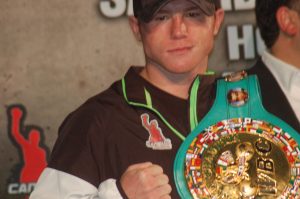 Saul "Canelo" Alvarez
36-0-1 (26 KO's)
Juanacatlan, Jalisco, Mexico
Height: 5'9"
Reach: 71"
Last 5 Fights: Alvarez has really proven himself in his last few fights. Alvarez is the real deal, and has not been building up his record by taking out lower level fighters in the hopes of working his way up the rankings. He has thoroughly dominated the likes of Matthew Hatton, Carlos Baldomir, Luciano Leonel Cuello, Lovemore N'dou and Jose Miguel Cotto; all of which are battle tested, veteran fighters with big wins under their belts. Canelo hopes to continue his streak of taking out solid, experienced fighters against Rhodes.
Ryan Rhodes
45-4 (31 KO's)
Sheffield, Yorkshire, United Kingdom
Height: 5'8 ½"
Last 5 Fights: Rhodes has a solid streak of almost 5 years straight without a loss, mostly one-sided performances against strictly European fighters from which he was able to capture the EBU light middleweight title and other British and regional belts. He is riding quite the hot streak, but has never taken on a fighter with the kind of talent and punching power that Alvarez has. Also, although is record is quite impressive, the quality of the opposition he's beaten does not match the quality of Alvarez's recent opposition. Guadalajara is a long way from the United Kingdom and Rhodes is looking to take this 5-year hot streak with him overseas.
Alvarez-Talent Beyond his Years: Canelo Alvarez is the kind of fighter who has the physical tools and the motivation to be a solid champion for years to come. At just 20 years of age, he is unbeaten in all 37 of his professional fights and strives to be a very active champion for years to come. Canelo wants to defend his belt and seems to have a level of maturity about him in the ring well beyond his 20 years.
Versatility vs. Slickness: Not only is Alvarez powerful; he is also a very versatile fighter who can adapt well to his opponents, whether he's fighting an aggressive power puncher, or a slick boxer with respectable power such as Rhodes. Rhodes is a southpaw and a natural super welterweight with a slick boxing style, some power to spare and a lot of experience under his belt. However, Alvarez has so many dimensions and so much depth to his style that experienced fighters haven't fazed him yet in his young career.
Alvarez vs. Rhodes Prediction & Outcome
Rhodes has some game and will last fairly long in this fight, but in the end, he will get himself into one too many exchanges with Alvarez (who is deadly in those exchanges) and the referee will be forced to stop the fight in the tenth round. For Canelo Alvarez, it will be his first title defense in front of his hometown crowd and the start of a long-standing WBC reign. For Rhodes, it will be a long plane ride back to the UK.
Prediction: Alvarez by 10th round TKO
Comments
comments