Broner vs. Molina Fight Preview:
Among fans and critics alike, there may be no more divisive fighter in the same sport that claims Floyd Mayweather as its own, than his self-appointed protege, Adrien Broner. Talent often times takes a backseat to asinine antics and self aggrandizement, both to the extent that they stand out, even in the world of boxing. Mowing down opponents at a furious pace for the majority of his career, it wasn't until he was thoroughly and handily schooled by a game Marcos Maidana in late 2013–his first professional setback–that Broner finally seemed to realize that stage persona alone will not suffice as the quality of competition elevates.
John Molina Jr. is an interesting case study, himself. Early on in his career, he seemed poised to make some noise in the lightweight division. Decent footwork and solid counterpunching had him with a single setback in his first 25 professional tilts, and earned him enough chatter to warrant discussion of his place as a rising contender. Since that point in late 2012, Molina Jr. has been exposed time and again by comparable-to-better quality fighters, going 3 and a convincing 4 in his last seven fights, with a knockout at the hands of Lucas Matthysse punctuating that stretch.
Adrien "The Problem" Broner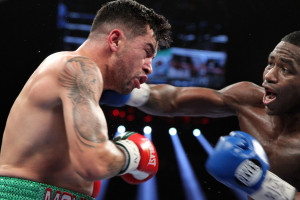 Cincinnati, Ohio
Record: 29-1 (22 KOs)
Stats: 5'6.5", 69.5" reach
Stance: Orthodox
Key wins: Daniel Ponce De Leon (2011; UD), Antonio DeMarco (2012; TKO 8), Paulie Malinaggi (2013; SD)
John "The Gladiator" Molina Jr.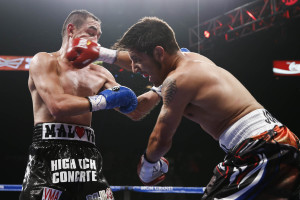 Covina, California
Record: 27-5 (22 KOs)
Stats: 5'10.5", 71" reach
Stance: Orthodox
Key wins: Henry Lundy (2010; TKO 11), Dannie Williams (2013; KO 4), Mickey Bey (2013: TKO 10)
When: March 7, 2015 on the debut broadcast of NBC Premier Boxing Champions
Where: MGM Grand, Las Vegas, Nevada
Broner vs. Molina Preview & Analysis
Molina Jr. needs this fight to stay on the fringes of relevancy and ensure that he's got another couple decent paydays ahead of him. A convincing loss to Broner would all but write off the Californian in the minds of those few remaining folks that had yet to do so. He needs more than just a good showing in order to survive this fight and continue his career in a meaningful way. Succinctly, Molina Jr. needs to pull off what could amount to a minor miracle and defeat Broner handily.
For Broner, now is as good a time as any to start to show any sliver of maturity as both a man and a fighter. Any fight fan will tell you that pomp and pageantry are all part of the game, and that's true. However, Broner is either the best persona that has ever laced a pair of gloves (Note: He is not.), or, he genuinely believes the hype that he, himself, creates (Note: He does.).
By all accounts, Broner should dispatch Molina Jr., a suddenly reeling journeyman, with aplomb. And, if he so chooses, Broner could use this fight to prove that he's more than just myriad gimmicks and soundbites. Anything less–akin to his zombie-like decision wins over Carlos Molina and Emmanuel Taylor–and Broner will have one more uneventful notch in his belt, but makeup little-to-no ground in the junior welterweight division.
Broner vs. Molina Prediction
This has all the makings of a very decent fight that borderson excellent when one considers that it's free. From that perspective and, of course, because of the fighters involved, this looks to be a very good fight where, if Molina Jr. fights up, could be surprisingly evenly matched.
Quickness and foot-speed easily go to Broner in this fight. He's going to make Molina Jr. chase him when he's not dictating the offensive flow of the bout. Unfortunately for Broner, Molina Jr. is fairly decent at creating offense while stalking out opponents. Molina Jr. throws big, crushing punches with surgical accuracy while on the move, staying upstairs with most of his assault.
Broner will likely rely on his excellent blocking and counter ability to neutralize Molina Jr.'s approach. It's at this point where Broner can choose the path with which he approaches this fight, as well as his career for the foreseeable future.
Under the bright lights of the hopeful renaissance of boxing on a major network broadcast, both fighters can be excused for looking to win both the bout and the spotlight. But, will Broner allow that to influence how he approaches this fight? If he can neutralize Molina Jr., but do so in the thoroughly unsexy manner of block and counter, will that be enough to feed his ego?
This time–perhaps for the first time as a professional–Broner will put substance ahead of style in the ring. Molina Jr. is a tough fighter with a never say die approach, but the pure talent of Broner and his thoughtful approach to this fight will win out in the end. Broner will pace the fight to fit his style, and will use his left jab-hook combo to open up Molina Jr. and expose just enough of him to control this fight. It'll be a good one, but an upset doesn't seem to be in the cards.
And your winner: By a unanimous decision, Adrien "The Problem" Broner will move to 30-1, and be none the wiser for it.