GH3 Promotions is pleased to announce the signing of Jerrell Harris to an exclusive promotional contract. Harris of Washington, DC. is an undefeated Welterweight who sports a prefect mark of 4-0 with 4 knockouts.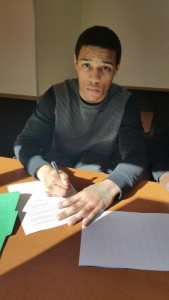 The 20 year-old said upon signing, "It feels great to sign with GH3 and I look forward to a bright future."
"The number-one factor on me signing with GH3 is that they keep their fighters busy."
Before turning professional, Harris had am amateur career that consisted of 100 bouts in which he won the World Jr. Olymoics, PAL and Ringside tournaments. Harris also competed against and won against the Irish National team and the Mayors Cup in Washington.
"I have an all around style. I can box and I can bang. It all depends on the opponent. I am kind of an old school type of fighter and I look up to the likes of Wilfredo Benitez & Thomas Hearns."
"I want to fight as often as I can and I am ready for a big 2015. I have been sitting on the shelf for nearly a year. I think after a couple of tune up fights, I will be ready for the next stage of my career."
Harris got interested in boxing after his brothers boxed. Jerrell started at the age of 11.
"My uncle has been the guy who has been by me the whole time. His name is Gregory Burton but everyone knows him as "B-Bop". He has been my biggest motivator since day one. When anyone has negative things to say, he is the one their and makes me push forward and stay strong."
"Jerrell has a chance to be a special fighter,"said GH3 Promotions President, Vito Mielnicki.
"He had a great amateur career and he fits in with all of the quality fighters that we have signed from the Beltway are like Antoine Douglas, Jerry Odom and Glenn Dezurn."
Harris will be making his GH3 debut on Friday, March 13 at the Space in Westbury, NY.