The MGM Grand of Las Vegas will host a night of boxing on June 20th that will be broadcasted live on NBC Premier Boxing Champions. Ranked 9th at Junior Welterweight, Adrien Broner will once again move up to Welterweight — actually a 144 lbs catchweight — to face our number 7-ranked Welterweight in Shawn Porter. No title will be at stake but this matchup can be a step in the right direction for both fighters, each of which are still rebounding from their lone career losses.
Adrien Broner (30-1, 22 KOs):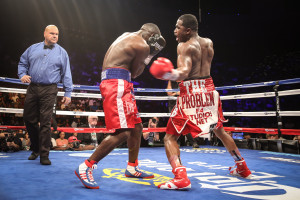 5'6½", 69½" reach, 25 years old
American
Former 3-division Titlist
An undoubtedly slick boxer when his opponents allow him to be. Broner has put together a brief winning streak since suffering his first loss to Marcos Maidana in 2013. He didn't look his best against Carlos Molina but he did look a tad bit better against Emmanuel Taylor and most recently John Molina Jr, although on paper, he should have looked even more impressive. He easily is more talented than the whole lot, but struggled at times.
Shawn Porter (25-1-1, 16 Kos):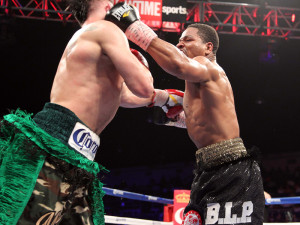 5'7", 69½" reach, 27 years old
American
Former IBF Titlist
He can be a patient boxer or he can be an aggressive fighter like the Porter we saw batter Paulie Malignaggi. He lost a tough fight against
Kell Brook but bounced back with a knockout win against Ecuador's Erick Bone back on March 13th. That was a stay busy fight against a hopelessly outclassed opponent, but Porter's combination of speed and power can make many a fighter look hopelessly outclassed.
Broner vs Porter Analysis:
Broner holds many of advantages in this fight. Porter has the tendency to square up while on the inside hence, his defense isn't as
developed as Broner's. Broner has faced the better opposition and is a better puncher as far as accuracy goes and Broner's hand speed and counterpunching abilities can provide Porter with plenty to deal with.
On the other hand, Porter is no slouch in the speed department, either. A complacent Broner will find himself getting tagged with hard, clean shots, while going against a fighter in Porter who's not afraid to mix it up on the inside, either.
Broner vs Porter Preview:
This fight is going to see a tough, aggressive Porter for the first half of the bout, roughing up and trying to trap Broner on the ropes. Porter will use his size advantage and will be successful by smothering Broner and not allowing Broner room to counter.
This will go on for about 4 to 6 rounds and Broner will start to get into the fight. Broner's powerful and sharp counterpunches will start to
make Porter question his own offense although Broner will be standing right in front of him. No one will get knocked down and the fight will go the distance to a close decision that could potentially go either way. Broner's cleaner, crisper shots convince the judges that his hand should be raised, as boos undoubtedly are heard from the crowd.
Prediction: Adrien Broner UD