Here's a current breakdown of the best welterweights in the world. It's one of the classic boxing divisions, and it's also one of the most crowded today. A lot of the top fighters have met each other, but there are more great fights that need to be made. In the meantime, here are the top 10 boxers in the welterweight division today.
Welterweight division rankings (147 lbs.) last updated September 2015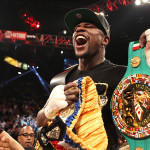 Welterweight Division Champion:
Record: 49 (26) – 0
Next Fight: TBD
No, there's no way Floyd Mayweather is retired. That's why he's still our welterweight champion. Let's just hope that when he does return, it's against somebody like Amir Khan or Keith Thurman, and not an awful and unwarranted rematch with Manny Pacquiao.
Top 10 Welterweight Contenders
Amir Khan – Khan leapfrogged much of the division with his dominant showing against Devon Alexander. He looked strong in his welterweight debut against Luis Collazo, controlling the fight with his speed, combinations, and yes, his clinching and holding. Looked even better, against a better opponent, when he cruised past Alexander. Got more than he bargained for from Chris Algieri, but still won. He's still clamoring for Mayweather, and still not getting it. Could face Brook in a sizzling British showdown.
Kell Brook – Brook had long shown tantalizing potential, with a great combination of size, skill, speed and power. But he lost a ton of momentum after fights with Alexander were planned and cancelled on multiple occasions. Finally got that big moment with a chance to come stateside and challenge Shawn Porter, scoring a huge upset and a breakout win. He's immediately one of the top contenders in the world at the weight right now on the strength of that win. Got past Jo Jo Dan and Frankie Gavin with ease, and in quick succession, and looking for a big fight. In the meantime, faces Diego Chaves.
Manny Pacquiao – Pacquiao can't be discredited too much with the loss to Mayweather. He attacked, he kept a busy work rate, just couldn't consistently land enough or do enough damage. Since he has already righted the wrong against Timothy Bradley, perhaps a fifth fight with Marquez could happen. Does he want to take on former stablemate Khan? Drop down to 140 lbs? We'll see.
Timothy Bradley – Timothy Bradley repositioned himself as one of the division's best with his tough and hard-fought win over Juan Manuel Marquez. Came up short against Pacquiao in the rematch, but probably feels all the better for it anyway, being able to move on with his life. Ended 2015 with a draw against Diego Chaves, in a fight he likely should have won. What goes around, comes around, with bad decisions in boxing, eh Tim? Defeated Jessie Vargas in his last fight, controlling him throughout, despite a bit of last second mayhem. Takes on Brandon Rios next.
Keith Thurman – Thurman rose to prominence while taking on absolutely nobody of note. Finally stepped in there with a live dog when he met, and trounced, Jesus Soto-Karass. Can't argue with that "One Time" power. Julio Diaz win doesn't mean much. Dominated Leonard Bundu. Took care of business with a one-sided win over Robert Guerrero. Showed some vulnerability while defeating Luis Collazo in his last outing.
Shawn Porter – Shawn Porter came back down to earth after taking care of business against Alexander in his breakout win, and then absolutely throttling Paulie Malignaggi. He suffered the first loss of his career against Kell Brook, but came back to handle Adrien Broner, winning himself plenty of fans in the process, certainly.
Danny Garcia – Swift gets slotted into the top 10 at welterweight right here following his official debut, a victory over Paulie Malignaggi. Garcia has a lot of questions to answer, and with a loaded scene at welterweight, there are plenty of great opponents available to help him do that.
Juan Manuel Marquez – Marquez finally has his victory over Manny Pacquiao, and what a victory it was! One punch turned the lights out and left Pacquiao face down on the canvas for minutes. He came up short against Bradley, and certainly wasn't happy with the verdict there. Left on the outside looking in once again, as Pacquiao-Marquez V didn't come together. Unfortunately been on the shelf for well over a year.
Marcos Maidana -Maidana became a lot of people's favorite boxer when he smashed Adrien Broner, handing the Problem his first career defeat. He earned even more fans with his strong showing against the pound for pound king, but was more limited in the rematch and wasn't able to accomplish much. Hasn't fought since.
Robert Guerrero – Guerrero got back into the top 10 following his return to action, and thrilling battle against Yoshihiro Kamegai. You may have wanted, for Guerrero's sake, a cleaner and easier evening, but what heart and grit shown by both men in that outing. Lost to Keith Thurman and clearly didn't have the kind of performance he was hoping for there at the start of the fight. Still deserves a spot in the top 10 ahead of Andre Berto, who he defeated, or the likes of Brandon Rios or Devon Alexander.
More Names to Watch
Andre Berto, Brandon Rios, Devon Alexander, Sadam Ali, Luis Collazo, Diego Chaves, Mike Alvarado, Jesus Soto-Karass, Josesito Lopez, Leonard Bundu, Frankie Gavin, Luis Carlos Abregu, Selcuk Aydin,Vyacheslav Senchenko, Jo Jo Dan
 More Boxing Weight Division Rankings: