Does Lucian Bute have enough boxing IQ to get past the aggressive Glen Johnson?
On November 5, 2011, an interesting matchup in the 168 pound weight division that will take place at the Pepsi Coliseum in Quebec City, Canada, between an old shifty veteran in Glen "Road Warrior" Johnson and the ever growing star power of Lucian Bute for Bute's IBF super middleweight crown.
Johnson gave Carl Froch all he could handle in his last fight, but Froch was able to escape the pressure and survive en route to a majority decision victory over the ageless wonder Johnson.  Lucian Bute dazzled a Romanian boxing crowd in his last fight as he impressively knocked out the undefeated Frenchmen Jean Paul Mendy for a fourth round victory.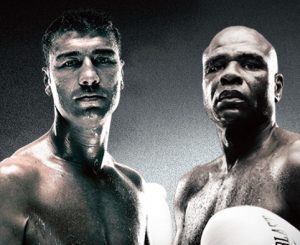 Now Bute has his sights set on the ageless wonder Glen Johnson, which should be a test for the 31 year-old superstar, so can Bute meet the aggressive style of Johnson head on, and dominant, or will the ageless wonder Johnson take yet another good fighter to the limit and challenge for the upset.
Going into the fight, let's take a look at some attributes to see which fighter has the advantage.
Boxing Skills
Bute should have all of the boxing skills to beat the "Road Warrior" Glen Johnson.  Bute is quick and can box on the outside, so he should be able to simply pick off a lot of Johnson's shots when Johnson is coming on the inside.  Johnson, however, does an excellent job of making technically skilled boxers fight his fight due to his relentless pressure. Johnson can make life difficult for the undefeated Bute if he is able to apply effective pressure and Bute is unable to handle it. Advantage Bute
Power
This is a tough one because I believe both of these fighters have good power.  If I had to give someone the edge in this fight it would have to be Lucian Bute given that he has either KO'd or TKO'd has last six opponents, but also watch out for the devastating overhand right that Johnson throws, and if he can land that punch on Bute on November 5, there actually could be an upset in this fight.  Advantage Bute
Speed
Lucian Bute has great speed for a super-middleweight and he will need to use that speed to keep up with the pressure of Johnson, as Johnson will try and fight Bute inside and against the ropes in hopes of landing something big on the Canadian superstar.  Bute will have the speed advantage in this fight and should land some huge combinations on Johnson as hecomes inside, but as we have seen in recent fights, the old Johnson knows how to crowd his opponent and rough his opponent up on the inside, thus negating a lot of that speed.  Advantage Bute
Size
The rough and tough Road Warrior will be the bigger man in this fight, given that this will be the third time that the old Road Warrior will be coming down from 175 pounds to fight in the 168 pound weight division.  This could be a disadvantage to Johnson, however, given that Bute will be very comfortable at 168, while Johnson will once again have to adjust to the 7 pound weight loss to challenge another up and coming superstar.  Advantage Johnson
Height
Bute will be the taller man in this fight, as Bute stands at 6′ 1.5″, and he should impose his height advantage on the 5′ 11″ Road Warrior.  Bute knows how to stand tall and fight, but again, I just do not believe that Johnson will allow the fight to be on the outside as much, though; Bute is pretty good at using his height to outbox his opponents.  Advantage Bute
Reach
This could potentially make or break the entire fight because Glen Johnson will have a full 3 inch reach advantage over Lucian Bute and Johnson always uses this advantage to get inside on his favored opponents and impose his will on them en route to close fights or upset victories.  This is the attribute that Bute needs to be careful about… Johnson knows how to use his jab effectively to get inside and do damage on his opponents.  Advantage Johnson
Trainers
Both of these fighters have world class trainers who at one point have received trainer of the year honors; Glen Johnson's trainer Orlando Cuellar in 2004 and Lucian Bute's trainer Stephane Larouche for Canada in 2005 and 2008.  Both trainers have good relationships with their fighter, and both trainers know how to get their fighter to stick with the game plan that will be set forth in front of them for each and every fight.  Cuellar continues to give Johnson the honest truth round after round which jumpstarts his charge into one of those close decisions or major upsets, while Bute's trainer is able to get the same out of Bute, although Bute has not been tested as much as Johnson has had to test his competition.  Advantage Johnson
Age
Bute is 31 years old and Johnson is 42 years old.  Bute will be the younger and more skilled fighter in the ring on November 5, but just like the great Bernard Hopkins, the Road Warrior Johnson will leave it all in the ring in hopes of wowing the crowd again with yet another stunning upset victory over a superstardom opponent. Advantage Bute
Conclusion
Simply put, Lucian Bute should win this fight.  The question is whether or not he can do it in spectacular fashion as Glen Johnson will always be a tough opponent for anyone until he decides to hang up the gloves.  Bute will have all the attributes necessary, but Johnson keeps on proving to us over and over again that age is just a number as he continues to shock boxing fans and gain more fans in the process with his unbelievable will and his ability to make fights a great experience for true boxing fans.
A win for Bute will put him in position to finally challenge one of the best fighters at 168, whether it's Carl Froch or Andre Ward.  Johnson meanwhile would enhance his legacy greatly if he can pull off another huge upset over the heavily favored Bute.
Some boxing fans will go into the fight thinking that it will be easy for Bute, but in the end, those fans will be pleasantly surprised at what they will witness, as the great Road Warrior will ride again and give us another great memorable fight, even if Bute wins as expected.