Amir Khan–one of the budding superstars in the sport, defends his junior welterweight titles against Lamont Peterson on December 10 in Washington, D.C. Khan is a gigantic favorite to retain his titles, but this is by no means a walkover, as Peterson is a capable and skilled contender.
Khan, 24, looks to finish off a strong 2011 campaign. With wins over Paul McCloskey and Zab Judah, Khan has been in tremendous form. In addition, his failed negotiations with Timothy Bradley, the only other man in the division with a case for being #1, put Khan in a favorable light. With Bradley inactive and perceived as the man who backed out of a fight with Khan, Amir has taken the de-facto top spot at 140 in many people's minds.
Date: December 10, 2011
Location: Convention Center, Washington, D.C.
Titles: WBA/IBF Junior Welterweight Championship: 12 Rounds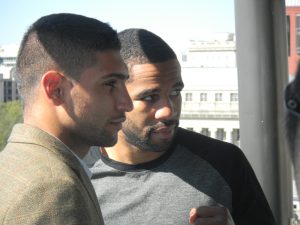 Anybody questioning Paterson's right to be in this spot is off-base. The 27-year old is 29-1-1, with his only loss coming at the hands of Bradley. He fought a draw with future welterweight titleholder Victor Ortiz less than a year ago and is by all means legit. This is a tough era at 140. One can think of many times in this division's history where Peterson would have been a cinch to gain world title honors. Against Bradley and Khan, however, the proposition is a little steep.
Will Khan continue his upward ascent or can Peterson throw a wrench into the plans?
Stats
Khan: An Olympic silver medal-winner at 17, "King Khan" is only 24 and entering his physical prime. He possesses an athletic build–stretched over a 5'10" frame with a 71-inch reach. The Bolton native and resident is 26-1 (18 KOs) and is currently the 140-pound champion, according to the WBA and IBF.
Peterson: A successful amateur, Peterson is now a well-seasoned 27. Physically, he matches up well with Khan, standing 5'9" with a very formidable reach of 74 inches. In 7 years, he has fought his entire career at 140 pounds. Peterson is 29-1-1 (15) and will be in his second world title fight.
Recent Form
Khan: With each impressive performance, he puts more distance from his 2008 shocking 1st-round knockout loss to Breidis Prescott, having scored 8 straight wins–with only 2 going the distance. Most impressive in that run was a clear decision over underrated Andriy Kotelnik, a 76-second wipeout of unbeaten Dmitri Salita, a dominant 11th-round TKO of Paulie Malignaggi, and a one-sided win over Zab Judah. Was shaky at moments against Maidana, but otherwise masterful. And while his stoppage of Judah was inconclusive, his dominance was not in question.
Peterson: Coming off a nice last-round stoppage of 26-1 Victor Cayo. In the fight prior, he overcame a pair of 3rd-round knockdowns to salvage a draw against Victor Ortiz. The subsequent success Ortiz enjoyed throws that result into a positive light, though some felt Ortiz won the fight.
Strengths and Weaknesses
Khan: Amir is super-athletic, blessed with thoroughbred legs and a full arsenal of punches. He possesses a naturalness to his offense, which flows seamlessly. As old-timers might have said, he has a lot "on the ball." It's just impossible to watch him and not notice he's a uniquely-gifted young boxer. His weakness, however, is one of the worst ones to have: a shaky chin. And while he has done well under the tutelage of Freddie Roach to minimize his Achilles' heel, it always lurks just under the surface.
Peterson: Lamont is a well-schooled and talented world-class boxer with skills and toughness. He knows what he's doing in the ring and his abilities make him better than 99% of all 140-pounders. Lamont is fast and has been getting more leverage on his shots in recent years. But when he stepped up, his measured approach didn't go over well. He was stylish and skillful against Bradley, but totally outhustled and unable to find that extra dimension.
Questions
Khan: Though he hasn't shown a penchant for letdowns, will he grow tired biding time for a big fight? Will the fact that Peterson was hardly competitive with Bradley lead to a diminished state of concentration? A giant 140-pounder, will Khan experience any weight-making issues?
Peterson: At 27, has he topped out or can he find another gear? Would he better-suited trying his hand with Marcos Maidana or Erik Morales, rather than a pair of title shots against two of the potentially better 140-pounders of all time? Was Bradley's smash-mouth style just a bad fit for Lamont, who could probably match his skills better and have more freedom to operate with another boxer-type? Will he be able to infuse some blood-and-guts, if necessary, into his polished style?
Khan vs. Peterson Prediction
Khan is unquestionably a major talent. He might be a good candidate to pick against for an upset pick from time to time, but is this the spot? Peterson is a capable contender, but his strengths don't mesh terribly well with Khan's weaknesses. When you see Khan easily beat fine boxer-types like Kotelnik, it becomes difficult to imagine Peterson pulling off the surprise.
Solid boxers like Peterson who lack anything particularly special figure to be eaten up all day by Khan. There's no one at 140 who can box with the kid, so roughing him up or trying to land power shots really is the only way to get to him at this point.
And that's just not Peterson's game. His last 3 wins were by stoppage, but he's simply not a very physical fighter. This will allow Khan to do his thing–boxing from long-range with occasional power surges. Peterson will hang in there and he is definitely world-class, but Khan just does everything at least a little better than Peterson. Look for Khan to cruise to a unanimous decision.
Prediction: Amir Khan wins by unanimous decision.