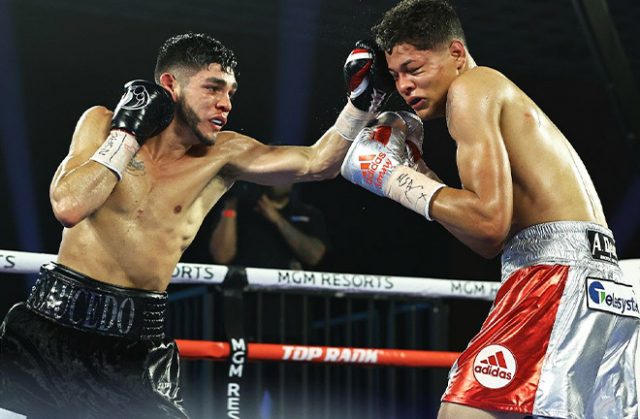 In a ten round contest at Super-Lightweight, Alex Saucedo continued his rebuild after his unsuccessful 2018 World title challenge with a dominant points win against Sonny Fredrickson inside the MGM Grand Bubble in Las Vegas.
The contest began in good style with Saucedo working off a stiff jab, working his way inside with good movement. 
Fredrickson mostly fell short with his punches in the opener. 
A sharp combination that began with a right hook towards the end of the round had Fredrickson tottering, but he saw out the session well enough. 
Saucedo continued his assault in the second, applying constant pressure. Fredrickson was struggling to keep up with the frantic pace, having to fend off Saucedo with his jab for the most part. 
Saucedo did get caught on occasion, and in between his flurry of power punches, Fredrickson would counter, as Saucedo showed there are still flaws to his game. 
On the whole, the fight followed a repetitive pattern, with Saucedo constantly throwing punches and Fredrickson landing hard shots on the counter.
Due to the sheer number of punches thrown and landed by Saucedo, the result was in little doubt, and 100-90, 99-91 and 98-92 reflected Saucedo's dominance. 
Saucedo rated himself as a C+ post fight as he continued his comeback from a 2018 defeat to Maurice Hooker with a second win with new trainer Pedro Neme.
"It was a good performance, I was able to get the rounds in and get the experience" said Saucedo. "I still got caught with some punches that I didn't want to get caught with, so we definitely have a lot of work to do.
"We worked on a lot of things in the gym, Sonny was a tough opponent".
Josue Vargas had to defeat Salvador Briceno without the aid of his father at short notice, but still impressed in a competitive ten round points win.
There was a trainer change in the corner before the fight. Vargas' father and trainer decided to walk around the casino at the MGM without a mask on, and thus this ruled him out of being able to work his son's corner due to the COVID-19 protocol at the venue.
Vargas carried on regardless and got the win. But, Briceno was tough and came to fight, making him earn his victory, especially after knocking Vargas' two front teeth out in the fourth round. 
Vargas was also cut in the sixth from a clash of heads, but the 22-year-old prospect made Briceno take a lot of punches throughout the contest, landing a variety of hard shots. 
Briceno struggled in the main to land anything on Vargas, and in the end, two scores of 100-90 and a third at 99-91 ensured a wide win on the cards.
John Bauza stayed undefeated by using his boxing skills to defuse Larry Fryers in an unanimous points win. Two scores of 8-72 and a 79-73 tally saw Bauza improve to 14-0
The show opener saw a close run affair, with Isiah Jones taking the undefeated record of Donte Stubbs via majority decision over six rounds. 
This was a fight Devoid of much action, but Jones remained on the outside to box his way to two verdicts of 59-55 and 58-56, with a third judge scoring a 57-57 draw. Stubbs falls to 6-1 as a result of his maiden pro loss.
Comments
comments