February 24 sees the return of heavyweight action in Germany, and while the belt at stake is the fake WBA strap, the match-up is an interesting one nonetheless. It sees crusierweight top dog Marco Huck move up to the ranks of the big men and challenge Alexander Povetkin, who seems to have slyly positioned himself for a run at the real crown once the Klitschko brothers depart the scene.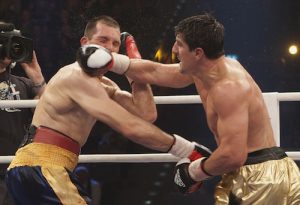 Marco Huck (34-1, 25 KOs)

6'1 1/2″ tall, estimated 210 lbs, 27 years old
Serbian living in Germany
WBO Cruiserweight Champion, former European Cruiserweight Champion
Kapitan is a well-established figure in the cruiserweight ranks, by virtue of his two-year, eight-defense reign there. That reign saw wins over three solid contenders, including two on the current crusierweight Top Ten. His sole loss was a 12th Round stoppage at the hands of Steve Cunningham, in what was Huck's first world title challenge. That fight was a real slugfest that saw Huck bag most of the first half of the fight, but the faster Cunningham came on later to pound out the win.
In terms of style, Huck is a strong, durable and aggressive puncher, but with limited skills. His boxing prowess, such as it is, is limited mostly to mixing it up and pushing his offensive, and Huck can't fight on his back heel.
Alexander Povetkin (23-0, 16 KOs)

6'2″ tall, 75″ reach, 230 lbs, 32 years old
Russian
(Fake) WBA Heavyweight Champion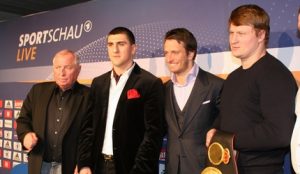 The Russian Vityaz is a well-schooled, competent boxer-puncher from the Continental European mold, and a mid-sized heavyweight. His run at the heavyweight title started way back in 2007 and 2008, with thumping wins over fringe names like ex-cruiserweight Imamu Mayfield, aged versions of Larry Donald and Chris Byrd, and finally then-undefeated slickster Eddie Chambers.
Povetkin then went into limbo for years after deciding to avoid the Klitschko brothers. He got back into the title picture in August of last year by scoring a clean win over Ruslan Chagaev, but even then it was only for the fake version of the WBA title. The real thing graces the waist of Wladimir Klitschko.
Preview & Analysis
One aspect that makes this fight interesting is that Povetkin, the older fighter and defending beltholder, is actually the less seasoned of the two. Huck's resume shows a mix of facing off with boxers and punchers, and he has gone 2-1 with Top 10 fighters in his division. Huck is also no stranger to taking on bigger guys, since opponents like Brian Minto were essentially smallish heavyweights. Povetkin, on the other hand, has mixed it up mostly with other boxers (Chagaev's power is, in my opinion, widely overrated). It says a lot for him that he has defeated so many men with top flight skills, but he has never been in the ring with a world class puncher.
Even so, experience is just about the only thing Huck has on Povetkin, who is no slouch in that department in his own right. The Russian is bigger, stronger, has a good chin and demonstrably better boxing ability. They might come out just about equal in the power department, but in exchanges between these two guys, it will be who catches better and catches the least that ultimately matters, not who cracks harder.
Another thing to think about is that these two men have sparred before, and that Povetkin is a stablemate of Huck opponent Denis Lebedev. They know each other as well as two men who have never actually clashed for real before could.
I think Huck's talk of getting the better of Povetkin in sparring is just that. Usually when one name fighter whips and upsets another in the sparring ring, it can't be kept secret and starts a buzz of rumors. Whatever happened between Huck and Povetkin didn't.
Povetkin vs. Huck Prediction
Vityaz will come forward and try to establish his jab. His strategy will be to use his moderate edges in height, reach and size, plus his noticeably higher work rate, to put Huck on his heels and keep him there. For his part, I expect Huck won't be hard to find initially, and the early rounds will be punctuated by some fun exchanges. However, Huck isn't that much of an infighter, and prefers to fire from medium-range. If he isn't very careful, he'll wind up too close to Povetkin and get raked with an uppercut.
Ultimately, Huck just doesn't have the skills to stay off the point of both Povetkin's jab and his uppercut. He must choose one or the other. Given Huck's aggressiveness, that ought to point to trading on the inside. It will work better for him than getting busted up by Povetkin's jab all night, but it's still not a winning strategy.
Prediction: Alexander Povetkin TKO11 Marco Huck
Comments
comments